Fri Aug 24, 2018, 12:52 AM
Zorro (11,976 posts)
Trump Boys Frantically Burning Stacks Of Printed-Out Emails To Eliminate Paper Trail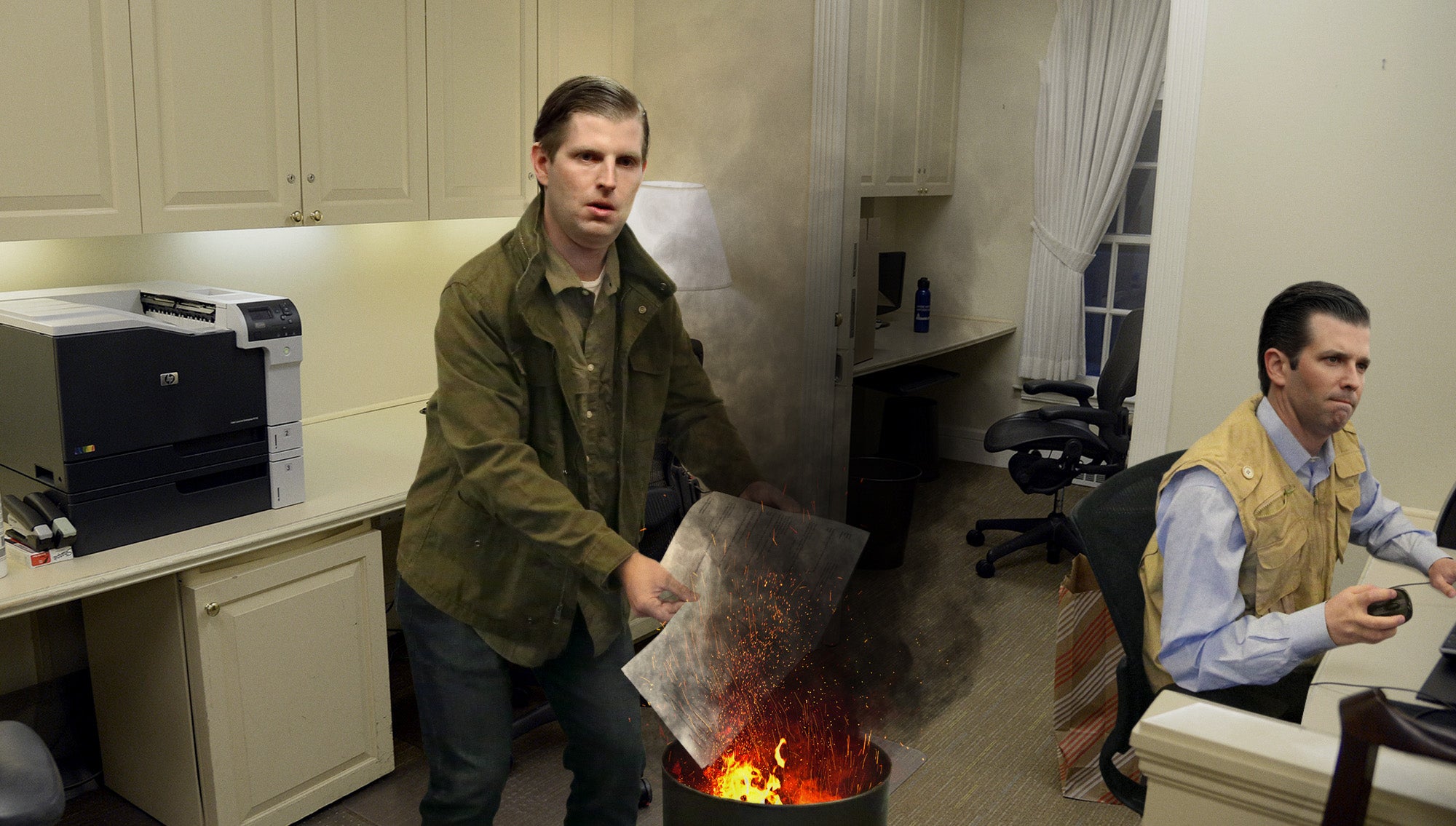 WASHINGTON—After learning that their father's associates Paul Manafort and Michael Cohen were guilty of crimes and Special Counsel Robert Mueller's investigation was continuing to expand, Eric and Donald Trump Jr. were reportedly frantically burning stacks of their printed-out emails Wednesday to eliminate their paper trail.
"Okay, Eric, I think we melted down all the stuff we wrote from last year so now Mr. Mueller can't never find it—time to start wrecking all the emails from this year," said Trump Jr., who, along with his brother, had stayed up all night printing out every single email ever sent or received by either of the boys and setting the stacks of paper ablaze in a plastic garbage can to eliminate any evidence that could be used against them in an investigation.
"We gotta type up copies of our texts so we can print them out and burn those, too—you can't be too careful with the witch hunt. And once we finish burning all the evidence, we have to take pictures of our faces on Instagram and then print out those, too, and burn them so we can delete our identities. Then we have to leave and never come back, okay? We have to go to one of the small dots on a map where they can't find us."
At press time, the Trump boys were attempting to erase any trace of their deliberate destruction of evidence by using masking tape to secure rocks to the top of the printer and pushing the device into the depths of the Lincoln Memorial Reflecting Pool where it would "never, ever be found."
https://politics.theonion.com/trump-boys-frantically-burning-stacks-of-printed-out-em-1828532224
6 replies, 2070 views
Replies to this discussion thread
| | | | |
| --- | --- | --- | --- |
| 6 replies | Author | Time | Post |
| Trump Boys Frantically Burning Stacks Of Printed-Out Emails To Eliminate Paper Trail (Original post) | Zorro | Aug 2018 | OP |
| | GWC58 | Aug 2018 | #1 |
| | Puzzler | Aug 2018 | #2 |
| | Historic NY | Aug 2018 | #3 |
| | LiberalFighter | Aug 2018 | #4 |
| | dalton99a | Aug 2018 | #5 |
| | Blue Owl | Aug 2018 | #6 |
---
Response to Zorro (Original post)
Fri Aug 24, 2018, 12:58 AM
GWC58 (2,677 posts)
1. Gotta love the Onion!
---
Response to Zorro (Original post)
Fri Aug 24, 2018, 12:58 AM
Puzzler (2,505 posts)
2. It's literally impossible to tell at first read anymore
if The Onion is joking or not!

Who'd a thunk it?

Strange times!

-Puzzler
---
Response to Zorro (Original post)
Fri Aug 24, 2018, 07:31 AM
Historic NY (33,727 posts)
3. I love tweeting this stuff out to Dumbfuckistan.....
---
Response to Zorro (Original post)
Fri Aug 24, 2018, 07:57 AM
LiberalFighter (40,853 posts)
4. They should probably also burn the money they used while committing their crimes and will be using.
---
Response to Zorro (Original post)
Fri Aug 24, 2018, 08:02 AM
dalton99a (55,953 posts)
5. Good one
---
Response to Zorro (Original post)
Fri Aug 24, 2018, 12:26 PM
Blue Owl (28,190 posts)
6. Thank God the evidence is destroyed!!1