Thu Jan 3, 2019, 10:23 AM
kpete (63,293 posts)
Bloomberg Businessweek's new cover: "The Trump Slump"
Behold @bw's new Trump-stepping-on-his-own-dick cover.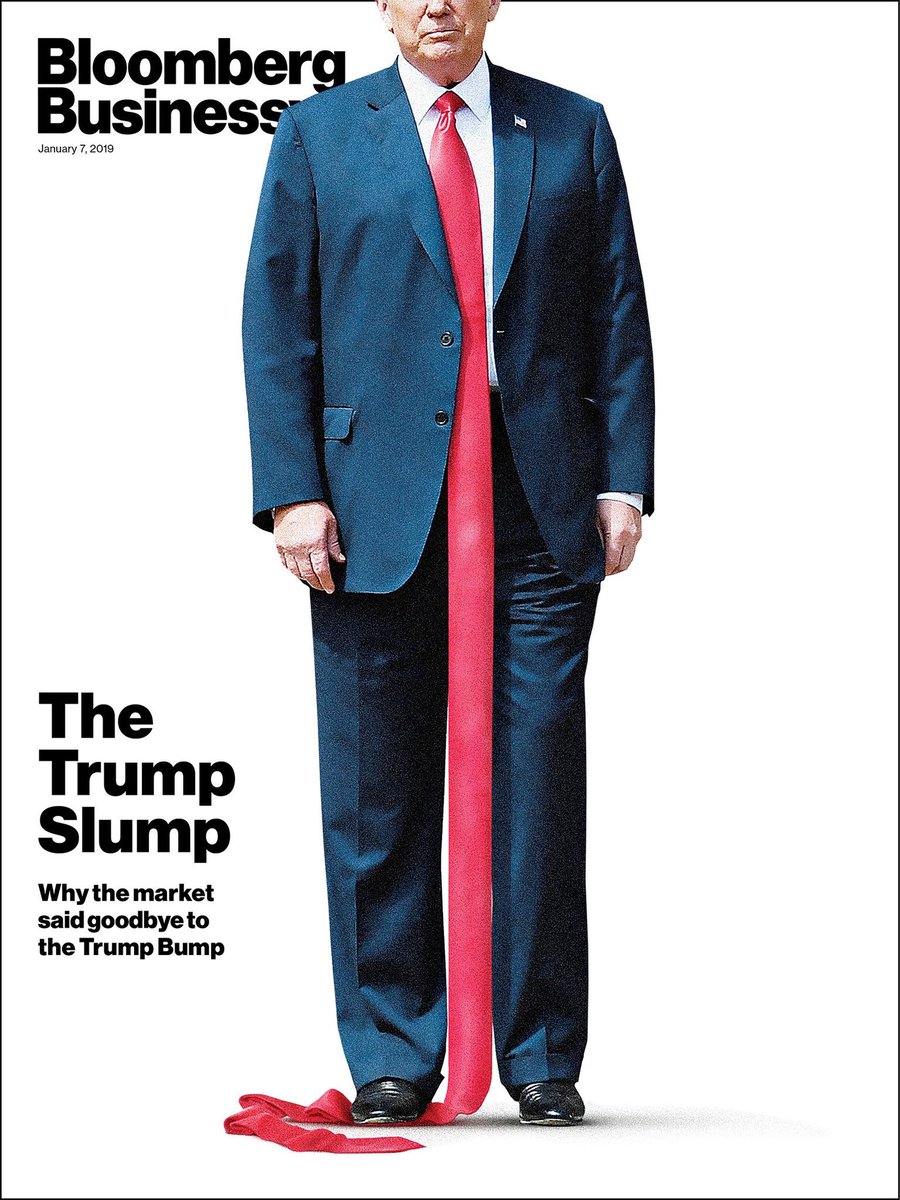 Link to tweet
5 replies, 924 views
Replies to this discussion thread
| | | | |
| --- | --- | --- | --- |
| 5 replies | Author | Time | Post |
| Bloomberg Businessweek's new cover: "The Trump Slump" (Original post) | kpete | Jan 2019 | OP |
| | GusBob | Jan 2019 | #1 |
| | teach1st | Jan 2019 | #3 |
| | Achilleaze | Jan 2019 | #2 |
| | Gothmog | Jan 2019 | #4 |
| | bullwinkle428 | Jan 2019 | #5 |
---
Response to kpete (Original post)
Thu Jan 3, 2019, 10:25 AM
GusBob (5,229 posts)
1. any text from it?
why did the markets say goodbye to the trump bump?

?asks rhetorical question?
---
Response to GusBob (Reply #1)
Thu Jan 3, 2019, 10:59 AM
teach1st (5,113 posts)
3. Here's some text
After giving Trump some credit,
the article
goes on....
But that shouldnít let Trump off the hook. While markets, like wayward elephants, do tend to have minds of their own, itís also possible to identify specific ways in which Trump has contributed to the downturn. His prosecution of the trade war with China, in particular, has rattled investors. The 90-day truce between the two nations, agreed upon at the Group of 20 summit in Buenos Aires on Dec. 1, has done little to buoy the stock market because investors realize that hostilities could erupt again when the cease-fire ends in March. The S&P 500 price-earnings ratio has fallen 13 percent since September. Trump, in general, was the No.?1 thing keeping institutional investors awake at night in a mid-December survey by investment bank RBC Capital Markets.

Trumpís Twitter attacks on Powell could also be backfiring. Even some market analysts who think the Fed should back off from raising interest rates say that the presidentís messaging could induce Powell to demonstrate his independence by forging ahead with unnecessary hikes. Or, for bond investors worried that the Fed will accede to the president, thereís an expectation of accelerating inflation. That would cause bond prices to fallówhich generally causes stock prices to fall as well.

Trumpís leadership style is also wearing poorly. His strategy of keeping people guessing and off balance might work well with adversaries, but it alienates friends. ďIím not aware of another U.S. president trying to weaponize uncertainty. And for good reason: It harms American interests as well as foreign ones,Ē says Steven Davis, a professor at Booth who helped develop an economic policy uncertainty index. (The news-based version of the uncertainty index is just below the top 10th of its 34-year range of values.)

Itís true that the stock market isnít the best metric for judging a president. Stocks can go up even if the president is performing badly and down even if heís doing well. For example, just because getting tough on China is bad for some tech stocks doesnít mean itís the wrong thing to do. Conversely, many of the things that are most troublesome about Trump donít show up in stock indexesóthe coarsening of the public discourse, the damage to Americaís global alliances. And some potentially harmful actions, such as trying to weaken rules on mercury emissions from coal plants, could boost certain stocks.
---
Response to kpete (Original post)
Thu Jan 3, 2019, 10:28 AM
Achilleaze (14,424 posts)
2. There you have it (R)
---
Response to kpete (Original post)
Thu Jan 3, 2019, 11:01 AM
Gothmog (74,076 posts)
4. Trump is hurting the economy
---
Response to kpete (Original post)
Thu Jan 3, 2019, 11:04 AM
bullwinkle428 (17,143 posts)
5. LOL! They are literally taking the "stepping on his own dick" metaphor