Fri Feb 15, 2019, 11:26 AM
Jeffersons Ghost (15,235 posts)
please save my dog
Firefighter, save my dog:
Thursday was the last day for legislators to introduce bills for this 60-day session. Some 100 additional bills - including
Roxy's Law
- were introduced in the House of Representatives before the deadline.
One of them, House Bill 598, is intended to give first responders the right to provide emergency care to dogs and cats.
Officers charge Chimayó man in case that prompted 'Roxy's Law' bill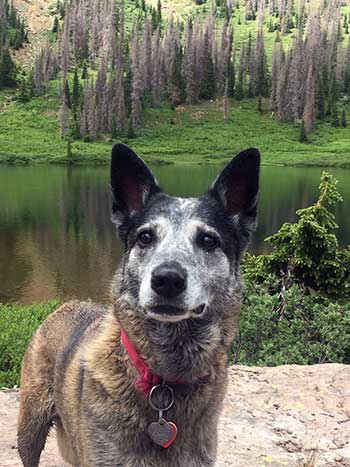 Feb 14, 2019 | 2019 Legislative Session, Ban Traps on Public Lands, Dog, HB 366, Illegal Trapping, NM Department of Game and Fish, Public Lands, Roxy's Law, Trapping on Public Lands
State Game and Fish Department officers have charged a Chimayó man with more than 30 criminal counts in connection with illegal trapping — a case spurred by an investigation into how an Española man's dog had been killed by an illegal snare trap at Santa Cruz Lake....
Indiscriminate traps kill, injure endangered Mexican wolves, impeding recovery
Four endangered Mexican wolves caught in traps in New Mexico
ALBUQUERQUE – Defenders of Wildlife has learned that four more Mexican gray wolves were trapped in New Mexico on land managed by the U.S. Forest Service over the last two months. The four endangered wolves included a breeding-age female that died and a male that was taken into captivity only to have his injured leg amputated. These two wolves are from the Prieto Pack.
According to USFWS information, at least 42 Mexican gray wolves have been caught in traps since 2003, just four in Arizona and the remainder all in New Mexico. At last count in January 2017,
[ONLY]
114 Mexican gray wolves roamed the wild in Arizona and New Mexico. Those wolves are the result of a reintroduction program that began in 1998 with the releases of family groups of well-bonded male and female pairs and their pups.
https://www.wmicentral.com/news/apache_county/four-endangered-mexican-wolves-caught-in-traps-in-new-mexico/article_18a4fdd9-7850-5943-ad80-0bbacf66dfaf.html
6 replies, 2884 views
Replies to this discussion thread
| | | | |
| --- | --- | --- | --- |
| 6 replies | Author | Time | Post |
| please save my dog (Original post) | Jeffersons Ghost | Feb 2019 | OP |
| | CousinIT | Feb 2019 | #1 |
| | Jeffersons Ghost | Feb 2019 | #2 |
| | CousinIT | Feb 2019 | #3 |
| | Jeffersons Ghost | Feb 2019 | #4 |
| | Jeffersons Ghost | Feb 2019 | #5 |
| | Raine | Feb 2019 | #6 |
---
Response to Jeffersons Ghost (Original post)
Fri Feb 15, 2019, 11:38 AM
CousinIT (8,501 posts)
1. The damn traps should be banned. n/t
---
Response to CousinIT (Reply #1)
Fri Feb 15, 2019, 01:47 PM
Jeffersons Ghost (15,235 posts)
2. Cougars don't have a voice to defend accusations of POSSIBLY killing a goat.
Eastern puma declared extinct in United States, here's why
Thursday, January 25, 2018, 7:21 PM -
The eastern puma has been declared extinct by the U.S. Fish and Wildlife Service.
It's been 80 years since the last confirmed sighting of this species. Therefore, the agency has removed the eastern puma from the Federal List of Endangered and Threatened Wildlife.
What a terrible loss for our planet. The "ghost cat."...U.S. Fish and Wildlife Service officially declared the eastern cougar (Puma concolor couguar) to be extinct and removed it from the endangered species list.
https://www.theweathernetwork.com/news/articles/eastern-puma-declared-extinct-us-fish-and-wildlife-service-scientific-endangered-threatened-species-act-united-states/94412
The man told investigators he choked the lion, and an examination of the animal confirmed that, said Rebecca Ferrell, a spokeswoman for Colorado Parks and Wildlife.
The lion was less than a year old
and tested negative for rabies.
Mountain lions rarely attack because they tend to avoid people. The animals have killed fewer than 20 people in North America in more than 100 years.
https://www.abqjournal.com/1277114/man-chokes-mountain-lion-who-attacked-him-in-colorado.html
IN OTHER CURRENT NEWS
Neither the very young mountain lion, nor the half-grown cougar, treed and killed by a hunter, was available to refute reports of the unusual animal behavior, which led to their deaths.
---
Response to Jeffersons Ghost (Reply #2)
Fri Feb 15, 2019, 02:18 PM
CousinIT (8,501 posts)
3. The WORST predator on Earth...
---
Response to Jeffersons Ghost (Original post)
Fri Feb 15, 2019, 02:31 PM
Jeffersons Ghost (15,235 posts)
4. Trump attitude on other endangered species
Photographs show Donald Trump's sons, Donald Jr. and Eric, posing during a big game hunting trip.
Big game hunting
In 2010, People for the Ethical Treatment of Animals (PETA) criticized Trump, a big game hunter, for an African hunting trip he took with Donald Trump Jr., his older brother. PETA condemned the pair after photos showed the brothers on an organized safari in Zimbabwe, where their hunting targets included elephants and leopards. The director general of the Zimbabwe Parks and Wildlife Management Authority, V. Chandenga, issued an official response supporting the brothers and calling any allegations of illegality "baseless" and "false". Both brothers defended their safari via Twitter, affirming their actions as hunters and longtime advocates of the outdoors. Donald Trump also addressed the controversy, saying on TMZ that he fully supported his sons' actions.
Trump sons' hunting in focus as US lifts import ban on African elephant trophies
Obama administration imposed ban because of conservation concerns
Donald Trump Jr and Eric Trump are enthusiastic big game hunters
The Trump administration's decision to loosen restrictions around the import of elephant trophies from Zimbabwe and Zambia has turned attention back to the president's family's own connection to the controversial sport.
Donald Trump Jr and Eric Trump are prolific big-game hunters and during the 2016 campaign, images re-emerged of the pair on a 2011 hunting trip posing with animals they had killed on safari, including an elephant, a buffalo and a leopard.
https://www.theguardian.com/us-news/2017/nov/16/trump-sons-us-lifts-import-ban-african-elephant-trophies
In June 2017, Forbes reported that the Eric Trump Foundation shifted money intended to go to cancer patients to the family's businesses.
Eric Trump had asserted that his foundation got to use Trump Organization assets for free "We get to use our assets 100% free of charge," but that appears not to be the case.
According to Forbes, more than $1.2 million of the donations went to the Trump Organization for the use of Trump's Westchester golf course and that "Golf charity experts say the listed expenses defy any reasonable cost justification for a one-day golf tournament.
---
Response to Jeffersons Ghost (Reply #4)
Sat Feb 16, 2019, 03:21 AM
Jeffersons Ghost (15,235 posts)
5. Humane Society.org adopt a pet or species @other websites...
---
Response to Jeffersons Ghost (Original post)
Sat Feb 16, 2019, 03:36 AM
Raine (29,999 posts)
6. Heartbreaking
all animals deserve better then this.