Wed Apr 17, 2019, 05:36 PM
IronLionZion (33,173 posts)
Why big business is giving up its fight against a higher minimum wage
https://www.cnn.com/2019/04/17/economy/minimum-wage-raise/index.html
New York (CNN Business)Corporate America has been, shall we say, evolving on the minimum wage in recent years.
Last month, McDonalds — the most recognizable name in America's lowest-paying industry — announced it would no longer lobby against minimum wage hikes. A few months before that, Amazon proclaimed that it would fully meet activists' demands for a $15-per-hour baseline and that it would throw its considerable lobbying weight behind an increase in the federal floor. Then, just last week, Bank of America outdid them both, setting its own minimum at $20.
Who is left fighting the case against a higher minimum wage? American small businesses.
As a bill that would raise the minimum wage to $15 by 2024 nationwide awaits a vote on the House floor with 205 Democratic co-sponsors, life in the opposition is getting lonelier for the National Federation of Independent Business, the nation's largest advocacy group for small companies.
"We're playing defense on this one, to state the obvious," said Jon Kurrle, vice president of federal government relations at the NFIB, which has about 300,000 members. "A larger company can absorb costs in a way that a smaller business can't, and also make technology investments in a way that not all small businesses can."
Although the wage premium for working at a large company has decreased over time, big businesses still achieve economies of scale through centralized HR and benefits departments. They also have the upfront capital needed to invest in automation, such as the purchasing kiosks now in place at McDonalds, that will make businesses less subject to labor costs in the future.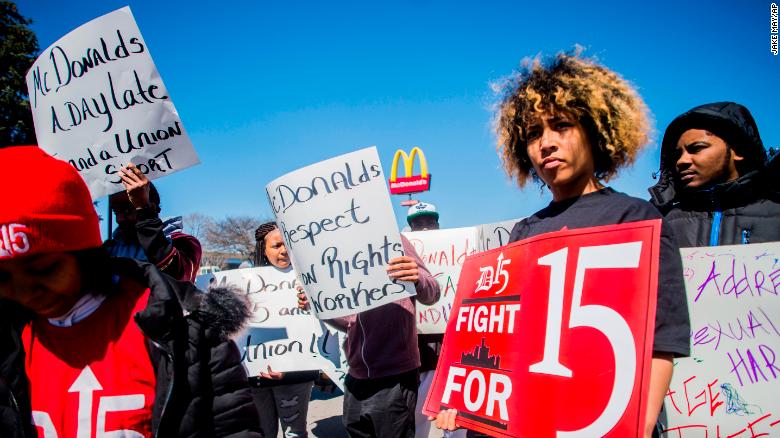 5 replies, 593 views
Replies to this discussion thread
| | | | |
| --- | --- | --- | --- |
| 5 replies | Author | Time | Post |
| Why big business is giving up its fight against a higher minimum wage (Original post) | IronLionZion | Apr 2019 | OP |
| | True Blue American | Apr 2019 | #1 |
| | Aristus | Apr 2019 | #2 |
| | Hoyt | Apr 2019 | #3 |
| | Blue_true | Apr 2019 | #5 |
| | applegrove | Apr 2019 | #4 |
---
Response to IronLionZion (Original post)
Wed Apr 17, 2019, 05:39 PM
True Blue American (13,537 posts)
1. Because they can not get workers
When there are good jobs paying $20 an hour?
---
Response to IronLionZion (Original post)
Wed Apr 17, 2019, 05:40 PM
Aristus (55,626 posts)
2. If there was such a thing as a smart CEO, he/she would understand the value to the
corporation of an employee with more spending money in his/her pockets.

Just as Henry Ford realized that 100 years ago...
---
Response to IronLionZion (Original post)
Wed Apr 17, 2019, 05:48 PM
Hoyt (49,023 posts)
3. Small businesses-- with exceptions like lawyers, doctors and similar professionals-- seldom paid
best wages, offered better benefits, etc. In fact, many work related laws do no even apply to companies employing less than 25 or 50 employees.

I guess someday we'll look back at these type laws forcing more small businesses to close or sell out. In some respects that's good, in other respects, not so much.
---
Response to Hoyt (Reply #3)
Wed Apr 17, 2019, 07:49 PM
Blue_true (30,574 posts)
5. Most small businesses are cash constrained.
Most that I see don't have anyone outside of family operating them. Large corporations have an advantage of scale, that is significant when it comes to expenses.
---
Response to IronLionZion (Original post)
Wed Apr 17, 2019, 06:37 PM
applegrove (100,613 posts)
4. Automation is coming to replace jobs. They know wages are going to fall.