Tue May 21, 2019, 08:38 PM
kpete (63,253 posts)
D.C. Circuit just called for a response to the petition for rehearing en banc in the McKeever case
BREAKING: The D.C. Circuit just called for a response to the petition for rehearing en banc in the McKeever case about grand jury disclosures.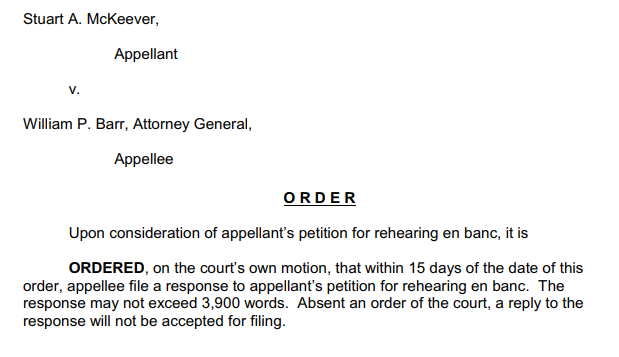 Link to tweet
Link to tweet
Link to tweet
For more on why this matters, read my latest in
https://www.law.com/nationallawjournal/2019/05/14/inherent-authority-to-inform-our-democracy/?slreturn=20190421203505
Congress has good arguments that it should be able to get the Mueller grand jury materials pursuant to that exception, but some commentators have argued that McKeever prevents Congress from getting these materials until there's a formal impeachment proceeding. And even if those commentators are wrong, McKeever's implications extend far beyond the big-ticket investigations of presidents and other federal officials who might be impeached. There are many cases where the public would benefit from disclosure of grand jury information—for example, in an environmental or discrimination case, or in a case of historic significance. Prior to McKeever, district court judges had authority to disclose such materials; now, in the D.C. Circuit, they do not.
Fortunately, McKeever may not be around for long. McKeever filed a petition last week asking the full D.C. Circuit to hear the case and overturn the panel decision. This is the quintessential case where such review by a full court of appeals is appropriate because the panel's decision not only conflicts with its prior decision in the Watergate case, but also because it conflicts with the decisions of other courts of appeals. That means that whether a district court can disclose grand jury material will turn, in part, on where in the country it sits. There's no reason that the answer to such an important question should turn on geographic happenstance, which is why the existence of a conflict with other circuits is a prime reason why courts grant petitions like the one McKeever filed.
As McKeever said in his filing with the court, "the question presented in this case is important" because grand jury "disclosures can vindicate important public value values of transparency and historical understanding, and they advance public confidence in the judicial system;" it's particularly important now. Hopefully, the full D.C. Circuit will take this opportunity to correct the three-judge panel's mistake.
2 replies, 518 views
Replies to this discussion thread
| | | | |
| --- | --- | --- | --- |
| 2 replies | Author | Time | Post |
| D.C. Circuit just called for a response to the petition for rehearing en banc in the McKeever case (Original post) | kpete | May 2019 | OP |
| | Glimmer of Hope | May 2019 | #1 |
| | TomSlick | May 2019 | #2 |
---
Response to kpete (Original post)
Tue May 21, 2019, 08:53 PM
Glimmer of Hope (5,507 posts)
1. Why did the three judge panel rule incorrectly?
---
Response to kpete (Original post)
Tue May 21, 2019, 10:37 PM
TomSlick (3,777 posts)
2. I'm trying to to read too much into this.
If thirty-odd years at the bar has taught me that it is a fraught activity to attempt to read the tea leaves in such orders.

Given the seriousness of this case, I would expect an en banc review. I am not convinced the order provides much guidance on how the court will rule. I recommend waiting and watching.