Sat Jun 15, 2019, 07:36 AM
OnDoutside (15,167 posts)
Alcock and Brown fly across the Atlantic - 100 years ago today.
https://alcockandbrown100.com/
11-16 JUNE, 2019
CLIFDEN, CONNEMARA, CO. GALWAY, IRELAND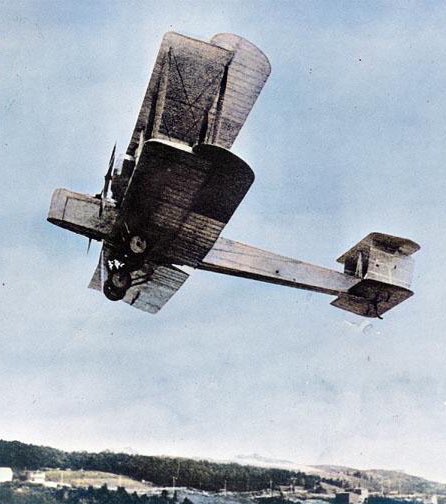 :large
This is the plane Alcock and Brown used to complete the first non-stop transatlantic flight, landing in Clifden at 8:40 a.m. 100 years ago today....
They were flying into darkness. The pilot, John "Jack" Alcock, normally so brash, bold and cheerful, stared forward at the cloud now obscuring their aircraft's wingtips.

Crammed beside him on the wooden seat of their Vickers Vimy biplane, navigator Arthur "Teddy" Brown was silent.

The dense cloud surrounding them meant he could get no readings. They were, to a large extent, flying blind.

Dawn broke, the morning of 15 June, 1919, and the wind picked up, throwing their plane about as Alcock fought to keep it level. Suddenly, the engines shuddered and the plane stalled.

SNIP

People, some still in their pyjamas, ran towards them and found Alcock sitting in the cockpit throwing out its contents and asking, "Who'll have an orange, direct from Newfoundland? Who'll have some cigarettes?"

"Anybody hurt?" somebody asked the airmen. "No." Brown had a bloody nose and mouth but nothing worse.

"Where are you from?" said another. "America," Alcock replied. The crowd laughed, refusing to believe it.

SNIP
Full article here, a great read
https://www.bbc.co.uk/news/extra/bM5diyl48K/alcock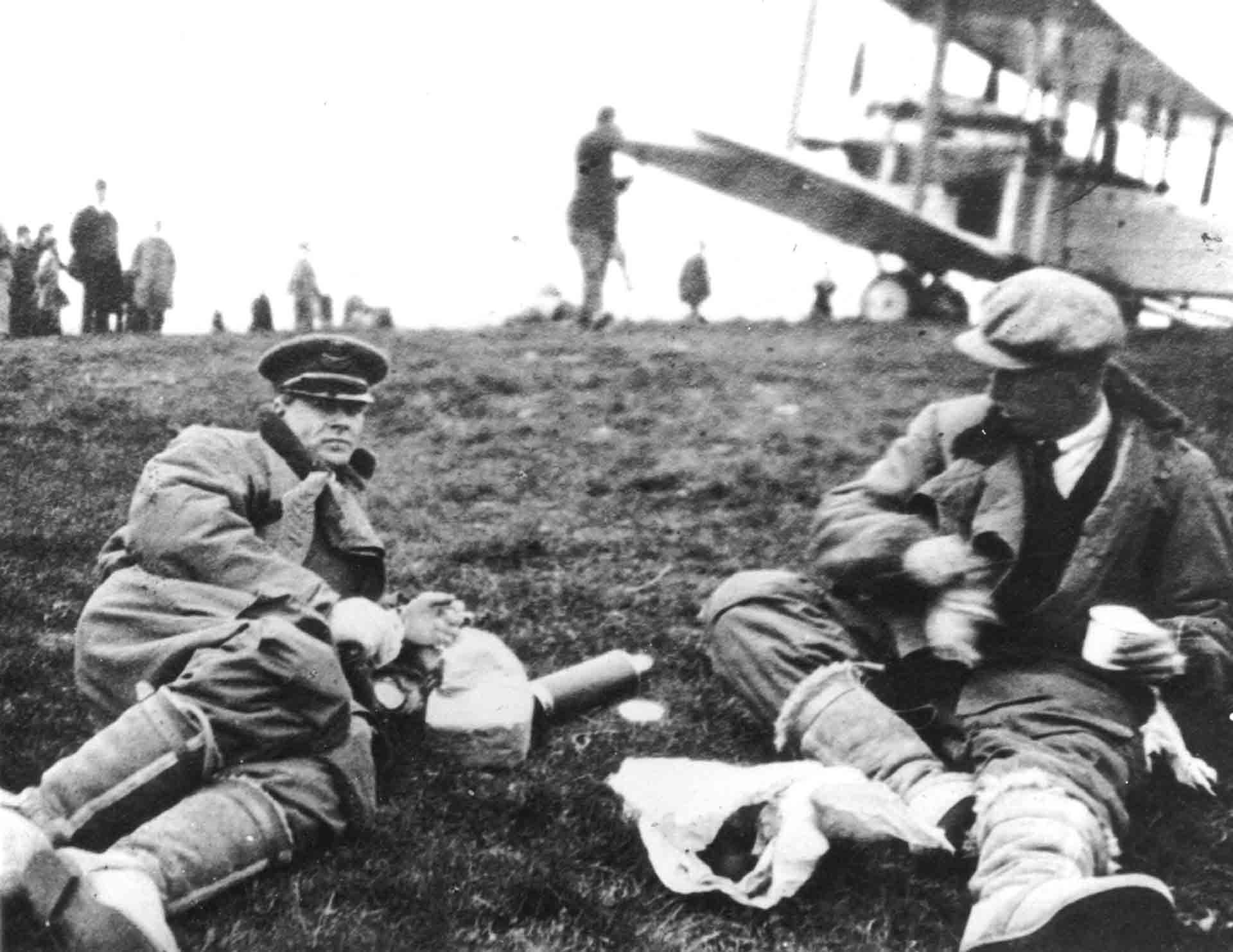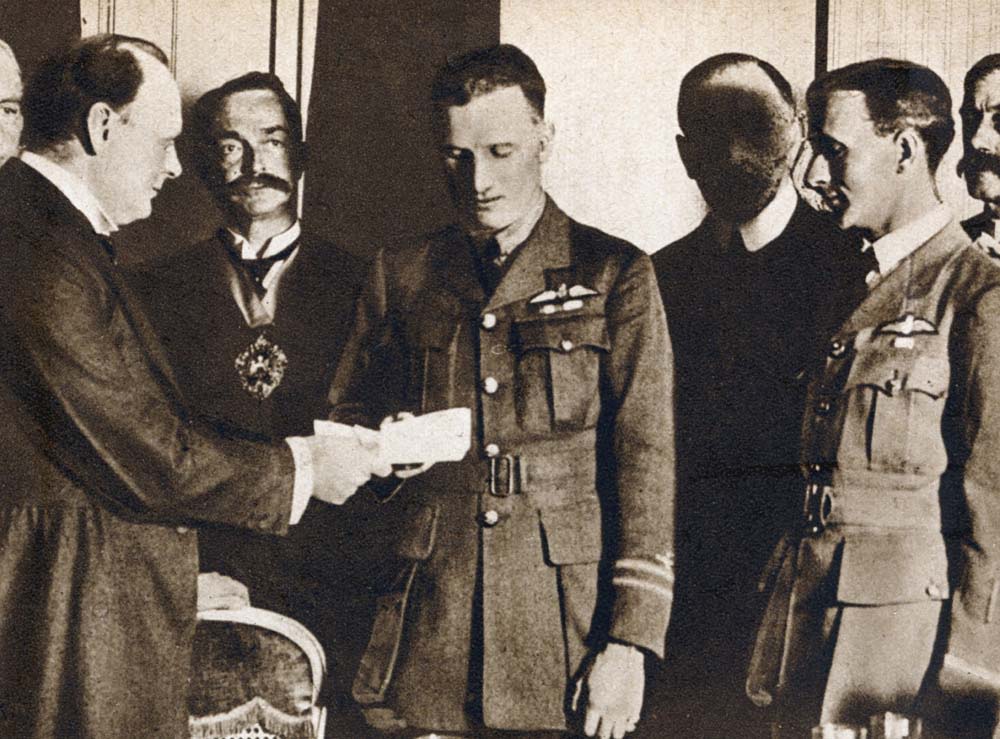 3 replies, 621 views
Replies to this discussion thread
| | | | |
| --- | --- | --- | --- |
| 3 replies | Author | Time | Post |
| Alcock and Brown fly across the Atlantic - 100 years ago today. (Original post) | OnDoutside | Jun 2019 | OP |
| | Dennis Donovan | Jun 2019 | #1 |
| | Kid Berwyn | Jun 2019 | #2 |
| | OnDoutside | Jun 2019 | #3 |
---
Response to OnDoutside (Original post)
Sat Jun 15, 2019, 07:52 AM
Dennis Donovan (18,258 posts)
1. Aw shit. I didn't see yours!
I'm going to delete mine and add the content to yours:
https://en.wikipedia.org/wiki/Transatlantic_flight_of_Alcock_and_Brown
Alcock and Brown taking on mail on Vickers Vimy, June 14, 1919
British aviators
John Alcock
and
Arthur Brown
made the
first non-stop transatlantic flight in June 1919
. They flew a modified First World War Vickers Vimy bomber from St. John's, Newfoundland, to Clifden, Connemara, County Galway, Ireland. The Secretary of State for Air, Winston Churchill, presented them with the Daily Mail prize for the first crossing of the Atlantic Ocean by aeroplane in "less than 72 consecutive hours". A small amount of mail was carried on the flight, making it the first transatlantic airmail flight. The two aviators were awarded the honour of Knight Commander of the Most Excellent Order of the British Empire (KBE) a week later by King George V at Windsor Castle.
<snip>
Flight
Captain John Alcock stowing provisions aboard Vickers Vimy aircraft before trans-Atlantic flight 14 Jun 1919
Alcock and Brown takeoff from St. John's, Newfoundland in 1919
Several teams had entered the competition and, when Alcock and Brown arrived in St. John's, Newfoundland, the Handley Page team were in the final stages of testing their aircraft for the flight, but their leader, Admiral Mark Kerr, was determined not to take off until the plane was in perfect condition. The Vickers team quickly assembled their plane and, at around 1:45 p.m. on 14 June, whilst the Handley Page team were conducting yet another test, the Vickers plane took off from Lester's Field. Alcock and Brown flew the modified Vickers Vimy, powered by two Rolls-Royce Eagle 360 hp engines which were supported by an on-site Rolls Royce team led by engineer Eric Platford. The pair brought toy cat mascots with them for the flight – Alcock had 'Lucky Jim' while Brown had 'Twinkletoes'.
Brown's toy cat mascot 'Twinkletoes' that crossed the Atlantic in 1919 and the following 60th anniversary flight in 1979.
It was not an easy flight. The overloaded aircraft had difficulty taking off the rough field and only barely missed the tops of the trees. At 17:20 the wind-driven electrical generator failed, depriving them of radio contact, their intercom and heating. An exhaust pipe burst shortly afterwards, causing a frightening noise which made conversation impossible without the failed intercom.
At 5.00 p.m., they had to fly through thick fog. This was serious because it prevented Brown from being able to navigate using his sextant. Blind flying in fog or cloud should only be undertaken with gyroscopic instruments, which they did not have. Alcock twice lost control of the aircraft and nearly hit the sea after a spiral dive. He also had to deal with a broken trim control that made the plane become very nose-heavy as fuel was consumed.
At 12:15 a.m., Brown got a glimpse of the stars and could use his sextant, and found that they were on course. Their electric heating suits had failed, making them very cold in the open cockpit.
Then at 3:00am they flew into a large snowstorm. They were drenched by rain, their instruments iced up, and the plane was in danger of icing and becoming unflyable. The carburettors also iced up; it has been said that Brown had to climb out onto the wings to clear the engines, although he made no mention of that.
They made landfall in County Galway, crash-landing at 8:40 a.m. on 15 June 1919, not far from their intended landing place, after less than sixteen hours' flying time. The aircraft was damaged upon arrival because of an attempt to land on what appeared from the air to be a suitable green field, but which turned out to be Derrygilmlagh Bog, near Clifden in County Galway in Ireland, although neither of the airmen was hurt. Brown said that if the weather had been good they could have pressed on to London.
Alcock and Brown crash landing in Ireland 1919
Their altitude varied between sea level and 12,000 ft (3,700 m). They took off with 865 imperial gallons (3,900 L) of fuel. They had spent around fourteen-and-a-half hours[citation needed] over the North Atlantic crossing the coast at 4:28 p.m., having flown 1,890 miles (3,040 km) in 15 hours 57 minutes at an average speed of 115 mph (185 km/h; 100 knots). Their first interview was given to Tom 'Cork' Kenny of The Connacht Tribune.
Alcock and Brown were treated as heroes on the completion of their flight. In addition to a share of the Daily Mail award of £10,000, Alcock received 2,000 guineas (£2,100) from the State Express Cigarette Company and £1,000 from Laurence Philipps, 1st Baron Milford!Laurence R Philipps for being the first Briton to fly the Atlantic Ocean. Both men were knighted a few days later by King George V.
Alcock and Brown flew to Manchester on 17 July 1919, where they were given a civic reception by the Lord Mayor and Corporation, and awards to mark their achievement.
</snip>
---
Response to OnDoutside (Original post)
Sat Jun 15, 2019, 09:54 AM
Kid Berwyn (3,944 posts)
2. "Go climb on the wing and scrape off some ice."
"I'll try and hold her steady."


---
Response to Kid Berwyn (Reply #2)
Sat Jun 15, 2019, 12:55 PM
OnDoutside (15,167 posts)
3. Mad stuff, isn't it ?