Thu Aug 1, 2019, 01:38 PM
ancianita (11,792 posts)
Is truthful, factual information disappearing? If data is now more valuable than oil, likely yes.
The news from Pew Research:
https://www.pewresearch.org/fact-tank/2019/08/01/large-u-s-newspapers-layoffs-2018/?fbclid=IwAR1QDAXmnyNc2nHx9VWdCZdjARZ5V10jyKRkyUaG2lkbWYPNLjPWjtv3tBs
27% of large U.S. newspapers have laid off staff over recent years.
85% suffer multiple layoffs.
(Sorry for the large graphics. I can't control their size.)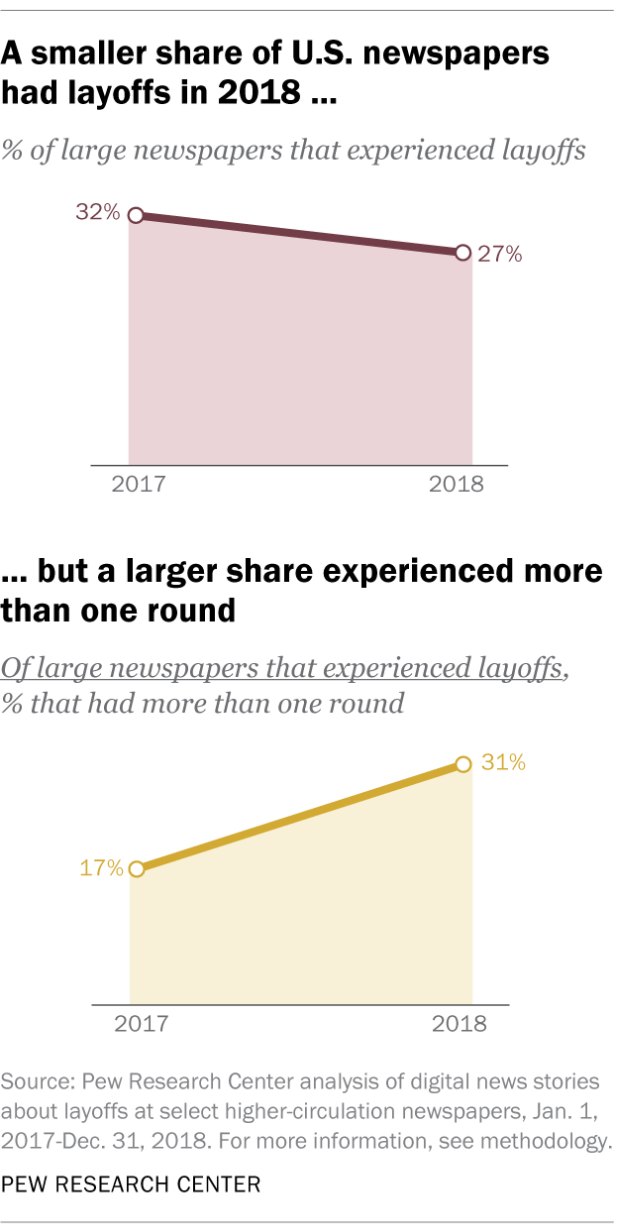 ?resize=310,616
Mid-market newspapers were the most likely to suffer layoffs in 2018 – unlike in 2017, when the largest papers most frequently saw cutbacks. Meanwhile, digital-native news outlets also faced continued layoffs: In 2018, 14% of the highest-traffic digital-native news outlets went through layoffs, down slightly from one-in-five in 2017.
?resize=420,364
Two things are at issue
-- media -- analog and digital -- longevity and who decides
-- human knowledge preservation and who decides.
When it comes to analog info, the fascist dictator we have no longer needs to fight his so-called "enemy of the people." Just use it, quote it, mock it, then let it die. (It would be justice if the day came when Twitter bans him from any global news.)
The first real issue, though, is that, if we don't read, buy and encourage journalism, this could be the last generation that gets information cheaply and easily.
The second issue is digital media and information.
Even digital news suffers.
Digital media erode.
Half of the digital sites used in Harvard dissertation archives were found to have disappeared through what's called digital degradation -- whether sites were shut down, or servers were shut down due to upgrades, or something else.
Our analog and digital platforms longevity is an important indicator of the relative strengths of human record keeping. With analog, history has been full of knowledge and lessons for everyone, not just humans without electricity. We humans know hundreds, even thousands of years of human activity -- every domain of knowledge -- through analog media -- books, tablets, photos, scrolls, not to mention arts analog media.
We will not be able to count on knowing PROVABLE history past 10 or 30 years. And it's unlikely that the Internet's Wayback Machine people can capture everything.
What could it mean when we can't access science, weather forecasts, not to mention climate change and other scientific predictive data.
That's the perfect power setup for those who want total ruling power over the human story, over the rest of us. There is an inherent evil in that. The evil is to "revise" history, "deny" events, reform, even if gradually, the human timeline's "map" so that it becomes the only one we're allowed, and therefore, the only "territory" we'll know beyond our immediate environs.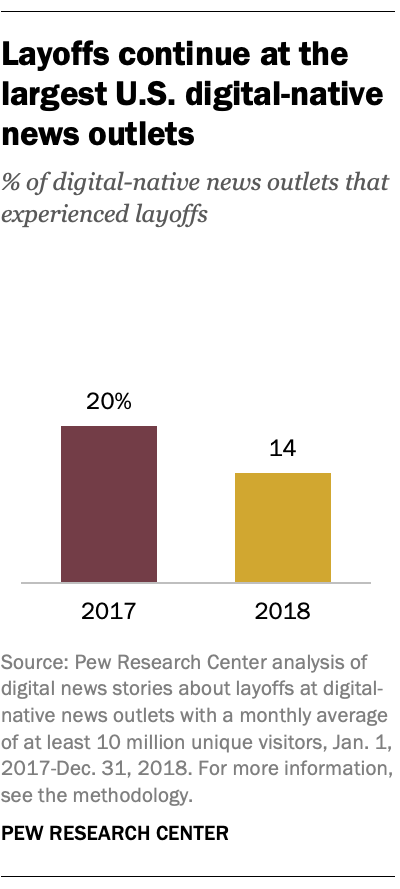 ?resize=200,445
One of the highest goods we can do is support and use as much public news as we can -- particularly analog -- or lose it. Above all, we need to promote reading. World powers have always feared thinkers. They've always "loved the uneducated."
It's bad for humanity not to have an analog record. Our human activity and events is way too important to cast into an ethernet, only to be "disappeared" from human memory. It's even worse if we're trained to not care about what we know. Our whole Western set of values -- logic, argument, fact, epistemology -- could be disappeared such that future generations will only know HAL.
It's good for globalists who want to eventually dictate the value of "news." And what's worth knowing. And knowledge in general.
Free will and freedom come from accurate maps of the territory, not the matrix.
Call me crazy, or call all this obvious, sure.
But one doesn't have to be a woowoo conspiracist to look around and see that this has been gradually happening. Journalism reportage or digital info loss need not be by design, even. At all.
But it does mean that we should pay attention.
It doesn't mean that we should trust the ownership of information to "official" sources.
It does mean that Americans should support their local journalism.
Read. Reading is thinking. Writing is thinking.
Reading is not just a part of life. Reading is a WAY of life. A candle in darkness.
Reading and writing reality, as human collective thinking, clearly compels humans to SEE clearly the same things that secure or endanger their freedoms. Together. Not knowing is the enemy.
5 replies, 449 views
Replies to this discussion thread
| | | | |
| --- | --- | --- | --- |
| 5 replies | Author | Time | Post |
| Is truthful, factual information disappearing? If data is now more valuable than oil, likely yes. (Original post) | ancianita | Aug 2019 | OP |
| | shraby | Aug 2019 | #1 |
| | ancianita | Aug 2019 | #2 |
| | GusBob | Aug 2019 | #3 |
| | ancianita | Aug 2019 | #4 |
| | ancianita | Aug 2019 | #5 |
---
Response to ancianita (Original post)
Thu Aug 1, 2019, 01:55 PM
shraby (21,936 posts)
1. I tell people to read the OLD newspapers that wrote up the history as it
was happening. They are on microfilm and by reading the original accounts, they are probably the most accurate, not having the spin put on them by more recent accounts.
---
Response to shraby (Reply #1)
Thu Aug 1, 2019, 02:00 PM
ancianita (11,792 posts)
2. Important.
---
Response to ancianita (Original post)
Thu Aug 1, 2019, 02:14 PM
GusBob (5,249 posts)
3. You see it here on DU lately
DU use to be hyper-hyper vigilant about sources. We all remember the " got a link? " comments

Nowadays, like 4 times in the past week, someone posts a link to twitter (because DU is now just a "link to tweet" place)
that is factually in error and most posters swallow it hook line and sinker

I'm starting to think its a new form of fake news cyber warfare, getting folks to fall for faulty information to make them look ignorant
---
Response to GusBob (Reply #3)
Thu Aug 1, 2019, 02:25 PM
ancianita (11,792 posts)
4. I've been seeing it here and everywhere. Links to reputable on the ground journalism and experts
who base their knowledge on measured factual reality are best.

Especially during the upcoming election, we need to get back to that standard of credibility.

You're likely right. The dis- and misinformation is old, and the platforms they're on are new.




---
Response to ancianita (Original post)
Thu Aug 1, 2019, 02:34 PM
ancianita (11,792 posts)
5. Example from Facebook -- a site called UpWorthy posts photoshop of Trump crossing the Delaware.
We've seen joking about Trump's "being there" on 9/ll -- lots of cartoons of him signing the Declaration, etc.
Still. What I'm seeing lately is that these jokes sit in a context of alt-fact politics that can lead to alt-reality.
Here's what I wrote to UpWorthy:
DO NOT JOKE. This jokiness is the first phase of how fascism rewrites history.

Serious attempts have been made to rewrite history -- jokiness surrounds the list below.

But the following list is influencing the mental "maps" of adults and children. We see it in our social media. The ideas floated below get traction in some parts. Media who promote these claims know it. It's no laughing matter when people come to believe

1. The Holocaust didn't happen
2. The US Civil War was a cultural/economic war
3. The Bowling Green massacre
4. Colonial revolutionaries closed the airports
5. U.S. genocides against indigenous peoples were inevitable
6. Erasure of protest events, massacres, purges, mass murders from news, books
7. Presenting religious belief of creationism as fact in textbooks
8. Racism as science
9. Deep fakes as reality
10. Alt-fact as fact and reality

Trump's lies are serious; his bullshit is no joking matter.

Outright stupidity about history is one thing. Denialism of events is easy to see and dismiss. But knowing and denying facts, reality in the public arena are an insidious evil perpetrated upon the innocent and unwitting.

So jokey write-ups begin. When true versions get collected electronically, or get "disappeared," the reality of history gets altered on maps that don't correspond with what was once known.

Analog records save court cases. They save the law. And our currency. The entire Secret Service was invented to track down and preserve the reality of "real" money. That's how important THAT reality has been.

Adults commit -- COMMIT -- to fact-based truth. We can't have an upworthy vision for humans without it.

This shit's not funny, Upworthy. It's part of a larger, seemingly random attempt at legitimizing an alt view of reality.

Be careful what you present for people to be UPlifted by. You may be unwittingly contributing to the ongoing attempt to create a map of reality that's not there, and human history that didn't happen.

I couldn't let it go. I had to tell the site.
It all could go away, but it's also gone on too long for me to think it ever will.