Tue Oct 29, 2019, 07:56 AM
Celerity (24,123 posts)
50 years ago today, the internet was born in Room 3420
Here's the story of the creation of ARPANET, the groundbreaking precursor to the internet—as told by the people who were there.

https://www.fastcompany.com/90423457/50-years-ago-today-the-internet-was-born-in-room-3420
When I visited UCLA's Boelter Hall last Wednesday, I took the stairs to the third floor, looking for Room 3420. And then I walked right by it. From the hallway, it's a pretty unassuming place. But something monumental happened there 50 years ago today. A graduate student named Charley Kline sat at an ITT Teletype terminal and sent the first digital data transmission to Bill Duvall, a scientist who was sitting at another computer at the Stanford Research Institute (now known as SRI International) on the other side of California. It was the beginning of ARPANET, the small network of academic computers that was the precursor to the internet.
At the time, this brief act of data transfer wasn't anything like a shot heard round the world. Even Kline and Duvall didn't appreciate the full significance of what they'd accomplished: "I don't remember anything specifically memorable about that night, and I certainly didn't realize that what we had done was anything special at the time," says Kline. But their communications link was proof of the feasibility of the concepts that eventually enabled the distribution of virtually all the world's information to anybody with a computer.
Today, everything from our smartphones to our garage-door openers are nodes on the network that descended from the one Kline and Duvall tested that day. How they and others established the original rules for shuttling bytes around the world is a tale worth sharing—especially when they tell it themselves.
"THAT BETTER NEVER HAPPEN AGAIN"
Even back in 1969, many people had helped set the stage for Kline's and Duvall's breakthrough on the night of October 29–including UCLA professor Leonard Kleinrock, whom I spoke with along with Kline and Duvall as the 50th anniversary approached. Kleinrock, who is still at UCLA today, told me that ARPANET was, in a sense, a child of the Cold War. When the Soviet Union's Sputnik 1 satellite blinked across U.S. skies in October 1957, it sent shockwaves through both the scientific community and political establishment.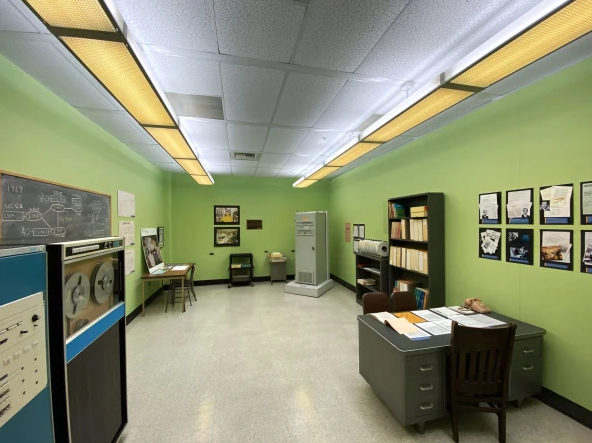 Room 3420, restored to its 1969 glory.
snip
Hobbes' Internet Timeline
https://www.zakon.org/robert/internet/timeline/
snip
1969
First packets sent by Charley Kline at UCLA as he tried logging into SRI. The first attempt resulted in the system crashing as the letter G of LOGIN was entered. (October 29)

Log entry
5 replies, 1331 views
Replies to this discussion thread
| | | | |
| --- | --- | --- | --- |
| 5 replies | Author | Time | Post |
| 50 years ago today, the internet was born in Room 3420 (Original post) | Celerity | Oct 2019 | OP |
| | abqtommy | Oct 2019 | #1 |
| | California_Republic | Oct 2019 | #2 |
| | MurrayDelph | Oct 2019 | #3 |
| | renate | Oct 2019 | #4 |
| | friendly_iconoclast | Oct 2019 | #5 |
---
Response to Celerity (Original post)
Tue Oct 29, 2019, 09:00 AM
abqtommy (12,350 posts)
1. Thanks to you, Charley and Bill, for all this technology.
---
Response to Celerity (Original post)
Tue Oct 29, 2019, 09:35 AM
California_Republic (1,826 posts)
2. Baby 's first words: "http 404 page not found "
---
Response to Celerity (Original post)
Tue Oct 29, 2019, 10:43 AM
MurrayDelph (4,637 posts)
3. I remember that room well
In the 70's I hung out around the corner from there, at the UCLA Computer Club (aka, The Crumpeter Coup, or "The messiest office on 3rd Floor Boelter" as some of our mail was addressed).
---
Response to Celerity (Original post)
Tue Oct 29, 2019, 10:46 AM
renate (13,475 posts)
4. That is super cool!!!
Thanks so much for that! I'm such a sucker for things like that recreated computer room. Like a movie set!
---
Response to Celerity (Original post)
Tue Oct 29, 2019, 10:54 AM
friendly_iconoclast (15,333 posts)
5. "Where Wizards Stay Up Late" by Katie Hafner is a good history of ARPANET
http://katiehafner.com/books/where-wizards-stay-up-late/
Where Wizards Stay Up Late chronicles the origins of the Internet, the most important communications breakthrough since the telephone. At a time when computers were mainly used as processing machines, one man, J.C.R. Licklider, a psychoacoustician from MIT, saw their potential as communication devices. With the help of a small group of engineers and researchers, Licklider's vision eventually yielded the Arpanet, which in turn created the foundation for the Internet we know today.