Sat Jun 6, 2020, 08:29 PM
Kid Berwyn (8,641 posts)
Make D-Day June 6 World Anti-Fascist Day
Keeps History Fresh for Everyone, Forever.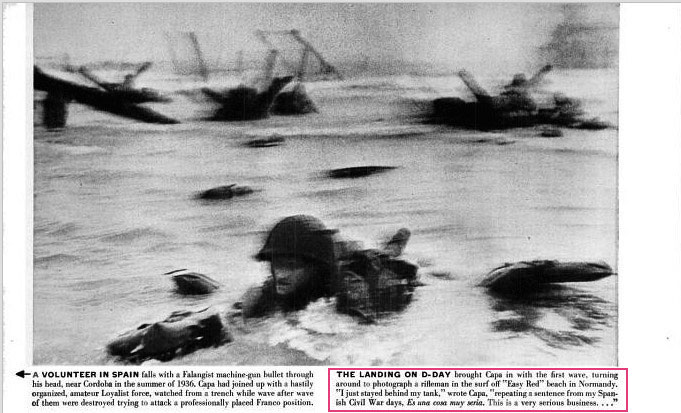 And I do mean for ever.
"The really dangerous American fascist... is the man who wants to do in the United States in an American way what Hitler did in Germany in a Prussian way. The American fascist would prefer not to use violence. His method is to poison the channels of public information. With a fascist the problem is never how best to present the truth to the public but how best to use the news to deceive the public into giving the fascist and his group more money or more power... They claim to be super-patriots, but they would destroy every liberty guaranteed by the Constitution. They demand free enterprise, but are the spokesmen for monopoly and vested interest. Their final objective, toward which all their deceit is directed, is to capture political power so that, using the power of the state and the power of the market simultaneously, they may keep the common man in eternal subjection."
~quoted in the New York Times, April 9, 1944
― Henry A. Wallace
And I do mean for everyone.
4 replies, 634 views
Replies to this discussion thread
| | | | |
| --- | --- | --- | --- |
| 4 replies | Author | Time | Post |
| Make D-Day June 6 World Anti-Fascist Day (Original post) | Kid Berwyn | Jun 2020 | OP |
| | appalachiablue | Jun 2020 | #1 |
| | Kid Berwyn | Jun 2020 | #2 |
| | appalachiablue | Jun 2020 | #3 |
| | Kid Berwyn | Jun 2020 | #4 |
---
Response to Kid Berwyn (Original post)
Sat Jun 6, 2020, 08:38 PM
appalachiablue (36,076 posts)
1. I like it, we also need a Democracy Day
---
Response to appalachiablue (Reply #1)
Sat Jun 6, 2020, 08:48 PM
Kid Berwyn (8,641 posts)
2. Make Election Day Democracy Day
Great idea, appalachiablue! First Tuesday after the first Monday every November.
---
Response to Kid Berwyn (Reply #2)
Sat Jun 6, 2020, 09:24 PM
appalachiablue (36,076 posts)
3. Sounds good, and we need more recognition
of Constitution Day, as long as we still have one, know what I mean..

Democracy Gardens for supplemental food production and community spirit like the Victory Gardens of WWII, and maybe WWI.

Let's see, Equality Day, Human Rights Day (which may exist), Citizens Day-- that's been so lost in our transition to 'consumer' status. So much could be done with real change.
---
Response to appalachiablue (Reply #3)
Sun Jun 7, 2020, 11:08 AM
Kid Berwyn (8,641 posts)
4. Exactly! Helps prevent "Constitutional Grift."
Generals Denounce Trump's Protest Crackdown Plan

U.S. President Donald Trump wants a military response to street protests, but his chief military advisor thinks otherwise.

As Trump Threatens Military Force, Generals Push Back
BY COLM QUINN
Foreign Policy | JUNE 4, 2020
As protests across the United States enter their tenth day, senior U.S. military personnel have been lining up to voice their opposition to a Trump administration that has signaled its eagerness to unleash military force to put down the demonstrations.
U.S. President Donald Trump hinted on Monday that he may invoke the Insurrection Act, a two-century old law that would allow active duty military personnel to support law enforcement. It was last used in 1992 to quell riots in California in the aftermath of Rodney King's beating by Los Angeles police.
He has been egged on by Sen. Tom Cotton of Arkansas, who published an op-ed in the New York Times online Wednesday entitled "Send In The Troops." The piece prompted ridicule online and a rebuke from Times journalists who said the piece endangered the newspaper's black workers.
Will the top brass force Trump to back down? Mark Milley, the Chairman of the Joint Chiefs of Staff and the most senior military advisor to Trump, issued a rare memo to the country's armed services reminding them of their duties as well as the rights of their fellow citizens to free assembly. "We all committed our lives to the idea that is America—we will stay true to that oath and the American people," Milley wrote in the handwritten portion of the memo.
Writing in Foreign Policy, John Allen, a retired U.S. Marine Corps four-star general and current president of the Brookings Institution also criticized calls for militarization. "Right now, the last thing the country needs—and, frankly, the U.S. military needs—is the appearance of U.S. soldiers carrying out the president's intent by descending on American citizens. This could wreck the high regard Americans have for their military, and much more," he wrote.
Continues...
https://foreignpolicy.com/2020/06/04/generals-denounce-trump-plan-mattis-milley-allen-esper/