Thu Jul 9, 2020, 11:12 PM
Tactical Peek (892 posts)
Mississippi's five largest hospitals are out of ICU beds
Mississippi's five largest hospitals are out of ICU beds
By LEAH WILLINGHAM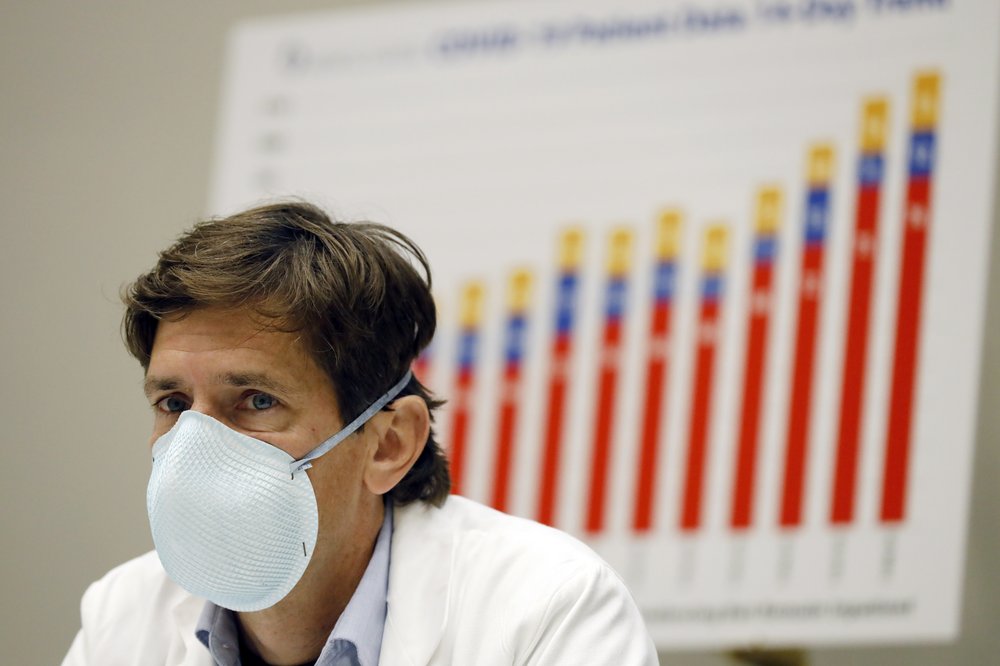 JACKSON, Miss. (AP) — Mississippi's five largest hospitals had no intensive care unit beds available for patients by midweek because of a surge in coronavirus cases, officials reported Thursday. Four more hospitals had 5% or less of those beds available.
"I was woken up by a phone call yesterday morning at 4 a.m. because we had so many patients at our hospital, we didn't know where to put them," Dr. Alan Jones, assistant vice chancellor for clinical affairs of the University of Mississippi Medical Center, said Thursday.
Mississippi has one of the fastest-growing rates of new coronavirus cases in the United States. One county, Grenada, saw a 22% increase in reported cases from last week to this week. Simpson County saw an 18% increase.
. . . Compounding Mississippi's rising cases is the fact that it is one of the states with the fewest health care resources in the country, and hospitals are already stretched thin, a panel of medical officials said at a news conference Thursday. . . . "Our biggest medical institutions, who take care of our sickest patients, have no room," State Health Officer Dr. Thomas Dobbs said.
This shortage has impacted facilities' ability to not only care for patients with the virus but other emergency patients as well. The University of Mississippi Medical Center in Jackson is the only hospital in the state that cares for major trauma victims and transplant patients, for example. UMMC emergency care physician, Dr. Ustav Nandi, said the hospital is no longer able to accept transfers of patients from other hospitals with ailments such as strokes or heart attacks
Hospital officials are gravely concerned.
more...
https://apnews.com/83da77719097ed2449dd6995e272e40f
Leah Willingham is a corps member for the Associated Press/Report for America Statehouse News Initiative. Report for America is a nonprofit national service program that places journalists in local newsrooms to report on undercovered issues.
----------------
We are fucked.
2 replies, 470 views
Replies to this discussion thread
| | | | |
| --- | --- | --- | --- |
| 2 replies | Author | Time | Post |
| Mississippi's five largest hospitals are out of ICU beds (Original post) | Tactical Peek | Jul 9 | OP |
| | dutch777 | Jul 9 | #1 |
| | hatrack | Jul 10 | #2 |
---
Response to Tactical Peek (Original post)
Thu Jul 9, 2020, 11:53 PM
dutch777 (162 posts)
1. So sad but this is what happens when you cut costs to the bone....
...no extra capacity when the s**t hits the fan. It's really bad when the state college medical centers get here as they are usually the best funded and have the medical students as extra resources. Think how bad the smaller suburban and rural hospitals must be is they are getting hit too. I am amazed the medical staff and nurses' union aren't screaming as they will be having to decide who get treatment and hope and who gets left out to die. This is a true American tragedy and was oh so preventable.
---
Response to Tactical Peek (Original post)
Fri Jul 10, 2020, 12:10 AM
hatrack (50,953 posts)
2. Stand tall, y'all! "Mississippi's never going to be China." Gov. Tate Reeves, 3/24/20
True, Gov. Jethro T. Dribbledick, very true. In China, you'd probably have better odds of getting a hospital bed, or at least testing.
EDIT
A number of questions the governor fielded urged him to take immediate action to order the shutdown, following Ohio, Louisiana, Delaware, California, New York, New Jersey, Illinois, Connecticut, Michigan, West Virginia, Oregon and Indiana. Other states, like Washington, have urged residents to stay in their homes, but have yet to formally issue the order.
#
The value of a shelter-at-home order is relatively simple. Individuals who acquire COVID-19 may spread it asymptomatically—without any signs that they are infected—for up to 14 days. Without a good grasp on who is infected, it is impossible to tell where the virus is, meaning the only way to strangle the spread of the virus is to stop as much of its transmission as is possible. Is is also a measure to protect against overloading the health-care system, leaving it unable to care for all the critically ill patients.
One Mississippian asked the governor why the state was not emulating China, the first country to detect COVID-19 and the first to control the spread of the virus. "Mississippi's never going to be China. Mississippi's never going to be North Korea," Reeves responded. He added that "when looking at the numbers China's putting out, claiming that they have no new cases over a period of time—I'm not entirely sure we can trust that data."
#
Reeves' skepticism of China's control of the COVID-19 pandemic is incorrect, however. In areas across China most heavily affected by the novel coronavirus, the extensive lockdown, testing and case isolation protocols have eliminated the spread of the virus to the degree that the imminent danger for these areas is not community spread, but reinfection from travelers returning from abroad. Dr. Bruce Aylward, World Health Organization senior advisor, explains the dedication of the Chinese model. "They're mobilized, like in a war, and it's fear of the virus that was driving them. They really saw themselves as on the front lines of protecting the rest of China. And the world," he said.
EDIT
https://www.jacksonfreepress.com/news/2020/mar/23/governor-rejects-state-lockdown-covid-19-mississip/