Fri Aug 7, 2020, 02:21 PM
Celerity (29,221 posts)
highly instructive chart that looks at polling averages in battleground states this year and in 2016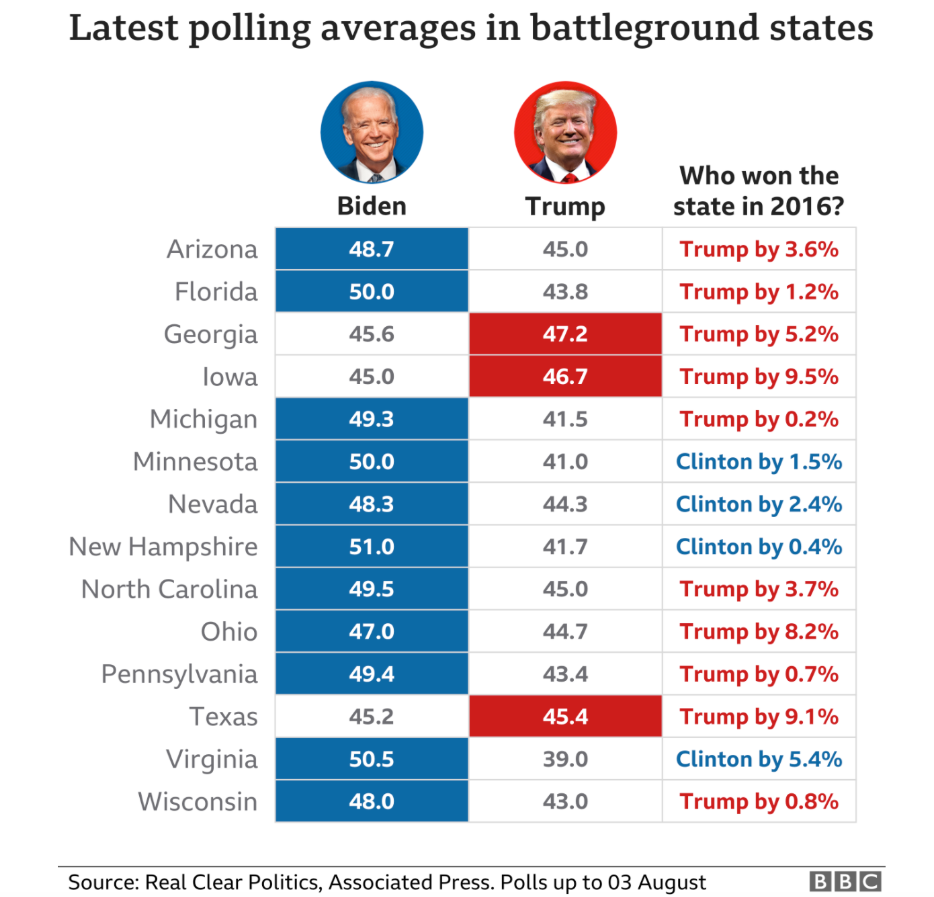 Quote Of The Week
"As Donald Trump has secretly known all along — stupid, injured manchild that he is — none of the people in the privileged classes of New York or Washington or California who pretended to love and admire him truly understood his greatness, and now that the waves are crashing over the bow they're scurrying off the deck.

He'll be left at the end with the losers and incels and rubes in the red hats — stricken, lonely people who looked to him as a savior and for whom he feels only contempt. People he probably hates more than he hates Muslims or Mexicans or Black people, and possibly even more than he hates himself."
-
Andrew O'Hehir on Trump's impending electoral disaster
1 replies, 448 views
Replies to this discussion thread
| | | | |
| --- | --- | --- | --- |
| 1 replies | Author | Time | Post |
| highly instructive chart that looks at polling averages in battleground states this year and in 2016 (Original post) | Celerity | Aug 2020 | OP |
| | Eliot Rosewater | Aug 2020 | #1 |
---
Response to Celerity (Original post)
Fri Aug 7, 2020, 02:29 PM
Eliot Rosewater (28,369 posts)
1. For it to be that close tells me about half the country will die while supporting
the people killing them and NOTHING can change this.
Can we survive that level of dumb? You tell me!
I got in trouble on Twitter the other day with someone I respect for saying basically that if an employer can be held criminally liable for knowingly sending people into an UNSAFE work place where DEATH could occur (knowingly is the key, negligence is based on knowing in civil case as I understand it) then why cant the prez who is killing people knowingly be held criminally liable?
And I even suggested that the GOP is all guilty themselves and that folks on our side are not reacting as if we understand how bad things are.
I dont want a violent revolution, which could legitimately be surmised after reading what I wrote so I was wrong to suggest that, even though I didnt mean it.
What I do mean is relying on the patriotism of the right and the courts, isnt enough anymore.
https://www.littler.com/publication-press/publication/osha-update-court-appeals-upholds-employers-criminal-liability-and
I thought an employer could go to jail for negligence on top of losing a civil lawsuit. Maybe not.