Fri Aug 28, 2020, 01:15 AM
Celerity (24,048 posts)
An Illegal, Exploitative Nightmare
While you've likely already watched the third night of the convention, it's important to emphasize what happened on Tuesday.
https://thebanter.substack.com/p/an-illegal-exploitative-nightmare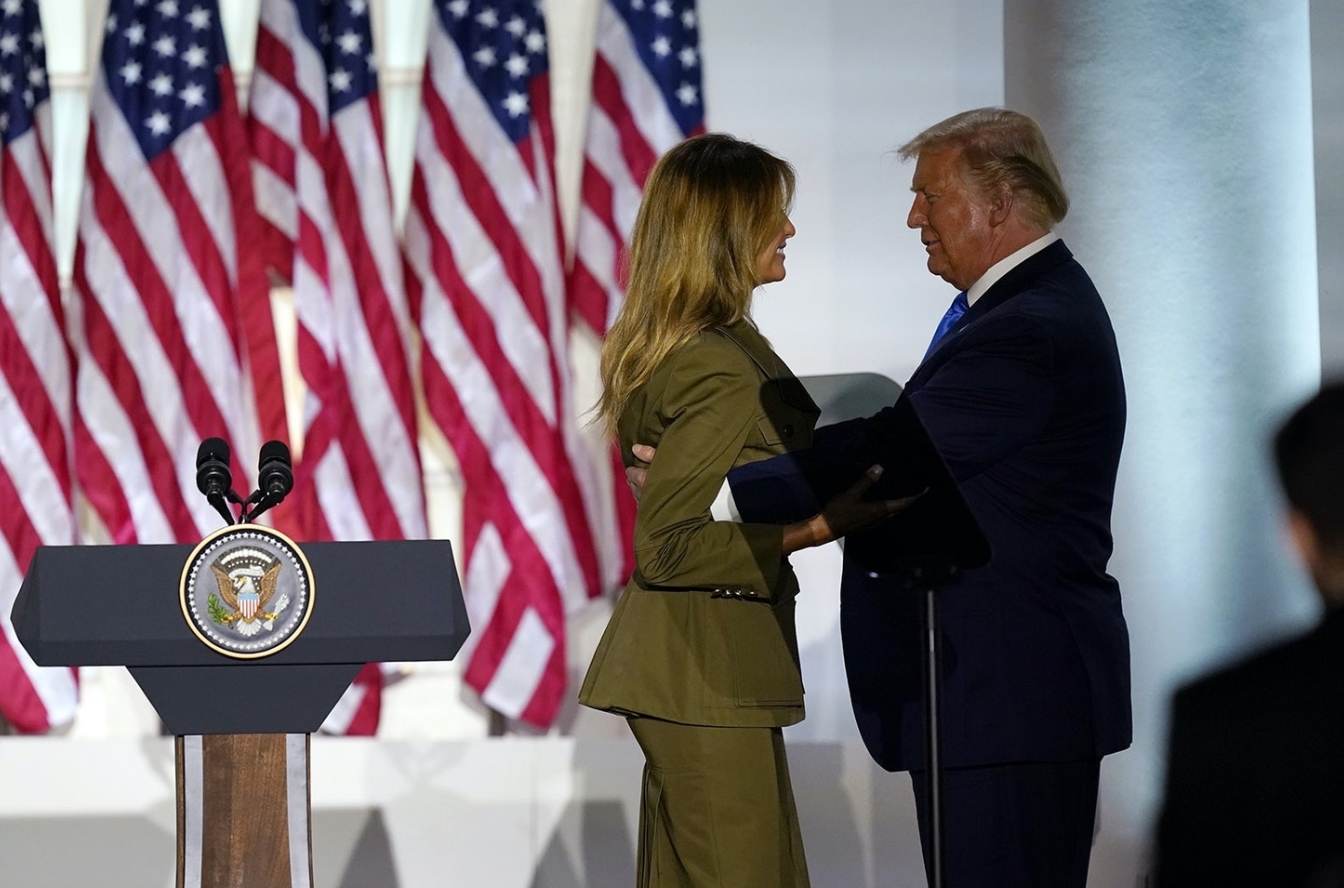 WASHINGTON, DC -- Donald Trump might be the luckiest crook in politics. He's responsible for most of the 180,000 American lives that've been lost so far due to his maliciously reckless response to the pandemic. We're in the midst of the deepest recession in the history of keeping track of the gross domestic product. There are millions of Americans out of work with an unemployment rate in the 10 to 16 percent range. He and most of his inner circle have been either investigated, indicted, or incarcerated. There's documented evidence he tried to cheat in the election and that he continues to do exactly that today. The list of trespasses goes on and on, including thousands of other things. And yet there's no guarantee he'll lose the election. In fact, I'd wager there's still a solid chance that the cheating, the foreign attacks, and the other structural impediments like Voter ID and voter purges will push him over the top in the Electoral College. Again. In other words, tyranny has arrived and this election might calcify it here. Aiding in Trump's inconceivable march to possible re-election are a handful of cable news and internet journalists who simply can't wait to give Trump the benefit of the doubt -- who can't scramble over themselves fast enough to shoehorn the term "presidential" or other form of unearned, unsubstantiated praise of Trump into the national debate. You know the usual suspects: Ryan Lizza, David Brooks, Chris Cillizza, Gloria Borger, Van Jones, and others who seem to constantly revert to the default position of superimposing "normal" things onto this president despite being anything but. It happened again this week following the second night of the Republican National Convention.
While you've likely already watched the third night of the convention, it's important to emphasize what happened on Tuesday. It was perhaps the most horrendously cynical and exploitative political event I've ever witnessed -- and that view was shared by historians, other journalists, and citizen observers alike. By now, you're probably aware of the Hatch Act, a law that, among other things, makes it illegal for anyone but the president and vice president to engage in politics on federal land or in federal buildings. NeverTrumper
Rick Wilson tweeted
, "It's less like a series of Hatch Act violations and more like a Hatch Act violation festival." There were the speeches, including all the speeches by Trump's adult children, that took place inside the Andrew W. Mellon Auditorium, a federally owned building -- a building that, technically, we all own. By the way, Florida's Lt. Gov. Jeanette Núñez spoke from the Mellon auditorium and pilloried socialism throughout her remarks, which was ironic given that she was standing in a room that was financed by socialism. There were the portions of the night that took place in the White House and outside the mansion in the former-Rose Garden, too. Anyone and everyone who works for the government, including Trump's staff and cabinet officials, broke the law by participating. Chief of Staff Mark Meadows blew it off by
saying "nobody cares."
Perhaps not, but the rule of law cares. And, frankly, every American ought to care that their taxpayer money helped to finance the Republican convention whether they like it or not. Incidentally, I'm old enough to remember when Al Gore was
nearly crucified in the press
for making a fundraising call
from the wrong phone
.
But the Hatch Act violations were only part of the outrageousness of night two. One of the truly unforgivable aspects of the evening had to do with the cheap exploitation of the White House and of the citizenship naturalization process. The president used both the building and the ceremony as props in his desperate campaign for re-election, piggybacking his toxic politics onto newly sworn-in American citizens who he otherwise hates -- y'know, being brown people from "shithole countries" and all. Worse, this president has done everything in his power and even beyond his power to demonize immigrants. He's banned certain immigrants from legally entering the country based on religion or point of origin. He's locked up migrant children in internment camps where many have been raped or left to die. He's currently ignoring the Supreme Court's ruling on DACA in order to deport more Dreamers. We even learned today that he wanted to maim, electrocute, and attack with
heat weapons
anyone who dared to seek the American dream in the land of the free. That ceremony was unpasteurized horseshit, and I feel sorry for the new Americans who will forever have their citizenship tainted by the exploitation of a fascist tyrant. Trump turned a solemn and sacred event into something dirty -- something gross. Meanwhile, I hope everyone who attended Melania Trump's speech in the former Rose Garden was eaten alive by mosquitos. By the way, thanks to the First Lady, the Rose Garden went from colorful and dignified to resembling the Google Street View of modern day Chernobyl. Not only were the dignitaries not socially distanced, not only were they not wearing masks, but they all endorsed with their presence the charade that took place, with the majestic White House colonnade as an illegal backdrop.
Worst of all, the way Trump was cynically and deceitfully described by everyone who spoke, including his Soviet-uniformed wife, was so completely opposite of what's actually true, the show literally and perpetually insulted the intelligence of 60 percent of American voters who still accept factual reality as reality -- those of us who still value the truth. The story of the night should've been the exploitative and lie-filled event we all watched. Yet Ryan Lizza and the others couldn't wait to frame it as a victory for Trump, ignoring the repeated law breaking. Lizza, for instance,
called the naturalization ceremony
a "softening effort on immigration." He described Trump as having "beamed" while the ceremony took place. Lizza's headline claims Melania "spruced up her husband" as if that's even possible in this or any other universe. Melania referred to her husband's "honesty" and that he "doesn't play politics," each being huge lies and neither of the whoppers were mentioned in Lizza's piece. Lizza said Melania's speech framed the president as a "unifying figure of empathy and compassion with moderate policies," without mentioning any of the millions of reasons why he's not. Chris Cillizza
described Melania
as having "empathy." How the hell does he know what she feels? Wolf Blitzer summarized the First Lady's remarks as, "A very moving speech," not that it was filled with glaring falsehoods or even that Trump signed illegal hush-money checks to his mistresses in the room immediately behind where she stood Tuesday night.
I think you get the point. The great irony with this aggravating tendency for some of these cable news people to backstop Trumpism is that Trump hates them all. Given the opportunity, Trump would lock up every single one of these so-called "enemies of the people." Maybe that's why some members of the cable news media are soft-pedaling their coverage. Who knows. But I do know that they're doing a great disservice to the public with their dissembling and whitewashing, given how even the most non-partisan observers believe our democracy is on the brink of collapse -- disrupted, pillaged, and usurped by a professional con-man who keeps getting away with it all. In a matter of months, everything we cherish about our nation could be disappeared, and the press has a responsibility to give it to us straight: the who, what, when, where, why and how it's all going to happen. Many of them have, but the valiant efforts of some of our best journalists are being dragged down and endangered by some of our worst.
0 replies, 1029 views