Wed Feb 10, 2021, 09:26 AM
Celerity (29,130 posts)
How 'Conspirituality' Wrecked The Wellness World And Destroyed Our Response To COVID-19
Conspiracy theories are ripping apart the fabric of our society, and if we don't act soon the consequences could be fatal.
https://thebanter.substack.com/p/how-conspirituality-wrecked-the-wellness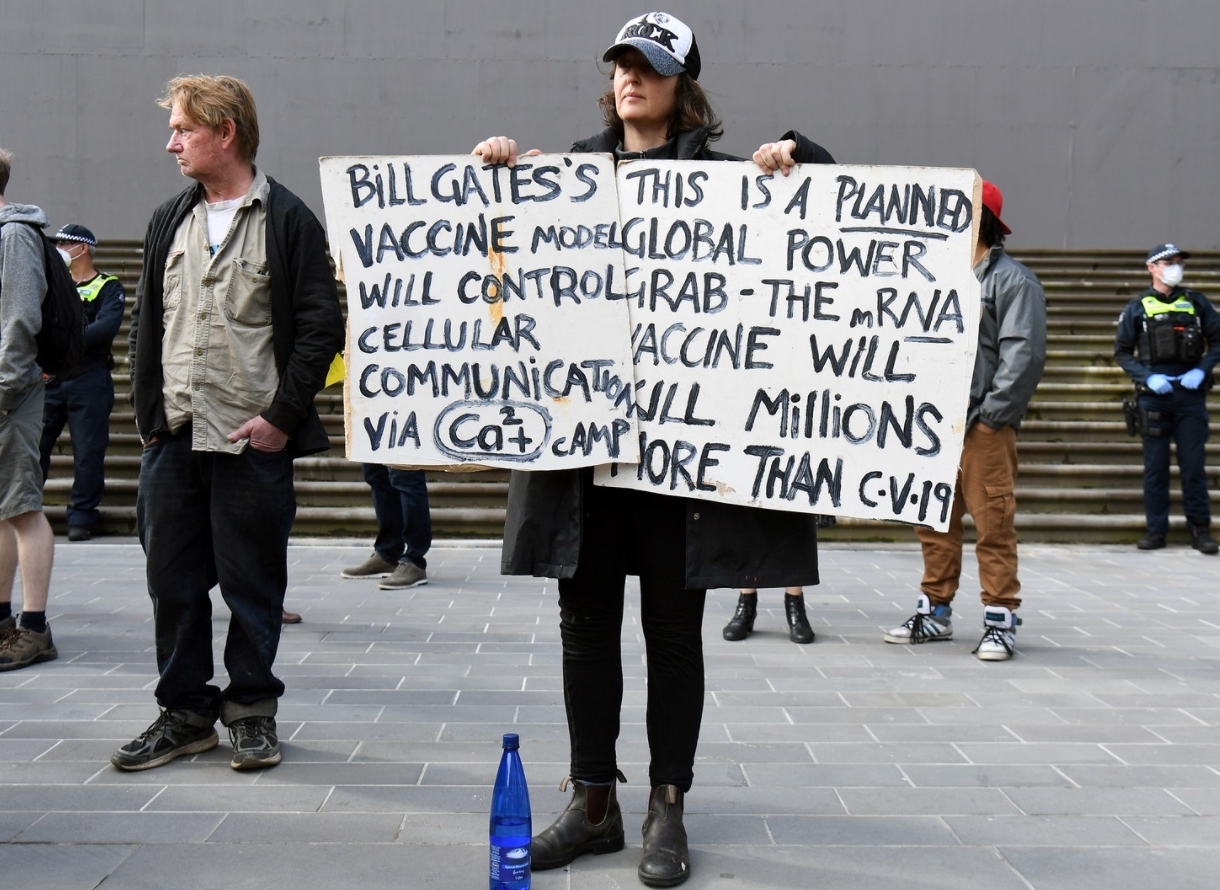 Over the past year, I've spent a considerable amount of time analysing the various conspiracy theories that have taken off during the Coronavirus pandemic. I have also studied the personalities involved in creating and spreading these conspiracy theories, and have come to some alarming conclusions. I believe that society is experiencing an unprecedented mental health crisis that is manifesting itself through these increasingly rabid conspiracy theory movements. There has also been a convergence of far right conspiracy theory and New Age spiritualism — or "Conspirituality" — that is widening the reach of these once fringe communities. The consequences for society are grave, and it is vital we understand how this happened, and what we can do about it.
The conspiracy coup
The attempted coup in Washington earlier this month was driven almost entirely by 'QAnon' inspired conspiracy theories promoted by far right media and New Age charlatans. From Trump's false claim that Biden had stolen the election to the Deep State paedophile rings in government and rabid Covid-19 denialism, the mob of protestors genuinely believed they were engaging in an epic war between Good and Evil. This so called war would rid the government of the Satanic Democrats, free millions of children in slavery, end the "plandemic", and bring back the saviour of Western civilization, Donald Trump, to his rightful position as leader of the free world. Q, who is supposedly a government insider posting cryptic messages in far right internet chat rooms, is central to all of this. Q's followers had been waiting for "the storm" — an event where all of the prophecies would come true.
Atlantic
journalist Adrienne LaFrance spent considerable amount of time investigating the QAnon phenomenon,
told NPR
back in August of 2020 that:
"The basic idea is that we are in the calm before the storm. The storm is the moment where Trump will, as a sort of saviour figure, come in and initiate mass arrests or otherwise sort of comeuppance for this evil cabal and that on the other side of the storm is a great awakening for society and to sort of put the country back on track in Q's terms."
Thousands of Q followers believed this and stormed the Capitol building on January 6th in an attempt to help Trump fulfil his mission. The coup failed, but theory still held that Trump would still turn things around. Lin Wood, a Trump lawyer and prominent conspiracy theorist continued posting on Parler promising all was actually going to plan. His posts were indicative of the paranoid, fantastical thinking prevalent in Q communities: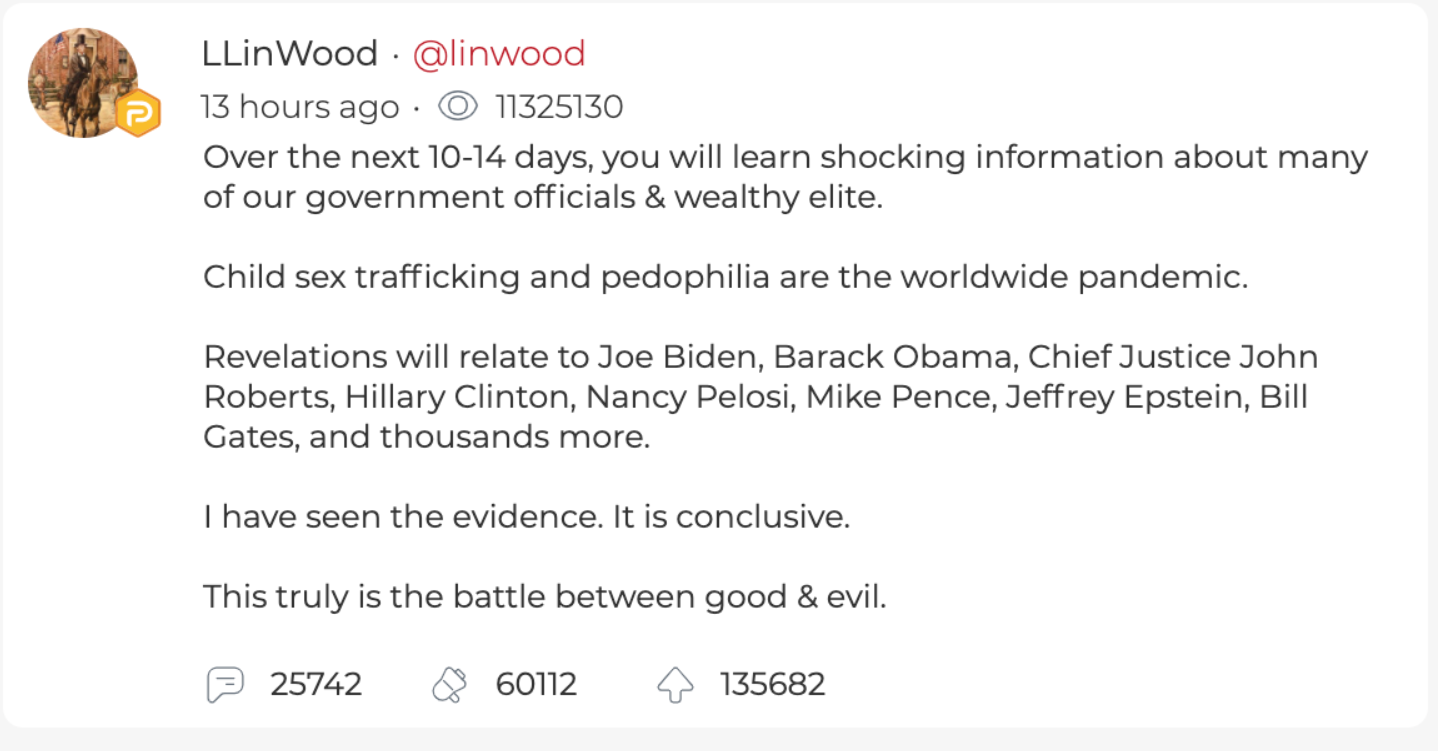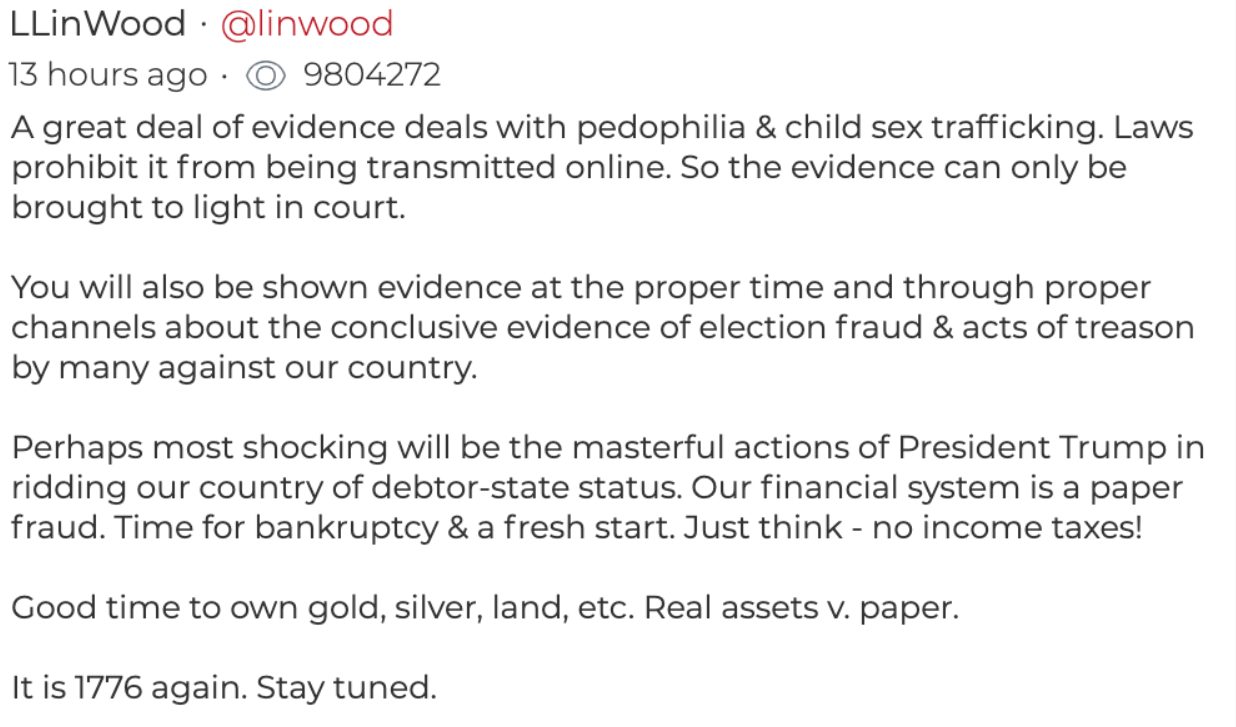 What "evidence" Wood was referring to is anyone's guess, but unsurprisingly no information was revealed, Trump did not have anyone arrested, he did not eliminate income tax, and has now flown off to Florida where he is currently preparing for his impeachment trial in the Senate.

Where did this all come from?..........
snip
5 replies, 684 views
Replies to this discussion thread
| | | | |
| --- | --- | --- | --- |
| 5 replies | Author | Time | Post |
| How 'Conspirituality' Wrecked The Wellness World And Destroyed Our Response To COVID-19 (Original post) | Celerity | Feb 2021 | OP |
| | superpatriotman | Feb 2021 | #1 |
| | AllyCat | Feb 2021 | #2 |
| | Celerity | Feb 2021 | #3 |
| | Turin_C3PO | Feb 2021 | #4 |
| | Celerity | Feb 2021 | #5 |
---
Response to Celerity (Original post)
Wed Feb 10, 2021, 09:31 AM
superpatriotman (5,843 posts)
1. If kooks don't want to take the vaccine
---
Response to Celerity (Original post)
Wed Feb 10, 2021, 09:32 AM
AllyCat (13,056 posts)
2. I have a family member and former friend who are new agers turned
Trumpers and Q idiots. Never realized there is this connection.
---
Response to AllyCat (Reply #2)
Wed Feb 10, 2021, 09:41 AM
Celerity (29,130 posts)
3. academic article from January 2011 - The Emergence of Conspirituality
---
Response to Celerity (Original post)
Wed Feb 10, 2021, 09:59 AM
Turin_C3PO (8,332 posts)
4. Disturbing.
One interesting thing is that New Age beliefs used to be much more prevalent among liberals than conservatives. I didn't know that had changed.
---
Response to Turin_C3PO (Reply #4)
Wed Feb 10, 2021, 10:03 AM
Celerity (29,130 posts)
5. it has not changed so much, it is that many new agers have been brought into the camp