Sun Aug 1, 2021, 10:18 AM
cab67 (1,928 posts)
thoughts on today's Google doodle and the line between human and nonhuman
Last edited Sun Aug 1, 2021, 09:01 PM - Edit history (2)
The Google Doodle up for today (Aug. 1) refers to Turkana Boy, the remains of an adolescent male Homo erectus (or Homo ergaster*) found east of Lake Turkana. The specimen is about 1.6 million years in age.

I had the privilege of seeing this specimen about 6 years ago, and I'd like to describe my reaction to the opportunity, which went way beyond what I expected.

My work these days is mostly on the crocodiles that have lived in East Africa over the past 25 million years. This includes both the living forms and the extinct.

Today, if you see a crocodile in East Africa, it's nearly always one of two species of Crocodylus - C. niloticus or C. suchus. Both were considered the same species (the Nile crocodile) until about 10 years ago, when molecular evidence clearly showed that they're different. Crocodylus suchus is mostly in western and central Africa, though its range does pass through Sudan and (we think) into Ethiopia. One of the dwarf crocodile species (either Osteolaemus tetraspis or O. osborni) formerly occurred in western Uganda, and the central African sharp-nosed crocodile (Mecistops cataphractus) reaches Lake Tanganyika, but otherwise, anywhere you go in East Africa now, you'll just see the one species.

But until comparatively recently, there could be as many as five crocodile species living in the same area. Some were gigantic - one species of Crocodylus could have exceeded 27 feet in length. And for the most part, they are unrelated to C. niloticus or C. suchus. (Many are closely related to Osteolaemus, but were normal-sized for a crocodile, making them giant dwarf crocodiles.)

But I digress.

My work has taken me to museums throughout East Africa. My animals were the largest predators faced by our ancestors, and one of them is known to have consumed such primates, as shown by the presence of crocodile bite marks on the remains of at least one early human at Olduvai Gorge. (We named that crocodile Crocodylus anthropophagus. But I again digress.).

I thus wanted to look at some of these early humans to get good impression of their size. Pictures and reported dimensions are OK, but I wanted to visualize it. And frankly, some of these fossils are famous, and I kinda wanted to see them for that reason as well - but mostly, it was to get a visual sense of them.

These countries treat early human remains as national treasures. They're kept under very tight security. The US Constitution is given less security than some of these fossils.

So one day, a couple of us were taken to see the early humans in Nairobi. A couple of boxes were taken out with the skulls of "australopithecines." These are (depending on what one counts as a close human relative) the closest relatives of humans that aren't referred to our genus, Homo. I picked them up and looked them over. Very impressive.

Next, they took out the drawer holding the skull of Turkana Boy. And right away, I felt what can only be described as an emotional experience. I felt something I couldn't put into words. Was it because this was such a famous fossil? Maybe, but so were the others. Was it because it was such well-preserved fossil that had been restored by some of the best preparators in the profession? Maybe. But there was something more than that.

It took me a while to put my finger on it, but I eventually did.

Assemble a room full of philosophers and anthropologists, lock the door and tell them they can't leave until they agree on the demarcation between human and non-human, and you'll get a room full of dead philosophers and anthropologists. There's no one set of standards. Is it our large brain? Our ability to make tools? Self-recognition? The ability to consciously plan for the future? Knowledge of our own mortality and burial or our dead? Art? Language? Alteration of the landscape for our own purposes? A soul? Some of these came about gradually and can be found in other animals. Other primates make tools, and some can be taught to communicate with sign language, for example.

I have know idea where the dividing line is, but the australopithecines I'd seen were on one side of it, and Turkana Boy was on the other side. And I was on the same side as Turkana Boy.

The australopithecines were cool to look at, but however many similarities I could see between them and me, they weren't me. Their skulls, to me anyway, still kinda look like the skulls of gorillas and chimpanzees. Not identical, mind you - they're not as prognathous, and the teeth aren't quite the same - but even though I knew they walked on two legs, the overall gestalt of the skull was that of an ape.

But Turkana Boy? I wasn't just holding the skull of an immature male primate. I was holding the skull of someone's kid. This individual was never merely a juvenile - he was a child. He would have grown not to be a mature individual or adult, but a man.

This was someone who probably saw some of the crocodiles I'm working on, but alive. How did he react? Was he fearful? Did he and his friends play in the water, like most children would? Did they somehow know which parts of a river were safe? Did he or his parents perform some sort of ritual to ward the crocodiles away? No idea - but I can visualize them.

(Some of these crocodiles were large enough to have slurped him down as easily as we might slurp down an oyster or Jell-O shooter. That's probably why we don't see crocodile bite marks on hominins from that site - the crocs were bigger, the hominins were smaller, and there probably wasn't much biting involved. Another of the crocs looked like it crawled right out of Dr Seuss or Hieronymus Bosch. Imagine a gharial crossed with a sawfish. Or a crocodile with a musical instrument instead of a snout. Another digression. I apologize.)

Some part of my forebrain registered the australopithecines as "ape" and Turkana Boy as "human." I can't point to a single morphological feature that did this for me. Turkana Boy's brow ridges aren't as prominent, his teeth look more like mine, his brain cavity is somewhat larger. Maybe that played a role? I don't know. But the overall bearing of this specimen crossed a line I still haven't located, and my subconscious reacted to it.

Anyway - I've worked with modern and fossil bones throughout my career. I've had all kinds of reactions. Some are just gorgeously preserved. Others were handled Georges Cuvier, Charles Darwin, Mary Anning, and other founders of my field. Or I came to realize they represented a new species. There's a thrill with these. But Turkana Boy was different, and the Google Doodle reminded me of that.




*In my opinion, early humans have been way oversplit.

9 replies, 682 views
Replies to this discussion thread
| | | | |
| --- | --- | --- | --- |
| 9 replies | Author | Time | Post |
| thoughts on today's Google doodle and the line between human and nonhuman (Original post) | cab67 | Aug 1 | OP |
| | Kid Berwyn | Aug 1 | #1 |
| | Hortensis | Aug 1 | #2 |
| | cab67 | Aug 1 | #3 |
| | EYESORE 9001 | Aug 1 | #4 |
| | hlthe2b | Aug 1 | #5 |
| | bahboo | Aug 1 | #7 |
| | Duppers | Aug 2 | #9 |
| | sanatanadharma | Aug 1 | #6 |
| | Sur Zobra | Aug 1 | #8 |
---
Response to cab67 (Original post)
Sun Aug 1, 2021, 10:30 AM
Kid Berwyn (7,195 posts)
1. We are all connected.
Upon seeing Turkana Boy's remains, you felt that chord tug.
What the Cellist Said...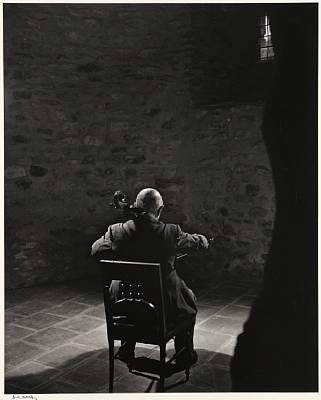 "Every second we live is a new and unique moment for the universe, a moment that never was before and will never be again.
And what do we teach children in school? We teach them that two and two make four and that Paris is the capital of France.
When will we also teach them: Do you know what you are?
You are a Marvel. You are Unique. In all the world there is no other child exactly like you. In the millions of years that have passed there has never been another child like you.
And look at your body what a wonder it is! Your legs, your arms, your cunning fingers, the way you move! You may become a Shakespeare, a Michelangelo, a Beethoven. You have the capacity for anything.
Yes, you are a marvel. And when you grow up, can you then harm another who is, like you, a marvel?
You must cherish one another. You must work. We all must work to make this world worthy of children."
— Pablo Casals
---
Response to cab67 (Original post)
Sun Aug 1, 2021, 10:39 AM
Hortensis (48,350 posts)
2. Very interesting, Cab67, and thanks. That's a fascinating field,
and what exciting times to be working in it.
I obviously can't follow your leap to deep understanding, but it is interesting that you feel it and this connection so strongly with a child who lived 1.6 million years ago.
(Fwiw, my pragmatic lay mind leads me to suspect those anthropologists and philosophers would come up with a joint statement when they all got hungry enough. Worst case after eating any suicidal holdhouts.
)
---
Response to Hortensis (Reply #2)
Sun Aug 1, 2021, 10:42 AM
cab67 (1,928 posts)
3. I usually make that joke about species concepts.
The word "species" actually has many meanings among biologists. I've often said the following in my presentations:

If you want to kill large numbers of biologists, lock them in a room and tell them they can't get out until they agree on what a species is. They will all die.
---
Response to cab67 (Original post)
Sun Aug 1, 2021, 10:45 AM
EYESORE 9001 (19,234 posts)
4. I've always had a problem with the terms 'missing link' or 'dividing line'
I see it more as a continuum with no quantum leap to 'human.'
---
Response to cab67 (Original post)
Sun Aug 1, 2021, 11:03 AM
hlthe2b (88,587 posts)
5. I find it all fascinating and have no problem with the obsession with which anthropologists
fight to preserve the evolution to what is now modern man with an intensity of unequaled superiority. No doubt that Homo sapiens are the pinnacle of intelligence and abilities.

That said, I hope I live long enough for the fury with which some accuse those trying to fully understand the VERY UNAPPRECIATED and POORLY UNDERSTOOD thinking and intelligence of both non-human primates and so many vertebrates, and yes, some invertebrates-- from mammals to birds to fish (octopus)-- of being mere sentimental anthropomorphists--to be fully discredited. (Sorry for the very long sentence, but necessary). So much has been learned--even in my lifetime--about the phenomenal abilities and intelligence of so many of these beings (dogs, crows, octopuses/octopi, primates and so many others) that I become angry to see it discounted. Obviously, some of this is rooted in religious claptrap which finds it necessary to ensure man as the pinnacle of all and subordinate to none other than "GOD," but I think it is institutionalized ignorance, frankly that has made it very difficult to fully explore the range of intelligent beings. Why the insecurity regarding the clear superior evolution of man makes so many afraid to acknowledge what we don't know or understand about other highly intelligent, but very different animal life is a source of contempt that has followed me for a lifetime. I hope educated persons working in the field as yourself can impart some "evolution of thought" to those you surely encounter who propagate those attitudes. Our very own species survival may be dependant on adopting a much broader interest and appreciation for other intelligent life sharing this earth with us.

--end of soapbox--
---
Response to hlthe2b (Reply #5)
Sun Aug 1, 2021, 12:47 PM
bahboo (13,313 posts)
7. great post....
---
Response to hlthe2b (Reply #5)
Mon Aug 2, 2021, 02:22 AM
Duppers (23,222 posts)
9. Yes, great post!
I agree with bahboo.

The anti-science attitudes in the country are most difficult to change because most religious views and science just aren't compatible.

---
Response to cab67 (Original post)
Sun Aug 1, 2021, 11:20 AM
sanatanadharma (1,379 posts)
6. The evolutionary tree, or even a family tree is better understood as a vast tapestry
A tapestry woven in time from the knowledge of countless lives, desires, choices, actions, reactivity, names, stories, memories, egos.
The tapestry is never complete yet always full of the complete reality of "Now".
It is a magic tapestry whose unseen back and unknown edges are never reached by one walking the weaving of this mystical Mobius.


---
Response to cab67 (Original post)
Sun Aug 1, 2021, 01:03 PM
Sur Zobra (3,333 posts)
8. Wow!!!
I wish I could rec this a hundred times. I'm an amateur fossil hunter; I've felt the emotional tug of awe with some of the fossils that I have found. I'm going to look up Turkana boy right now. Thank you for this post