Sat Jul 16, 2022, 12:02 PM
milestogo (13,455 posts)
Is it Fascism yet?
It seems to me that we are still living in a functioning democracy, with a democratically elected government.
But there are more and more disturbing signs that we are losing our freedoms, and that our institutions do not serve the people who they ought to serve.
I see the word fascism more and more. I'd like to know what DUers think about the current state of democracy in the US.
10 replies, 791 views
Replies to this discussion thread
| | | | |
| --- | --- | --- | --- |
| 10 replies | Author | Time | Post |
| Is it Fascism yet? (Original post) | milestogo | Jul 16 | OP |
| | brooklynite | Jul 16 | #1 |
| | Firestorm49 | Jul 16 | #2 |
| | Hanzzy72 | Jul 16 | #3 |
| | old guy | Jul 16 | #4 |
| | Kid Berwyn | Jul 16 | #5 |
| | moondust | Jul 16 | #6 |
| | milestogo | Jul 16 | #7 |
| | JanMichael | Jul 16 | #8 |
| | Cosmocat | Jul 16 | #9 |
| | lame54 | Jul 16 | #10 |
---
Response to milestogo (Original post)
Sat Jul 16, 2022, 12:12 PM
brooklynite (81,600 posts)
1. Fascism is not generally a localized philosophy...
…because yo can always move away from it to a different State.
---
Response to milestogo (Original post)
Sat Jul 16, 2022, 12:17 PM
Firestorm49 (3,309 posts)
2. Things right now are quite concerning.
What we need is the desire to fight back strongly against the headwinds of fascism. I'm afraid that that's not the case at present, and if true, America will become radically different in the next few years.

We've watched from the sidelines what the GOP and their SC have started to dismantle. We've watched and watched and watched.

We are now watching with anxiety as the DOJ is mulling what kind of response they may have to the J6 insurrection. We are all nervous yet not willing to take to the streets in PEACEFUL protest. Protest worked during Viet Nam and until protest is banned by the SC, we could be out there making our case vocally. But no. Rather we are watching with trepidation the demise of democracy. I'm not saying we are doomed, only that we need to step up our game to counter the threats that we now face.
---
Response to milestogo (Original post)
Sat Jul 16, 2022, 01:03 PM
Hanzzy72 (51 posts)
3. We're not there yet.
But I think we're sliding into it. If we lose the midterms it becomes far more likely and if you add a 2024 loss on top of that I think it'll be enough to tip us over into fascism. At that point I'm not sure how much it will matter which state you live in. Personally I'm planning on voting blue in NC one more time for the midterms and then I'm leaving the state, I have a bad feeling about where things are heading here after Cooper's term is up.
---
Response to milestogo (Original post)
Sat Jul 16, 2022, 01:58 PM
old guy (3,234 posts)
4. Read somewhere just lately, maybe here on DU,
that we are in the legal phase of Fascism. Meaning our judges and lawyers are rendering opinions and decisions that tend to lean toward Fascist principles.
---
Response to milestogo (Original post)
Sat Jul 16, 2022, 02:05 PM
Kid Berwyn (10,146 posts)
5. Bertram Gross called ours, "Friendly Fascism" in 1980
BEFORE Ronnie Raygun…
"The liberty of a democracy is not safe if the people tolerated the growth of private power to a point where it becomes stronger than the democratic state itself. That in its essence is fascism: ownership of government by an individual, by a group, or any controlling private power." — President Franklin D. Roosevelt

Professor Bertram Gross said fascism was transformed, almost imperceptibly, but is the mechanism of making the rich richer and the rest under their thumb...
Friendly Fascism

The New Face of Power in America
by Bertram Gross
South End Press, 1980, paper
"As long as an economic system provides an acceptable degree of security, growing material wealth and opportunity for further increase for the next generation, the average American does not ask who is running things or what goals are being pursued."
— Daniel R. Fusfeld
Introduction, Rise and Fall of Classic Fascism
The Takeoff Toward a New Corporate Society
The Mysterious Establishment
The Specter of Friendly Fascism
Subverting Democratic Machinery
Impossibility: It Couldn't Happen
Quotations
Source w/ links:
http://www.thirdworldtraveler.com/Fascism/Friendly_Fascism_BGross.html
The Unfolding Logic
p161
... as I survey the entire panorama of contending forces, I can readily detect something more important: the outline of a powerful logic of events. This logic points toward tighter integration of every First World Establishment. In the United States it points toward more concentrated, unscrupulous, repressive, and militaristic control by a Big Business-Big Government partnership that-to preserve the privileges of the ultra-rich, the corporate overseers, and the brass in the military and civilian order-squelches the rights and liberties of other people both at home and abroad. That is friendly fascism.
p162
At any particular moment First World leaders may respond to crisis like people in a crowded night club when smoke and flames suddenly billow forth. They do not set up a committee to plan their response. Neither do they act in a random or haphazard fashion. Rather, the logic of the situation prevails. Everyone runs to where they think the exits are. In the ensuing melee some may be trampled to death. Those who know where the exits really are, who are most favorably situated, and have the most strength will save themselves.
Thus it was in Italy, Japan, and Germany when the classic fascists came to power. The crisis of depression, inflation, and class conflict provided an ideal opportunity for the cartels, warmongers, right-wing extremists, and rowdy street fighters to rush toward power. The fascist response was not worked out by some central cabal of secret conspirators. Nor was it a random or accidental development. The dominant logic of the situation prevailed.
Thus too it was after World War II. Neither First World unity nor the Golden International was the product of any central planners in the banking, industrial, political, or military community. Indeed, there was then-as there still is-considerable conflict among competing groups at the pinnacle of the major capitalist establishments. But there was a broad unfolding logic about the way these conflicts were adjusted and the "Free World" empire came into being. This logic involved hundreds of separate plans and planning committees-some highly visible, some less so, some secret. It encompassed the values and pressures of reactionaries, conservatives, and liberals. In some cases, it was a logic of response to anticapitalist movements and offensives that forced them into certain measures-like the expanded welfare state-which helped themselves despite themselves.
Although the friendly fascists are subversive elements, they rarely see themselves as such. Some are merely out to make money under conditions of stagflation. Some are merely concerned with keeping or expanding their power and privileges. Many use the rhetoric of freedom, liberty, democracy, human values, or even human rights. In pursuing their mutual interests through a new coalition of concentrated oligarchic power, people may be hurt-whether through pollution, shortages, unemployment, inflation, or war. But that is not part of their central purpose. It is the product of invisible hands that are not theirs.
Source:
http://www.thirdworldtraveler.com/Fascism/Specter_FriendlyFascism_FF.html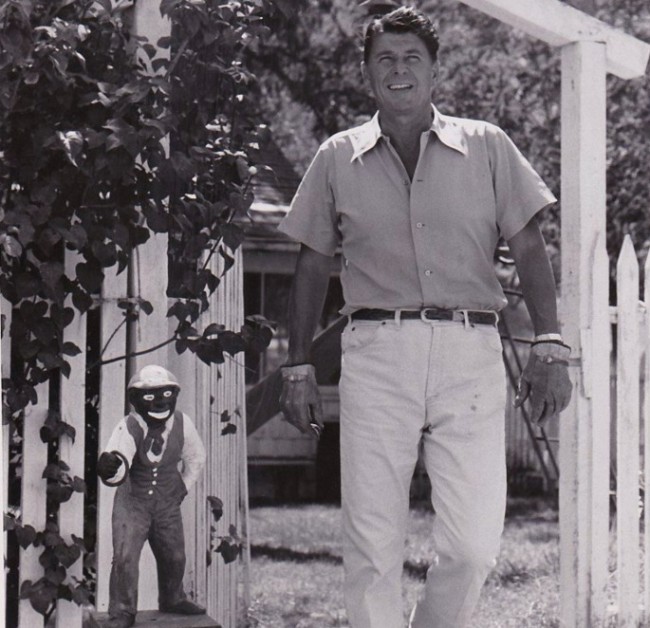 ---
Response to milestogo (Original post)
Sat Jul 16, 2022, 02:50 PM
moondust (18,659 posts)
6. Post-Beer Hall Putsch?
---
Response to moondust (Reply #6)
Sat Jul 16, 2022, 03:15 PM
milestogo (13,455 posts)
7. The Republicans are gaming the whole system.
---
Response to milestogo (Original post)
Sat Jul 16, 2022, 03:22 PM
JanMichael (24,239 posts)
8. US international policy supported fascists for decades.
But if it's happening here now it's a big deal? Boo hoo.

Tell that to Chile and Portugal and Guatemala and Nicaragua and El Salvador and Argentina. Oh and Iran.

Im being somewhat facetious but I still think that we have spent so much time and money supporting rightwing dictatorships, and death squads, that was bound to happen to us eventually.

---
Response to milestogo (Original post)
Sat Jul 16, 2022, 03:36 PM
Cosmocat (14,093 posts)
9. It's bleeding out
The country was sliding each and every day before 45 came down the escalator, but once he did the country chose to roll over.

The momentum is unstoppable now.

They smell blood in the water and joyously will destroy America democracy an enable a chrisofascist idiocracy to take hold.

It's going to get ugly.


---
Response to milestogo (Original post)
Sat Jul 16, 2022, 03:45 PM
lame54 (32,918 posts)
10. Constant Biden bashing...
Even though he has done a great job under impossible circumstances

The bashing gives voters the excuse to not show up