Thu Feb 28, 2013, 09:29 AM
bigtree (75,429 posts)
Mrs. Gilmore's Defining Black History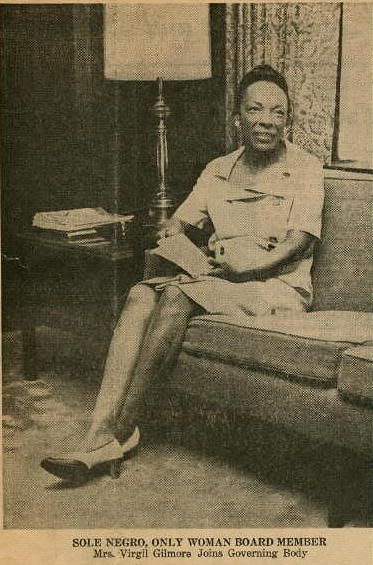 This year, African American History Month (which ends today) celebrated two landmark anniversaries in American history, with the theme, "At the Crossroads of Freedom and Equality: The Emancipation Proclamation and the March on Washington." The volume of remarkable and celebrated subjects who advantaged their own lives from the accomplishments of Lincoln and King is vast and wide. There is an endless resource of African Americans in our nation's history whose accomplishments aren't as widely known and recognized.
I'm fortunate to have a long line of outstanding family members and friends of the family to recall with great pride in the recounting of their lives and the review of their accomplishments. In many ways, their stories are as heroic and inspiring as the ones we've heard of their more notable counterparts. Their life struggles and triumphs provide valuable insights into how a people so oppressed and under siege from institutionalized and personalized racism and bigotry were, nonetheless, able to persevere and excel.
Upon close examination of their lives we find a class of Americans who strove and struggled to stake a meaningful claim to their citizenship; not to merely prosper, but to make a determined and selfless contribution to the welfare and progress of their neighbors.
That's the beauty and the tragedy of the entire fight for equal rights, equal access, and for the acceptance among us which can't be legislated into being. It can make you cry to realize that the heart of what most black folks really wanted for themselves in the midst of the oppression they were subject to was to be an integral part of America; to stand, work, worship, fight, bleed, heal, build, repair, grow right alongside their non-black counterparts.
It can also floor you to see just how confident, capable, and determined many black folks were in that dark period in our history as they kept their heads well above the water; making leaps and bounds in their personal and professional lives, then, turning right around and giving it all back to their communities in the gift of their expertise and labor.
One outstanding African American woman who is associated with my family deserves to have her story highlighted a bit in this period where we're striving to elevate and establish the history of blacks in America to an appropriate level of focus.
Elizabeth Harden Gilmore
went to school with my mother, living and growing up in the same working-class black community of Charleston, West Virginia. Mrs, Gilmore had the distinction of being the first female black funeral director in the state. She was the owner and funeral director of Harden and Harden Funeral Home.
Before she was widely recognized as a civil rights leader, we used to visit her spooky, classical, revival style mansion in the center of Charleston (now a historical landmark) which had the funeral parlor in the basement. Mrs. Gilmore lived in that house from 1947 until her death.
Recognized today as a civil rights leader in her state and community, Mrs. Gilmore co-founded the local chapter of the Congress of Racial Equality (CORE) in 1958 (the first in West Virginia), leading CORE in a successful 1 1/2 year-long sit-in campaign at a local department store called The Diamond. She also served on the Kanawha Valley Council of Human Relations which advanced measures related to housing, transportation, access to other public accommodations.
Mrs. Gilmore also earned a place on the all-white Board of Regents after a successful fight to amend the 1961 state civil rights law. She was also a charter member and Executive Secretary of the Council of Racial Equality.
She was always warm, gracious, and unfailingly generous. Mrs. Gilmore had a gentle, light cadence. She had unusually long fingernails which she would use to gesture toward you as she spoke. Mrs. Gilmore was well-traveled and would talk with my mother for hours about her experiences abroad and in the community while I fiddled with the expensive crystal she had brought back from Russia and squirmed in my seat.
I came upon a few old articles in my family scrapbooks featuring Mrs. Gilmore in the period of her ambitious work and efforts to serve and elevate her town and its residents. I've transcribed them for a remembrance, and for this year's celebration of black history. I hope you enjoy her enlightened and remarkable perspective on her life and work.
First, an article from 1960 highlighting Mrs. Gilmore's impressions of the struggle for civil rights, six years after the Supreme Court ruled on school segregation: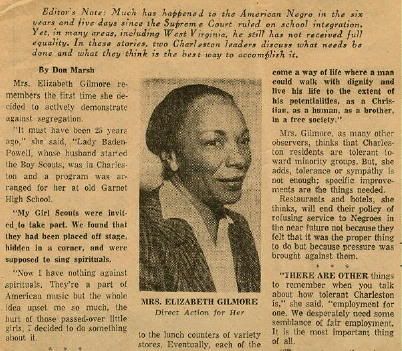 Negro Says Action The Way To Get Integration
Mrs. Gilmore remembers the first time she decided to actively demonstrate against segregation.
"It must have been 25 years ago," she said. "Lady Baden-Powell, whose husband started the Boy Scouts, was in Charleston and a program was arranged for her at old Garnet High School."
"My Girl Scouts were invited to take part. We found that they had been placed off stage, hidden in the corner, and were supposed to sing spirituals."
"Now I have nothing against spirituals. They're a part of American music, but the whole idea upset me so much, the hurt of those passed-over little girls, that I decided to do something about it."
"I implied that unless new arrangements were made, I would take my little brown-skinned girls and march out right in the middle of the program. Well, something was done about it. They sat on the stage and they held up their heads."
" I guess I've always been something of a protester. My daughter calls me 'Mrs. Ant'iony and Carrie Nation. But my grand mother taught us not to be ashamed because we were Negroes. She said to look people in the eye when we talked to them. She told us we were as good as anybody else, no better, but as good."
Mrs. Gilmore's protest against racial segregation resulted in her helping to organize a Charleston chapter of the Congress of Racial Equality, the first and only CORE chapter in West Virginia at the time.
CORE, a national organization, is pledged to direct non-violent action against segregation. Such action has included sitting in restaurants and refusing to leave until receiving service (sit-ins), picket-lines, and boycotting.
Activity of the Charleston group, so far, has been limited to lunch counters of variety stores. Eventually, each of the targets changed from a segregated to an integrated policy.
There were 14 active members of CORE there, and about 400 associate ones. Active members pledge to take part in demonstrations when they are asked.
"I am convinced of the efficiency of direct action," Mrs. Gilmore said. "If our people had used it a generation or two ago, we wouldn't be witnessing the things today that shock and sadden people of all races."
"Many people feel as I do. That's why we're opposed to the idea that if we keep our places ans wait patiently these things will come to us. We've been waiting for almost a hundred years and whatever we've got, we've had to fight for. It wasn't given to us. That's why we believe in direct action."
"Segregation, making a person an inferior citizen, is a bad thing, an evil thing. I think the majority of white people would gladly see the end of it if it could be done in a way that would not involve them personally. I think the majority would welcome, if put to a popular vote, an ordinance that would say "we will have no more of this.'"
"I think people would welcome a way of life where man could walk with dignity and live his life to the extent of his potentialities, as a Christian, as a human, as a brother in a free society."
Mrs. Gilmore, as many other observers, thinks that Charleston residents are tolerant toward minority groups. But she adds, tolerance or sympathy is not enough; specific improvements are the things needed.
Restaurants and hotels, she thinks, will end their policy of refusing service to Negroes in the near future; not because they felt it was the proper thing to do, but because pressure was brought against them.
"There are other things when you talk about how tolerant Charleston is," she said, "employment for one. We desperately need some semblance of fair employment. It is the most important thing of all."
"The greater portion of our ills can be laid to the lack of employment opportunities. If we had good jobs, we could have better educations, decent homes, better medical care, all the things that money can buy to enhance a good life."
"If that were so, you wouldn't need to live six to eight to a room and pay $60 a month for a hovel. You could buy good decent clothes for your children; you could buy good books; you could have music in your home. How can you do that on $45 every two weeks? You can't do it! And yet, people criticize these people. They say we don't open our doors to Negroes because we're afraid that type of person will come in."
Mrs. Gilmore thinks that critics of CORE, those who do not believe in protest action, do not understand what it is to be a Negro."
" They can't realize the slights, the rebuffs, the humiliation," she said. "They don't see the tears in their children's eyes. They don't know the sadness, the frustration."
"And it's all so silly. I remember one day I heard one white girl ask another where she had gotten her beautiful tan, and the girl said she had spent two weeks in Florida. I couldn't help thinking that on her it was a beautiful tan; to me, it was a stigma."
"We want what everyone wants: a decent home, records perhaps, the chance to go to a museum or to a theater or to an art galley. We're no different in our hopes and aspirations than anyone else."
"Yet, we're not getting those things, most of us, because of a sociological condition rather than an intrinsic failing. It isn't fair, and our young people, particularly students, are struck by the unfairness it represents."
"My people came over the Appalachians from Virginia before the Civil War because they wanted to find a better place to live," she said.
She said the demonstrations which she helped plan and execute are, to her, the best way to dramatize both the inequality that Negroes face and the inequities of segregation.
"This isn't a go-it-alone battle that we're in," she said. "People of good faith here and throughout the world sympathize with our aims."
"I've been fortunate enough to meet a few of them. I think the greatest thing to happen to Charleston was the Haseldens. (Rev. Haselden was the pastor of the Baptist Temple; his wife was a leader of the Kanawha County Council on Human Relations.)"
"Elizabeth Haselden, with her beauty, grace and dignity, brought to the women of Charleston a graphic story. Albert Schweitzer said, "Example is not the greatest thing; it is the only thing.'"
" She showed them that this battle for human rights was not a brawl of just a rabble's action but it was something that could be done without loss of the things that culture and education bring."
"These women in Charleston have taken their cues from Elizabeth Haselden. They can in good faith, without destroying any of the things that makes a lady, fight this battle and maintain these things -- not only maintain them, but enhance them to make this a better world."
Elizabeth Harden Gilmore, I daresay, provided many, many of the cues for the women of Charleston, and everywhere this great lady's influence was felt and experienced.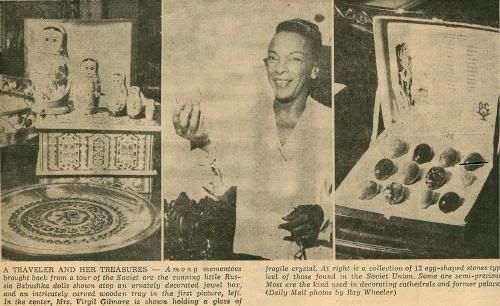 One more article featuring Mrs. Gilmore from 1969:
"I'm very honored and pleased," says Mrs. Virgil Gilmore of her appointment to the new state board of regents.
The sole Negro and only woman member on the board, which will supervise eight state colleges and two universities, was asked how she would feel as the lone female in an all-male group. "That doesn't bother me," she says. "I'm an old woman and I've been married twice. I'm not afraid of men or in awe of them."
She's used to the situation anyway, because she's also the sole woman member of the Charleston Area Chamber of Commerce. As a member of the chamber's education task force, she works with the tutorial program in the Board of education's 'Keep a Child in School' project.
A graduate of West Virginia State College and a licensed funeral director, Mrs. Gilmore has one daughter who is an aerodynamics programmer with General Electric in Cincinnati.
"That's the brains in my family," she says of her daughter. "She received a BS degree in chemistry and math from WV State. I always said nobody could accuse me of pulling her along, because in subjects like that, I could only pull her down."
To her new post as board member, Mrs, Gilmore will take the philosophy: "Our salvation lies in education." She believes most of our ills can be attributed to a lack of knowledge of ourselves, of how to live with others, of how to get the most out of our lives and all the beautiful things that exist . . . There is an adventure about living,: she adds. "It's all here. We're just so sophisticated, or hardened, I guess, that we fail to find the things that make life good."
That personal concept, she says, has paid off. Although she has only one daughter, Mrs. Gilmore says she has "lots of children," including the Girl Scouts, some she has had from the time they were ten years-old on through college.
"And I don't have a single child who can't walk freely and with dignity with kings and princesses," she explains. "They know how to support themselves, they know how to be gentle and kind and decent -- those are the only things you really need."
She says, "those Girl Scouts are more than just Scouts to me. They're my children. I taught them to eat and sleep and walk and talk and I can safely say that two-thirds of them are now business women and degreed women. I've got librarians and school teachers and beauticians -- all kinds of young'uns."
Her Scout were the first Negro girls to attend Camp Anne Bailey and she recalls the bitter struggle involved in actually getting them admitted and the sales they held to finance the trip. "You don't reach into the average Negro's pocket, at least not then, and pull out things like health cards and swimsuits," she explained.
Mrs, Gilmore was a pioneer of the civil rights movement in West Virginia. Of the progress in integration, she tells her youngsters that "the doors are open now. If you don't go through, it's nobody's fault but your own. I remind them we have the government on our side now. If you have a grievance, you don't have top fight it out on you own anymore."
Of her own involvement in the cause of the Negro, she says, "I'm a persistent cuss -- and a mother. My daughter would look up at me with her big brown eyes and ask to have a tall soda at Scott's Drug Store. I would tell her she couldn't and she would say, 'Well, why, mother, why can't I?" That's all it took to get me started.
Mrs. Gilmore refers to herself as a Negro, not black. "I'm old-fashioned," she explains, "My maternal grandmother was from England and my maternal grandfather was from Spain, so, I figure I'm just as much as anything as I am black."
"My great-grandmother came over the mountains to the Kanawha Valley four generations ago looking for a better life. She had six children and only the supplies her master had given her. I tell youngsters today that if one woman could face that alone, that's all the more reason today to seek successful lives for themselves."
6 replies, 1815 views
Replies to this discussion thread
| | | | |
| --- | --- | --- | --- |
| 6 replies | Author | Time | Post |
| Mrs. Gilmore's Defining Black History (Original post) | bigtree | Feb 2013 | OP |
| | bigtree | Feb 2013 | #1 |
| | Blue_Tires | Feb 2013 | #2 |
| | bigtree | Feb 2013 | #3 |
| | kwassa | Feb 2013 | #4 |
| | bigtree | Feb 2013 | #5 |
| | bigtree | Feb 2013 | #6 |
---
Response to bigtree (Original post)
Thu Feb 28, 2013, 11:31 AM
bigtree (75,429 posts)
1. .
---
Response to bigtree (Original post)
Thu Feb 28, 2013, 11:39 AM
Blue_Tires (54,643 posts)
2. I really should do something similar for my parents and some people they have known over the years
If I wasn't so disorganized and scatterbrained...They've had some incredibly fascinating stories as well...
---
Response to Blue_Tires (Reply #2)
Thu Feb 28, 2013, 11:45 AM
bigtree (75,429 posts)
3. heaven knows
. . .there are some incredible and inspiring stories out there, yet to be told.
Reminds me, I've just GOT to get down to that new AA museum!

---
Response to bigtree (Original post)
Thu Feb 28, 2013, 11:58 AM
kwassa (23,334 posts)
4. What a great woman.
She talks the talk, and walks the walk. I wish I had had the chance to meet her. Such courage, grace, and common sense.
This part made me laugh:
The sole Negro and only woman member on the board, which will supervise eight state colleges and two universities, was asked how she would feel as the lone female in an all-male group. "That doesn't bother me," she says. "I'm an old woman and I've been married twice. I'm not afraid of men or in awe of them."
---
Response to kwassa (Reply #4)
Thu Feb 28, 2013, 12:44 PM
bigtree (75,429 posts)
5. priceless, isn't it?
. . . I can just hear her saying that!
"I'm not afraid of men or in awe of them."
---
Response to bigtree (Original post)
Thu Feb 28, 2013, 05:19 PM
bigtree (75,429 posts)
6. .