Fri Dec 16, 2011, 03:12 PM
kpete (63,281 posts)
WHO WON IRAQ? ANSWER: ANYONE WHO STAYED OUT
THE WAR NERD: WHO WON IRAQ? ANSWER: ANYONE WHO STAYED OUT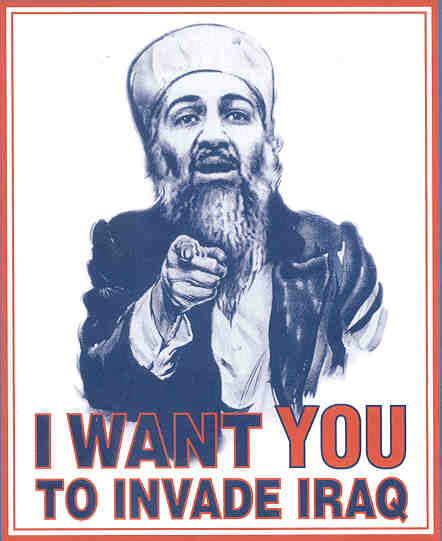 But let's take the question seriously for a second here: who won in Iraq? To answer it, you have to start with a close-up of the region, then change magnification to look at the world picture. At a regional level the big winner is obvious: Iran. In fact, Iran wins so big in this war that I've already said that Dick Cheney's DNA should be checked out by a reputable lab, because he has to be a Persian mole. My theory is that they took a fiery young Revolutionary Guard from the slums of Tehran, dipped him in a vat of lye to get that pale, pasty Anglo skin, zapped his scalp for that authentic bald CEO look, squirted a quart of cholesterol into his arteries so he'd develop classic American cardiac disease, and parachuted him into the outskirts of some Wyoming town. And that's how our VP was born again, a half-frozen zombie with sagebrush twigs in his jumpsuit, stumbling into the first all-night coffee shop in Casper talking American with a Persian accent: "Hello my friends! Er, I mean, hello my fellow Americans! Coffee? I will have coffee at once, indeed, and is not free enterprise a glorious thing? Say, O brethren of the frosty tundra, what do you say we finish our donuts and march on Baghdad now, this very moment, to remove the Baathist abomination Saddam?"
.......................
So the likely winner of a war like this is an up-n-coming world economic power that has been investing in its own economy while we blow a trillion — yep, a trillion — dollars on nothing. Not hard to figure out who the likely suspects are here.
The answer to "Who won Iraq?" is Iran in the short run, and in the long run, China and India.
While we flounder around in the Dust Bowl, they've been running up their reserves, putting the money into infrastructure and bullion. The moment you wait for in a setup like this is the inevitable alliance between the regional winner and the global winners. And voila, it's already happened: In February Iran and India signed a pipeline deal sending Iranian oil to the exploding Indian market, bypassing Bush's Saudi/U.S. petro-outpost. If it weren't for Pakistan, the pipeline would already be in place. And as you might have guessed, Iran and India are talking about how easily the pipeline can be looped over the Himalayas to China — an overland route invulnerable to U.S. sea power.
http://exiledonline.com/the-war-nerd-who-won-iraq-answer-anyone-who-stayed-out/
0 replies, 737 views