Fri Aug 30, 2013, 09:11 AM
kpete (63,762 posts)
"The British Aren't Coming": David Cameron Humiliated as MPs Veto Missile Strikes On Syria
THE BRITISH AREN'T COMING
David Cameron humiliated - the newspaper reaction to his defeat
What the national newspapers thought of the commons vote against a military strike on Syria
"British prime ministers are just not supposed to lose votes on issues as fundamental as war and peace. This represents not just an extraordinary defeat, but a catastrophic political misjudgment."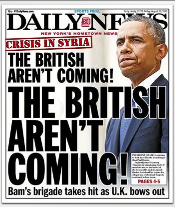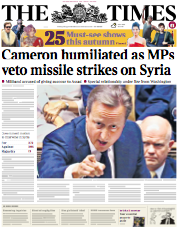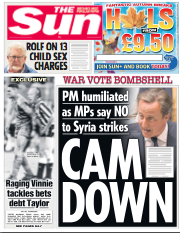 That opinion was reflected also by the Times's sketch writer, Ann Treneman: "No one could believe it when it happened." Least of all, of course, the prime minister.
No one could believe it when it happened. The whole debate, taking place with MPs recalled from holiday so abruptly that they still smelt of suntan oil, had felt moribund. It had seemed like a pre-game debate about Syria and the post-game analysis about Iraq. Then, at the very end, eight hours after it had begun, all that changed.
And one American newspaper has weighed in with a critical report. The headline on the front page of the New York Daily News says:
"The British aren't coming!"
Indeed, echoing the famous song about the city - New York, New York: so good they named it twice - the paper thinks its headline so good they run it twice in two different sized typefaces.
The article begins: "President Obama's attempts to form a coalition of nations willing to attack Syria appear to be splintering. The biggest blow was dealt by the normally reliable Brits, whose parliament stunned Obama on Thursday by voting down prime minister David Cameron's proposal to join the attack on Bashar Assad's government."
hint hint, mr. president:
http://www.theguardian.com/media/greenslade/2013/aug/30/davidcameron-syria
3 replies, 1996 views
Replies to this discussion thread
| | | | |
| --- | --- | --- | --- |
| 3 replies | Author | Time | Post |
| "The British Aren't Coming": David Cameron Humiliated as MPs Veto Missile Strikes On Syria (Original post) | kpete | Aug 2013 | OP |
| | JPZenger | Aug 2013 | #1 |
| | SwampG8r | Aug 2013 | #2 |
| | corkhead | Aug 2013 | #3 |
---
Response to kpete (Original post)
Fri Aug 30, 2013, 09:13 AM
JPZenger (6,819 posts)
1. Lasting Legacy of the Cheney-Bush Deceit
The legacy of their deceit is that they have separated the US from our closest ally.
---
Response to kpete (Original post)
Fri Aug 30, 2013, 09:34 AM
SwampG8r (10,287 posts)
2. cultural differences lol
"And one American newspaper has weighed in with a critical report. The headline on the front page of the New York Daily News says: "The British aren't coming!" Indeed, echoing the famous song about the city - New York, New York: so good they named it twice - the paper thinks its headline so good they run it twice in two different sized typefaces. "

no brits
its a play on paul revere's ride and his calling "The British are coming. The British are coming" in the revolutionary war
---
Response to kpete (Original post)
Fri Aug 30, 2013, 10:01 AM
corkhead (6,119 posts)
3. looks like they still have a government that represents the people