Tue Mar 6, 2012, 05:13 AM
Are_grits_groceries (17,111 posts)
In three states, personal stories changed gay marriage
The personal experiences of friends, family or constituents persuaded a crucial group of Republican lawmakers to vote for same-sex marriage in three state legislatures last month, in some cases tipping the balance in favor of legalizing gay matrimony.
Among them were two Washington state legislators with gay relatives, a New Jersey state senator who changed her mind while working on an anti-bullying measure and a Maryland state House delegate inspired by a gay couple coping with cancer.
"All politics is personal," Republican Washington state Senator Steve Litzow said in explaining his vote to support gay marriage legislation.
"If people have a personal connection, know 'this is somebody I love and care about,' I think that makes a huge difference," said Litzow, one of four Republican state senators who helped the measure pass in Washington state by a vote of 28 to 21.
<snip>
http://www.reuters.com/article/2012/03/06/us-usa-gaymarriage-personal-idUSTRE82503320120306
You may never get some people to listen to your story. However, the ones you do reach can be critical. Trying to talk to them is worth a shot.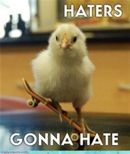 1 replies, 1252 views
Replies to this discussion thread
| | | | |
| --- | --- | --- | --- |
| 1 replies | Author | Time | Post |
| In three states, personal stories changed gay marriage (Original post) | Are_grits_groceries | Mar 2012 | OP |
| | iverglas | Mar 2012 | #1 |
---
Response to Are_grits_groceries (Original post)
Tue Mar 6, 2012, 05:59 AM
iverglas (38,549 posts)
1. isn't it inspiring to see that some people really can open their minds
and their hearts?
I had the same sort of experience years ago when I spent time in combat with the forces of evil on line, in the form of seriously malignant anti-choice activists. I "turned" several women who had been in their thrall for some time.
In one case, a naive young woman (who had only been persuaded of the reality of evolution in university, and then only because a clever professor had said she had to learn about it, but she didn't have to believe it) had every bizarre argument against reproductive choice you can imagine. Abortion is evil because nuns in Africa who were sexually exploited by priests were forced to have abortions ... . Then one day she actually heard what was being said about the risks to women if abortion were outlawed, and one thing penetrated the walls of the ideology that had been instilled in her since childhood. Her sister had health problems and was in an abusive marriage that she would/could not leave. If her sister became pregnant again, her life would be in danger in more than one way (pregnancy being a serious risk factor for abused women). She cared about her sister enormously and worried about her constantly, and it dawned on her what denial of choice could mean for her sister. Overnight, she became pro-choice.
In another, a woman who worked as a doula (a sort of professional birth coach) sincerely believed that pro-choicers were a bunch of hard-hearted cows who simply did not care about women and just wanted to get our own way (for some reason). Then she observed me in a discussion forum talking to a woman with older children and a baby she did not want, in a totally unsupportive family; the woman very clearly had severe post partum depression in a hugely stressful situation, and I was urging her to get real help, to demand real help, any and every kind of help she could demand, while the anti-choicers told her what a bad mother she was. Suddenly, the doula woman saw pro-choicers in a whole new light: we cared about women just as she did; that was why we were pro-choice, just as she thought it was why she was anti-choice. Overnight, she became pro-choice.
There are people who are genuinely good, or at least not all bad, deep down -- and importantly, who see themselves as good people and have a fundamental value system that really is consistent with that self-image, that does involve caring about other people. If they come to see that their ideology really is not compatible with being a good person, or that the people their ideology tells them are bad are really not bad and in fact may need and deserve the support of good people, they can have an epiphany.
You can't often guess what will trigger that process for any individual. And there's no guarantee that it will ever happen, for many people. Some people really can ignore everything their eyes see and their brains tell them, for many different reasons -- from it being too tough to do that self-examination to simply having too much to gain by sticking to their ideology to give it up.
But your examples show that it is possible to reach some people. If the person is someone who matters in one's own life, or is a person in a position of power like the ones in your post are, it can be worth the time and effort invested in trying to reach them. Exactly as you say:
You may never get some people to listen to your story. However, the ones you do reach can be critical. Trying to talk to them is worth a shot.