Fri Jan 31, 2014, 06:29 PM
MrScorpio (72,290 posts)
Today is the 130th Birthday of Ida Mae Crumpet, creator of Squirrel Appreciation Day
Ida Mae Crumpet and her squirrel, Major Crunchy Crumpet
While I'm sure that most of you took time out your busy schedules this last January 21st to celebrate Squirrel Appreciation Day, it should be noted that very few of us were aware of the person who sacrificed so much of her life to make sure that this grand holiday and its traditions came into being for all of us to share. And of course, I'm talking about the one and only, Ida Mae Crumpet, who was born this day in 1884.
Ida Mae was born in Wilkes-Barre, Pennsylvania to Horace Crumpet, a local bird house salesman and his wife, Edna Mae. The middle child of seven boys and girls, Ida Mae was instantly recognizable for the fact that, at full grown, she stood only one and one half feet tall. At the age of 17, she ran off to join Barnum & Bailey's Circus. During her time at the circus she was known as, "Sciuridia, Queen of the Squirrels," where she led a performance with several hundred tamed rodents. She was celebrated for her talent of getting squirrels to perform amazing feats of daring and acrobatics. Her most famous performance was in front of England's King Edward VII, where she conducted a reenactment of the Crimean War's Charge of the Light Brigade with her squirrels.
She left Barnum & Bailey after five years with the circus, where she also divorced her husband, the son of the famous General Tom Thumb, the more diminutive Colonel Thom Thumb, for his alleged sexual abuse of several of her squirrels and his otherwise obsessive drinking. Later in her life, she turned to activism against the cruel treatment of squirrels used as delivery agents for chemical weapons by both sides during World War I. Her fearless and tireless campaign lead to an international accord, written into the Treaty of Versailles in 1919, banning the further use of squirrels as delivery agents of both nerve and chemical weapons.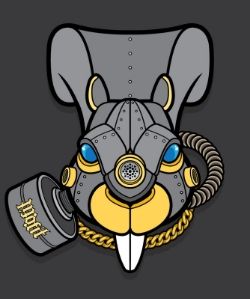 Symbol of the German Army's
5th Mechanisiertes Nagetiergruppen-Chemikalienkorps
The treaty, whose end on January the 21th 1920, also signified the observance of the very first Squirrel Appreciation Day. U.S. President Woodrow Wilson appointed Ida Mae Crumpet to a position in the League of Nations as a Special Envoy for Squirrel Affairs, overseeing various squirrel related issues. After her time in public service, Ida Mae retired to a farm in Upstate New York, opening a reserve for the care of liberated squirrels until her death in 1936. The Township of Puckerville, NY celebrates the life of Ida Mae Crumpet with an annual parade in her honor on every 21st of January, where she is buried today.
2 replies, 2001 views
Replies to this discussion thread
| | | | |
| --- | --- | --- | --- |
| 2 replies | Author | Time | Post |
| Today is the 130th Birthday of Ida Mae Crumpet, creator of Squirrel Appreciation Day (Original post) | MrScorpio | Jan 2014 | OP |
| | Shrike47 | Jan 2014 | #1 |
| | Squinch | Jan 2014 | #2 |
---
Response to MrScorpio (Original post)
Fri Jan 31, 2014, 06:45 PM
Shrike47 (5,926 posts)
1. Shame on you! Five minutes of my life spent laughing!
---
Response to MrScorpio (Original post)
Fri Jan 31, 2014, 06:58 PM
Squinch (31,898 posts)
2. I want to change my name to Ida Mae Crumpet.
The charge of the Light Brigade!!!!!
Seriously, though, she doesn't appear to have dwarfism. I wonder what made her only 1 1/2 feet tall.