Fri Apr 4, 2014, 07:46 AM
marmar (71,616 posts)
Only We Can Feed the Labor Movement Fire
from In These Times:
Only We Can Feed the Labor Movement Fire
BY Alexandra Bradbury and Jane Slaughter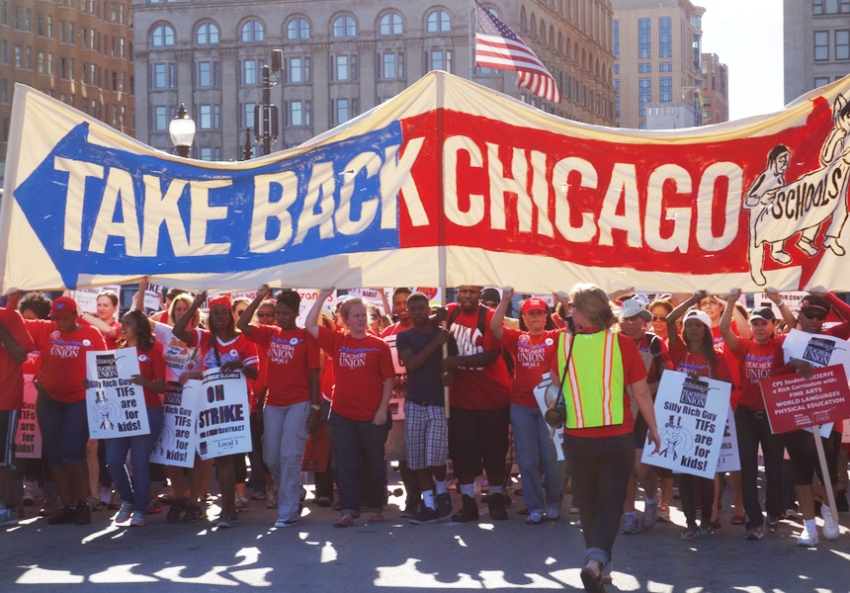 [font size="1"]
The Chicago teachers' strikes were a spark, but the labor movement has to keep fanning the flame. (Shutter Stutter / Flickr / Creative Commons)
[/font]
We troublemakers keep hoping for the spark that will set a wildfire of workers in motion. The worse our situation gets—economically, politically, ecologically—the more we yearn for a vast movement to erupt and transform the landscape.
It's not impossible. Look at 1937, when workplace occupations spread everywhere, from auto factories to Woolworth's. The 1930s wave of militancy forced Congress to aid union organizing with new laws and to enact Social Security and unemployment insurance. Industrial unions formed during that upsurge continue to this day.
So why not here and now?
In our lifetimes, we've seen sparks—but we haven't seen them spread like that. In some ways we're more connected than ever before, able to watch each other's struggles in real time on our phones. Yet mostly, the sparks haven't leapt from one workplace or one Capitol rotunda to another. The Occupy movement is the shining exception.
Why didn't the occupation of the Republic Windows and Doors factory, at the outset of the Great Recession, start an avalanche of copycats? Or the Wisconsin uprising, or the Walmart and fast food walkouts? ..................(more)
The complete piece is at:
http://inthesetimes.com/working/entry/16516/only_we_can_feed_the_labor_fire
2 replies, 440 views
Replies to this discussion thread
| | | | |
| --- | --- | --- | --- |
| 2 replies | Author | Time | Post |
| Only We Can Feed the Labor Movement Fire (Original post) | marmar | Apr 2014 | OP |
| | xchrom | Apr 2014 | #1 |
| | Solomon | Apr 2014 | #2 |
---
Response to marmar (Original post)
Fri Apr 4, 2014, 08:10 AM
xchrom (108,903 posts)
1. du rec.
---
Response to marmar (Original post)
Fri Apr 4, 2014, 09:37 AM
Solomon (10,864 posts)
2. why didn't the occupation of the Tepublic Windows and