Fri Mar 30, 2012, 11:55 AM
G_j (40,320 posts)
Americans Still Prioritize Economic Growth Over Environment
March 29, 2012
Americans Still Prioritize Economic Growth Over Environment
But eight-percentage-point gap in favor of economic growth is smaller than last year's gap
by Dennis Jacobe, Chief Economist
http://www.gallup.com/poll/153515/Americans-Prioritize-Economic-Growth-Environment.aspx
For most of the last three decades, Americans have prioritized "the environment, even at the risk of curbing economic growth" over "economic growth … even if the environment suffers to some extent." Prior to 2001, about two-thirds of Americans routinely favored protecting the environment. Even as the recession and financial crisis were getting underway in early 2008, more Americans favored the environment than economic growth, by a seven-point margin.
This trend changed as the recession deepened in 2009, with economic growth taking priority over the environment and continuing to do so through this year. Gallup found half of Americans choosing the environment after the BP oil spill in the Gulf of Mexico in May 2010, but the data suggest that this major environmental event had only a temporary effect on the trend.
The modest improvement in the U.S. economy in early 2012 may have led some Americans to be somewhat less concerned about unemployment and economic growth, perhaps explaining this year's slight shift in favor of the environment.
Gallup finds a similar trend this year in Americans' preferences for the trade-off between environmental protection and energy production.
Young People, Democrats, and Liberals Prioritize Environment
Most subgroups of Americans favor economic growth over the environment. In fact, at least half of Americans 30 or older, conservatives, and Republicans prioritize economic growth. However, half or more of younger people aged 18 to 29, Democrats, and liberals instead prioritize the environment, as they have in past years.
..more..
[IMG]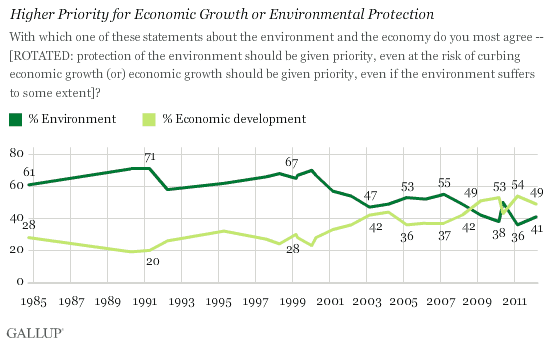 [/IMG]
2 replies, 1866 views
Replies to this discussion thread
| | | | |
| --- | --- | --- | --- |
| 2 replies | Author | Time | Post |
| Americans Still Prioritize Economic Growth Over Environment (Original post) | G_j | Mar 2012 | OP |
| | KansDem | Mar 2012 | #1 |
| | G_j | Mar 2012 | #2 |
---
Response to G_j (Original post)
Fri Mar 30, 2012, 12:13 PM
KansDem (28,498 posts)
1. We can have both...
Renewable energy promises jobs without environmental degradation.
We have both, but the fossil-fuels industry, and the fossils in Congress, want us to believe we have to choose...
Edited to add--
http://www.renewablepowernews.com/archives/2189
---
Response to KansDem (Reply #1)
Fri Mar 30, 2012, 12:15 PM
G_j (40,320 posts)
2. yes, nt