Thu Dec 11, 2014, 03:44 AM
McCamy Taylor (19,145 posts)
We Are Better Than This
We
didn't rape and torture prisoners.
We
didn't allow a man to die of hypothermia in custody.
We
didn't start a warrantless domestic wiretap program
before
9-11, or use 9-11 as an excuse to fulfill the plan set out in the Project for the New America Century, namely the "liberation" of Iraq's oil.
But fellow Americans did.
We
didn't shoot an unarmed young man for the crime of wearing a hoodie while being Black. Or choke the life from a middle aged man for the crime of being overweight and unhealthy while being Black.
We
didn't blow away a child for the crime of holding a toy gun while being Black.
But fellow Americans did.
We
didn't do
this
:
And
we
didn't do this:
Nor this:
And
we
certainly didn't do this (because it happened before we were born):
But fellow Americans did. And if we shelter those who committed these crimes, if we give them aid and deny their victims justice, then we really are no better than they are. And all those words about "inalienable rights" and "all men created equal" are just words with no more meaning than the latest slogan for a diet soda. And the rest of the world has every right to condemn us all as war criminals and mass murderers.
If you think you are better than "this" ask yourself why Henry Kissinger is a free and very wealthy man while Trayvon Martin is dead.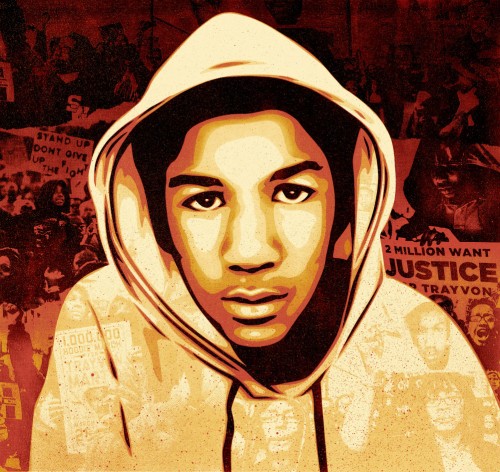 10 replies, 1374 views
Replies to this discussion thread
| | | | |
| --- | --- | --- | --- |
| 10 replies | Author | Time | Post |
| We Are Better Than This (Original post) | McCamy Taylor | Dec 2014 | OP |
| | Journeyman | Dec 2014 | #1 |
| | woo me with science | Dec 2014 | #10 |
| | newfie11 | Dec 2014 | #2 |
| | Suich | Dec 2014 | #3 |
| | Sweeney | Dec 2014 | #4 |
| | Suich | Dec 2014 | #5 |
| | Sweeney | Dec 2014 | #7 |
| | McCamy Taylor | Dec 2014 | #8 |
| | AndyTiedye | Dec 2014 | #6 |
| | McCamy Taylor | Dec 2014 | #9 |
---
Response to McCamy Taylor (Original post)
Thu Dec 11, 2014, 04:27 AM
Journeyman (13,574 posts)
1. The Freeway Blogger had a devastating take on the hooded scarecrow with wires on his testicles . . .
---
Response to Journeyman (Reply #1)
Thu Dec 11, 2014, 03:01 PM
woo me with science (32,139 posts)
10. Please make that an OP.
---
Response to McCamy Taylor (Original post)
Thu Dec 11, 2014, 04:29 AM
newfie11 (8,159 posts)
2. This powerful message needs to be everywhere
Thank you for putting it together! How very true it is!
---
Response to McCamy Taylor (Original post)
Thu Dec 11, 2014, 04:30 AM
Suich (10,642 posts)
3. I agree with everything, McCamy Taylor.
It is very frustrating for me because I don't know what I can do about it.
I vote, sign petitions, contribute when I can, and nothing seems to change.
I'm open to suggestion.
---
Response to Suich (Reply #3)
Thu Dec 11, 2014, 04:41 AM
Sweeney (505 posts)
4. I think the Muslims say
If you would change the world, first change yourself.

Changing selfs is not all that easy, but it is the key to all change. what is true for you must be true for them. So what does it take? Do you start with the soul, and where do you start if the person you have change has no soul? Will you give him yours? That is part of the problem too; how not to lose your soul when you may have to put your life on the line. What is it worth to you? Change is life and we are change, so we are life. Let's keep it that way.

Sweeney
---
Response to Sweeney (Reply #4)
Thu Dec 11, 2014, 04:48 AM
Suich (10,642 posts)
5. As a long-time ex-Catholic,
that certainly clears things up for me, especially "what is true for you must be true for them."
I took 2 years of Philosophy at Seattle U. and understood about 15% of it.
---
Response to Suich (Reply #5)
Thu Dec 11, 2014, 11:51 AM
Sweeney (505 posts)
7. must have had a bad teacher
philosophy is the method of understanding everything.

I will give you a simple lesson free

We understand the world by way of forms, and usually don't see the thing but its form.

If we meet with a phenomenon, we can't say what it is without some knowledge, and knowledge is judgment, and that knowledge is a form. What we know of a certain type of rock or animal as a judgment is the form, the concept, the idea of it, and these forms can be defined in the dictionary. Still, even with definitions of anything we know quite little, as an analogy.

Physical forms, forms in the physical world can measured by way of number. There is one true number that exists as pure concept, and that is one, and all other numbers are in ratio to one and are signs related to one. One id an identity as all other forms. This means that it is conserved, as every definition is conserved as in the dictionary because if they changed they would be useless for reasoning. A part of knowledge is defined and while the definition me be refined it never usually passes away.

Moral forms are the thorn in human flesh. The proper name for these forms is transcendent concept, but I prefer moral forms because morale is opposed to physic in the judgment of men and bodies of men, and the moral form is opposed to the physical.

Moral forms cannot be defined. They are all those spiritual qualities like love, like God, like justice, like liberty, like life, and etc. In spite of our inability to define these qualities we can sense and recognize them, and it is over such moral forms that all the strife of humanity is raised. No one dies over the definition of a dog or a circle, because these are easily verified. Some times the defense of a virtue is found by how much death we will honor it with. How many have died for love, for God, for mercy?

There is another sort of form, generally a formal manifold, or a manifold concept. A community is a manifold. Everyone in it contributes something to its definition. These kinds of forms are made up by people and form people and are social forms, like Government, like economies, and like religion and like marriage. But marriage as a social form is a good analogy for all forms because as with most things in life, it is not their being that is important, but their meaning that is important. We relate through our forms. As are lives have become easier and less complex, or forms have become more complex because our understanding of the complexity of life has led to our ease.

Marriage is a good analogy for all forms because we relate through our forms. All forms are forms of relationship, not only with each other as categories of knowledge, but between those people who make use of that knowledge to live. The most certain proof that a form is dead is the fact that no one relates through it any longer, and this is like the concept of the Ptolemaic Universe. It was no true concept. And truth is an element of every social form. And truth is the first quality siphoned out of social forms to feed power or wealth. What is a government without truth, or a marriage without truth but a dead or dying form of relationship

The whole story of human kind has been the story of changing forms. We cannot suddenly grow fur to live in the arctic, and where ever humanity has gone it has remained human and adapted to new environments through forms and formal understanding. We resist evolution, and practice adaptation, and we adapt by changing forms. The season change. You pile on more clothes, and clothing is a form of dress. You want to travel across the water, so you build a boat, and a boat is a form of transportation. But there is another more purely relational aspect to our changes of form. Consider all the variations of the word form, from morph and morpheme to inform and uniform. When people where dress unique to their group it is for recognition as one recognizes a uniform in battle.

Forms have two primary purposes, though I really know of no others. We need to be recognized, not only for our survival, but because we have no objective proof of our being except through the recognition of others. We also need to be realized, and that means turning the survival of today into the survival of tomorrow, which we do through our forms of relationship. Recognition is an emotional end, and realization is a physical end. And what humanity has always found to date is that there are no perfect social forms, that as people change, or lose their culture and meaning they find their old forms of relationship failing them. People use forms. People who belong in prison would rather be in government or business, and they take their welfare out of social forms, and leave as little as possible behind.
And why should anyone stick with a failing form that no longer serves the purpose of survival into the future.

Our social forms are failing. If you look at your Declaration of Independence, you see the forms of an old European Monarchy were not serving the needs of the American colonies. And Jefferson talked of forms and was formally conscious. Philosophy gave those people an essential understanding of exactly what they were trying to do, what they had to do to survive as a people. This is why we need philosophy, to help us to define our forms, to communicate clearly and effectively our purpose, and to end the confusion that is sown into our forms of communication to keep us helpless and groping. To speak clearly, one must think clearly, and forms give us that power. Nothing may help our ability to grasp moral forms. Behind these forms is life, the form of all forms and the meaning of all meaning. Humanity has fought over, died for, and talks yet of moral forms because they are each essential to life. Without justice people die. Without justice societies die; so people should clearly concern themselves with justice even if as a form it resists definition.

Ok: Recap. Forms are our means of defining physical reality, of classification and measure. Moral forms are the means by which we conceive of happiness and a future, and all spiritual qualities that make life interesting. Social forms are what we make in the physical world to achieve the qualities we desire as moral forms. Our preamble lists certain moral forms to be achieved by government to mark its failure to achieve them. But this good, and Good generally, the virtues are what societies and governments are made of, or rather, on the understanding of. Of the moral forms in the preamble, there is not one method put forward to achieve these ends through government. It is presumed that left relatively ungoverned that people would seek those goods socially on their own. False.

It is not because moral forms cannot be defined that we do not have them handy, or will not be achieved by government. If I define my liberty as your slavery I have the definition I want, but not the thing. With moral forms there is no thing in itself. We may recognize justice for example and never capture it. Perhaps the object is not to define it but to seek it as phenomenal and treasure it as it is.

One more distinction if I may share, is that physical forms have being with meaning, and moral forms are purely meaning.

Thanks...Sweeney
---
Response to Suich (Reply #3)
Thu Dec 11, 2014, 02:58 PM
McCamy Taylor (19,145 posts)
8. Talk about, blog about it, vote based on it, donate time and money.
Live every moment of your life as if every other person on earth is just as important as you are. It really isn't that hard to do once you realize that there is no difference between YOU and the WORLD. If all Americans would live the way that their chosen religious leader advised them to live---I am not talking about the middle men, I am talking about Jesus/Buddha/the Flying Spaghetti Monster him/herself---we would not have to write CIA torture memos because no elected or selected leader would dare allow such a thing to happen on his or her watch for fear of the inevitable legal consequences that the citizens of this country would demand with their vote.
---
Response to McCamy Taylor (Original post)
Thu Dec 11, 2014, 05:45 AM
AndyTiedye (23,499 posts)
6. OP is being Inconsistent
We didn't do this: …
No, we didn't, and we were never in a position to prevent it.
And if we shelter those who committed these crimes, if we give them aid and deny their victims justice, then we really are no better than they are.
I'm pretty damn sure that none of us are sheltering Dick Cheney or any of his cohorts in our homes, and none of us were ever in a position to prosecute them either.
ask yourself why Henry Kissinger is a free and very wealthy man while Trayvon Martin is dead.
It is far from clear how WE could bring Henry Kissinger to justice. Just getting out there and "demanding" it is not enough, we did rather a lot of that back when he was committing his war crimes.
Nor is it clear how we were supposed to prevent Trayvon Martin from getting shot. While many of us predicted that "stand your ground" laws would be broadly interpreted as "open season on minorities", there is not a lot we could do to prevent states other than our own from passing such laws.
---
Response to AndyTiedye (Reply #6)
Thu Dec 11, 2014, 03:00 PM
McCamy Taylor (19,145 posts)
9. This sub-op assumes that there is a difference between "me" and "we".
There is not. Nor is there a difference between I and You.