Wed Jan 14, 2015, 06:27 PM
uhnope (6,419 posts)
1000 lashes for Saudi blogger for insulting Islam. Please sign Amnesty International petition
10 replies, 1409 views
Replies to this discussion thread
| | | | |
| --- | --- | --- | --- |
| 10 replies | Author | Time | Post |
| 1000 lashes for Saudi blogger for insulting Islam. Please sign Amnesty International petition (Original post) | uhnope | Jan 2015 | OP |
| | True Earthling | Jan 2015 | #1 |
| | Warren Stupidity | Jan 2015 | #2 |
| | Desert805 | Jan 2015 | #5 |
| | m-lekktor | Jan 2015 | #6 |
| | SamKnause | Jan 2015 | #3 |
| | 2banon | Jan 2015 | #4 |
| | Luminous Animal | Jan 2015 | #7 |
| | SidDithers | Jan 2015 | #8 |
| | PeaceNikki | Jan 2015 | #9 |
| | LeftishBrit | Jan 2015 | #10 |
---
Response to uhnope (Original post)
Wed Jan 14, 2015, 07:13 PM
True Earthling (832 posts)
1. Insults indeed..here are his crimes....
A look at the writings of Saudi blogger Raif Badawi – sentenced to 1,000 lashes
http://www.theguardian.com/world/2015/jan/14/-sp-saudi-blogger-extracts-raif-badawi
As soon as a thinker starts to reveal his ideas, you will find hundreds of fatwas that accused him of being an infidel just because he had the courage to discuss some sacred topics. I'm really worried that Arab thinkers will migrate in search of fresh air and to escape the sword of the religious authorities.

Secularism respects everyone and does not offend anyone ... Secularism ... is the practical solution to lift countries (including ours) out of the third world and into the first world.

I'm not in support of the Israeli occupation of any Arab country, but at the same time I do not want to replace Israel by a religious state ... whose main concern would be spreading the culture of death and ignorance among its people when we need modernisation and hope. States based on religious ideology ... have nothing except the fear of God and an inability to face up to life. Look at what had happened after the European peoples succeeded in removing the clergy from public life and restricting them to their churches. They built up human beings and (promoted) enlightenment, creativity and rebellion. States which are based on religion confine their people in the circle of faith and fear.

What hurts me most as a citizen of the area which exported those terrorists ... is the audacity of Muslims in New York that reaches the limits of insolence, not taking any regard of the thousands of victims who perished on that fateful day or their families. What increases my pain is this [Islamist] chauvinist arrogance which claims that innocent blood, shed by barbarian, brutal minds under the slogan "Allahu Akbar", means nothing compared to the act of building an Islamic mosque whose mission will be to ... spawn new terrorists ... Suppose we put ourselves in the place of American citizens. Would we accept that a Christian or Jew assaults us in our own house and then build a church or synagogue in the same area of the attack? I doubt it. We reject the building of churches in Saudi Arabia, not having been assaulted by anyone. Then what would you think if those who wanted to build a church are the same people who stormed the sanctity of our land? Finally, we should not hide that fact that Muslims in Saudi Arabia not only disrespect the beliefs of others, but also charge them with infidelity to the extent that they consider anyone who is not Muslim an infidel, and, within their own narrow definitions, they consider non-Hanbali [the Saudi school of Islam] Muslims as apostates. How can we be such people and build ... normal relations with six billion humans, four and a half billion of whom do not believe in Islam.

Actually, this venerable preacher has drawn my attention to a truth that had been hidden from me and my dear readers – namely, the existence of the so-called "Sharia astronomer". What a wonderful appellation! In my humble experience and in the course of my not inconsiderable research into the universe, its origins and the stars, I have never once come across this term. I advise NASA to abandon its telescopes and, instead, turn to our Sharia astronomers, whose keen vision and insight surpass the agency's obsolete telescopes. Indeed, I advise all other scholars the world over, of whatever discipline, to abandon their studies, laboratories, research centres, places of experimentation, universities, institutes etc. and head at once to the study groups of our magnificent preachers to learn from them all about modern medicine, engineering, chemistry, microbiology, geology, nuclear physics, the science of the atom, marine sciences, the science of explosives, pharmacology, anthropology etc. – alongside astronomy, of course. God bless them! They have shown themselves to be the final authority with the decisive word in everything, which all mankind must accept, submit to and obey without hesitation or discussion.

For me, liberalism simply means, live and let live. This is a splendid slogan. However, the nature of liberalism – particularly the Saudi version – needs to be clarified. It is even more important to sketch the features and parameters of liberalism, to which the other faction, controlling and claiming exclusive monopoly of the truth, is so hostile that they are driven to discredit it without discussion or fully understanding what the word actually means. They have succeeded in planting hostility to liberalism in the minds of the public and turning people against it, lest the carpet be pulled out from under their feet. But their hold over people's minds and society shall vanish like dust carried off in the wind.

No religion at all has any connection to mankind's civic progress. This is not a failing on the part of religion but rather that all religions represent a particular, precise spiritual relationship between the individual and the Creator. ..However, positive law is an unavoidable human and social need because traffic regulations, employment law and the codes governing the administration of State can hardly be derived from religion.
---
Response to uhnope (Original post)
Wed Jan 14, 2015, 07:25 PM
Warren Stupidity (48,181 posts)
2. The people doing things like this are not real muslims.
Or so I've been told, right here on DU.

---
Response to Warren Stupidity (Reply #2)
Wed Jan 14, 2015, 07:50 PM
Desert805 (392 posts)
5. Or that it's cool, because the Crusades... Eom
---
Response to Warren Stupidity (Reply #2)
Wed Jan 14, 2015, 07:53 PM
m-lekktor (3,675 posts)
6. and Howard Dean said so!!1 nt
---
Response to uhnope (Original post)
Wed Jan 14, 2015, 07:46 PM
SamKnause (11,943 posts)
3. Done
---
---
Response to uhnope (Original post)
Wed Jan 14, 2015, 08:01 PM
Luminous Animal (27,310 posts)
7. Done.
---
Response to uhnope (Original post)
Wed Jan 14, 2015, 08:04 PM
SidDithers (44,028 posts)
8. ...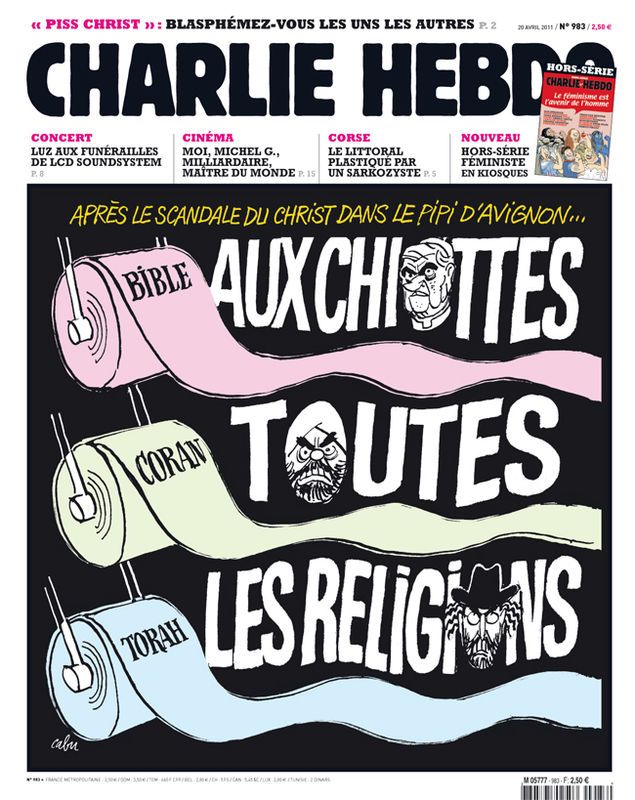 "Religion is an insult to human dignity" - Steven Weinberg
Sid
---
Response to uhnope (Original post)
Wed Jan 14, 2015, 08:05 PM
PeaceNikki (27,985 posts)
9. Plus ten years imprisonment. His website admin got 6.
The prosecution had demanded he be tried for apostasy, which carries the death penalty.

The idea that taking a stand against Islam, whether it be through satire, protests or the written word, is a crime punishable of death, torture or imprisonment is not as rare in Muslim circles as some would like to think. It's awful. No, not all Muslims but it's a far cry from rare, too.


---
Response to uhnope (Original post)
Thu Jan 15, 2015, 05:21 PM
LeftishBrit (39,576 posts)
10. k & r & done