Sat Feb 7, 2015, 12:29 PM
marmar (71,715 posts)
Seattle's Left Coast Formula
from
Dissent
magazine:
Seattle's Left Coast Formula
James N. Gregory ▪ Winter 2015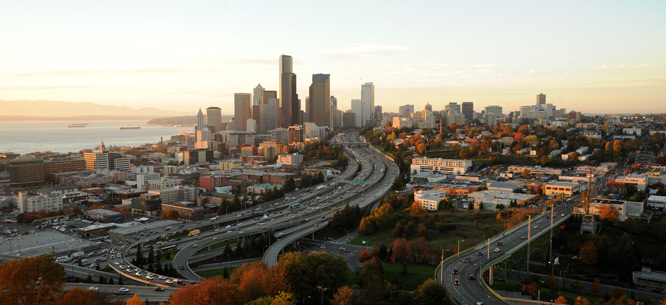 Contemporary Seattle is a city with a dual personality. On one hand, a dramatic building boom is underway. Towering cranes crowd the skyline as scores of new office and apartment buildings race to accommodate the thousands of code warriors whom Amazon and other tech companies are hiring. Since the start of the twenty-first century, the city's population has grown by 14 percent and its workforce by at least that amount. Median income is now the third highest in the nation among big cities, behind only San Jose and San Francisco. New restaurants, trendy stores, massive new transportation projects and waterfront developments add to the feeling that a new Seattle is taking shape—a richer, younger, denser, faster city that may loom larger in the world of commerce and culture than the old one. It is a Seattle re-engineered by billionaires, especially Jeff Bezos and Paul Allen.
But boomtown Seattle is also a progressive city, with loud echoes of a more radical past. The city council recently passed the most liberal minimum wage law in the country, raising the floor to $15 per hour in stages over the next several years. This followed the election of Ed Murray, the city's first openly gay mayor, and passage of statewide ballot measures legalizing marijuana and supporting marriage equality. At the same time, Kshama Sawant, an Indian-born software engineer turned economist, won a seat on the city council running as a candidate of the Socialist Alternative party. Her stunning victory immediately made her a symbol of radical Seattle. Confrontational, edgy, and serious about her Trotskyist credentials, she is also media-savvy and knows how to strike a balance between what is radical and what is politically effective. The press can't get enough of her, and her mystique helped convince the city council to pass the historic minimum wage measure.
The combination of resurgent radicalism and radical re-urbanization has existed since the final years of the last century, but it also belongs to a political tradition that Seattle shares with other West Coast cities, especially San Francisco. Linked together by business enterprise, migration, and geo-economic function, these cities share what we might call "the left coast formula," a historically developed set of institutions and expectations that keep radicalism alive while allowing political elites identified as liberal or progressive to stay in power pretty consistently.
The current political era dates from November 30, 1999, when 40,000 unionists and environmentalists forced the cancelation of the ministerial meeting of the World Trade Organization. The Battle of Seattle lasted four days and changed the politics of the WTO. It also changed the political chemistry of the host city. Since then, the labor movement has been increasingly assertive in city and state politics, promoting living-wage campaigns along with a range of progressive issues including immigrant rights, LGBT rights, and affirmative action. Elected city and county officials have also learned to respond to a left mosaic of community action groups, eco-activists, progressive churches and synagogues, and, since the 2011 Occupy demonstrations, active contingents of socialists and anarchists. ...............(more)
The complete piece is at:
http://www.dissentmagazine.org/article/seattles-left-coast-formula
4 replies, 708 views
Replies to this discussion thread
| | | | |
| --- | --- | --- | --- |
| 4 replies | Author | Time | Post |
| Seattle's Left Coast Formula (Original post) | marmar | Feb 2015 | OP |
| | freeplessinseattle | Feb 2015 | #1 |
| | ND-Dem | Feb 2015 | #2 |
| | SoCalDem | Feb 2015 | #3 |
| | ND-Dem | Feb 2015 | #4 |
---
Response to marmar (Original post)
Sat Feb 7, 2015, 02:15 PM
freeplessinseattle (3,508 posts)
1. Interesting article, thank you!:) eom
---
Response to marmar (Original post)
Sat Feb 7, 2015, 02:48 PM
ND-Dem (4,571 posts)
2. Can cities rebuilt by billionaires continue to support progressives and occasional socialists? = no.
Last edited Sat Feb 7, 2015, 08:28 PM - Edit history (1)
Seattle today is a wasteland of excess compared to the working class city I grew up in.
---
Response to ND-Dem (Reply #2)
Sat Feb 7, 2015, 03:47 PM
SoCalDem (103,856 posts)
3. and since the housing costs are so prohibitive,
the "lesser-thans" are pushed to the perimeters, as they (we) are in any large metropolitan area
..
The poorer you are, the further out you have to live (and the longer your commute).. The commuting costs eat up a pretty hefty portion of the salary you make..and the time wasted in traffic is time you never have to form roots in your out-of-town community..
---