Sun May 24, 2015, 12:51 PM
bigtree (75,429 posts)
Campfires of the Afro American - The Old Flag Never Touched The Ground
Most of us today properly think of war in terms of the conflicts that involve our own generation, and the ones closely preceding us. Those military conflicts - many of them wars of opportunity, expansionism, and patronage - have rightly soured many of us who opposed them on military observances and recognition. There are, nonetheless, many noble and heroic sacrifices by members of our armed forces made in defense of worthy ideals and understandable causes which deserve recognition and honor. Certainly, for those of us who have family members who have sacrificed life and limb in service in our nation's military, Memorial Day has profound significance and meaning. I would hope that even those who are solidly opposed to warring will recognize, and perhaps, appreciate that service this weekend.
One such cause worthy of enduring respect and admiration for those who served in our military is our nation's civil war. It was both a fight for freedom, for some, and a battle to preserve a fragile union of our United States. Those ideals and aspirations compelled our imperfect humanity to take up arms against each other in a devastating, but decisive manner which should always remind us of the perils of divisiveness and the promise of unity.
More than 140 years ago, Lincoln sought to reassure a gathered group of faithful that he would not take them to war to end the scourge of slavery in declaring that there would be "no bloodshed unless it be forced upon the Government, and then it will be compelled to act in self-defense. "Shortly thereafter, he would nonetheless, lead the country into war to, as he proclaimed, ". . . to maintain the honor, the integrity, and the existence of the National Union, and the perpetuity of popular government; and to redress wrongs (of slavery) already long enough endured."
Lincoln's justification for war did not require any rhetorical hedge. He insisted that in his opposition to slavery, an adherence to the principles of liberty and individual rights which are embodied in the Declaration of Independence, would more than provide for the preservation of the Union.
"In my hands," he spoke, "is the task of restoring peace to the present distracted condition of the country. It was not the mere matter of the separation of the Colonies from the motherland," he said, "but that sentiment in the Declaration of Independence which gave liberty, not alone to the people of this country, but, I hope, to the world, for all future time."
"It was that," Lincoln continued, "which gave promise that in due time the weight would be lifted from the shoulders of all men."
I have an old book called the
Campfires of the Afro American
which recounted the deeds of a black soldier named Sergeant William Carney.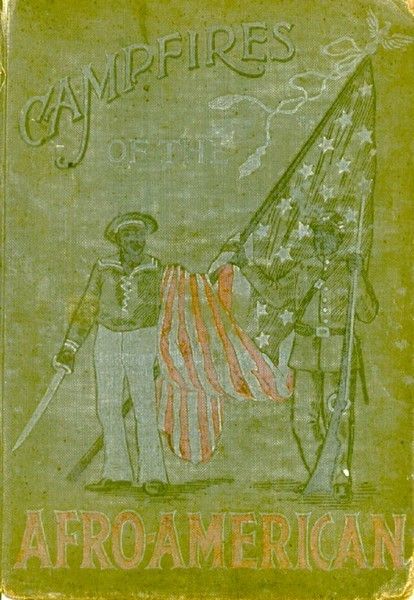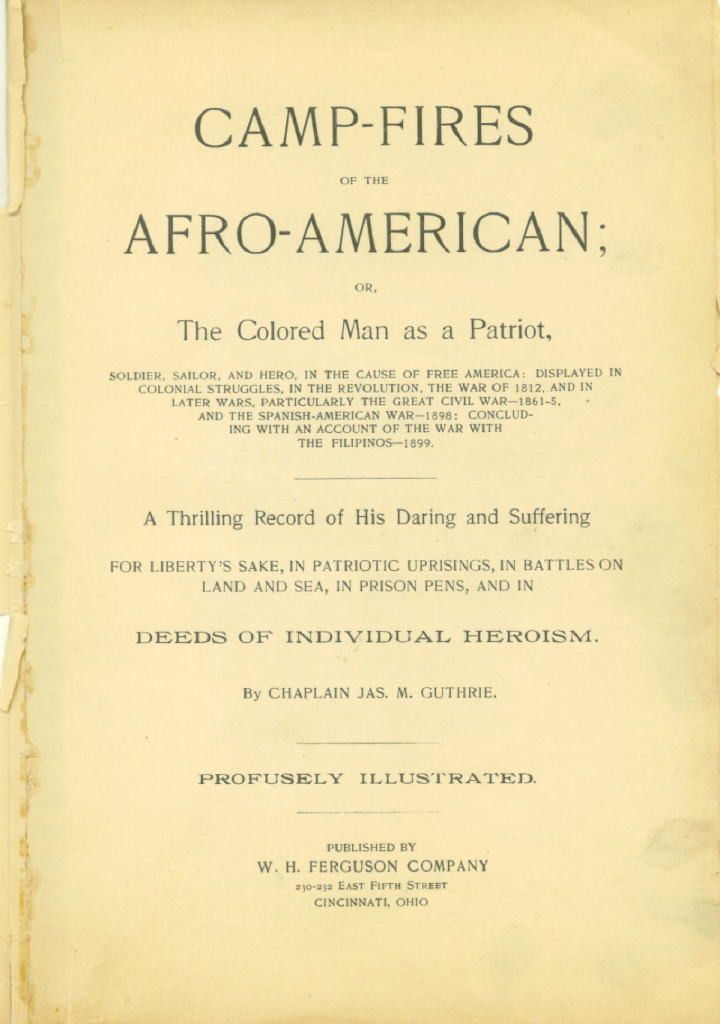 ____The 54th Massachusetts Volunteer Infantry Regiment was recruited in the spring of 1863 by Governor John Andrew, who had secured the reluctant permission of the War Department to create a regiment of African-American soldiers. Like all Massachusetts Civil War soldiers, the 54th's men were enlisted in the Massachusetts Volunteer Militia. These Guardsmen would serve as a test case for many skeptical whites who believed that blacks could not be good soldiers. The battle that proved they could was fought on Morris Island, at the mouth of Charleston Harbor. Following three days of skirmishes and forced marches with little rest, and 24 hours with no food, the regimental commander, Colonel Robert Gould Shaw, requested the perilous honor of leading the attack of Fort Wagner, a sand and palmetto log bastion. As night fell, 600 men of the 54th advanced with bayonets fixed. Despite withering cannon and rifle fire, the men sustained their charge until they reached the top of the rampart. There, Colonel Shaw was mortally wounded.
There, also, Sergeant William Carney, who had earlier taken up the National Colors when the color sergeant had been shot, planted the flag and fought off numerous attempts by the Confederates to capture it. Without support, and faced with superior numbers and firepower, the 54th was forced to pull back. Despite two severe wounds, Sergeant Carney carried the colors to the rear. When praised for his bravery, he modestly replied,
"I only did my duty; the old flag never touched the ground."
Carney was awarded the Medal of Honor for his actions, the first African-American to receive the award. The 54th Massachusetts suffered 270 casualties in the failed assault, but the greater message was not lost: some 180,000 African-American soldiers followed in the footsteps of these gallant Guardsmen, and proved that African-American soldiers could, indeed, fight heroically if given the opportunity.
In 1870, he returned to New Bedford and became one of the four men employed as letter carriers. After 31 years in the postal service, he retired in 1901, then spend his last years as an employee at the state capitol in Boston.
Carney was in great demand as a leader of Memorial Day parades and as a speaker at patriotic events. In 1904, he was the Memorial Day orator at the Shaw Monument on Boston Common. (
http://vc.bridgew.edu/hoba/36/
)
Included on the pages I've scanned below is a poem under the heading,
Preface, A Colored Veteran's Reverie
.
Again the fires of soldier-life are kindled to my view,
And I recall the bloody strife that made our nation new,
When 'Camp Fires' of the Colored man, a book with title rare,
I read with pride, with pleasure scan, to learn our helpful share . . .
. . . and, so it goes.
I hope folks will take some time this Memorial weekend and read the poems, remembering the bravery and honor of the soldiers who served in our nation's past, and the soldiers who are serving and sacrificing today.
I hope you enjoy these poems from this fascinating book as much as I do.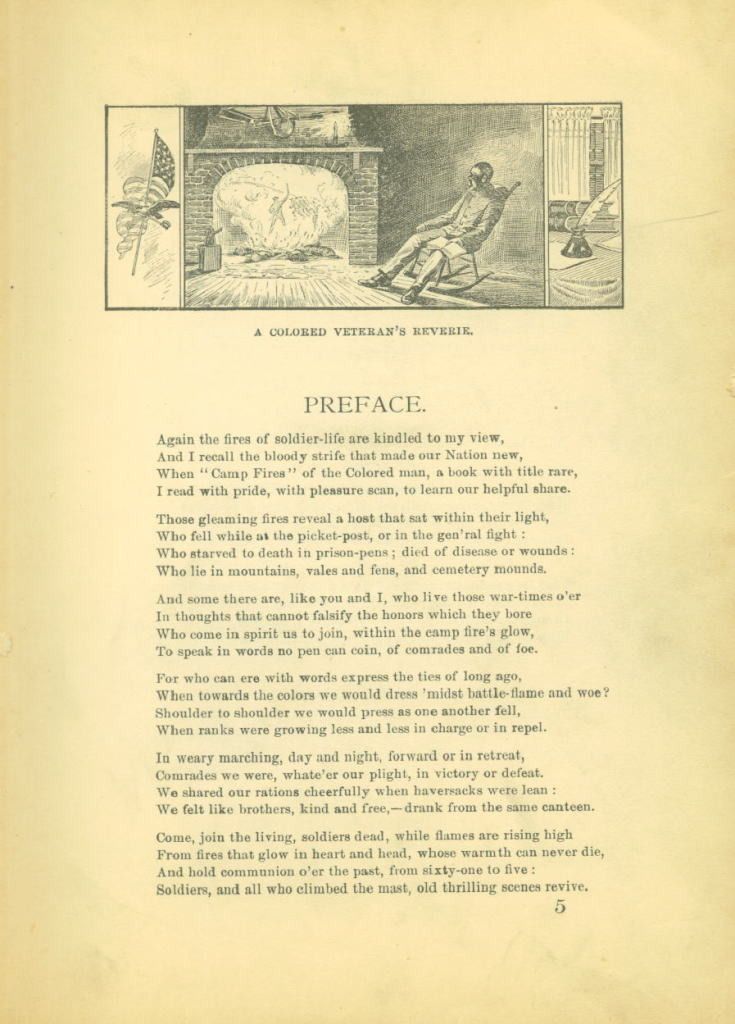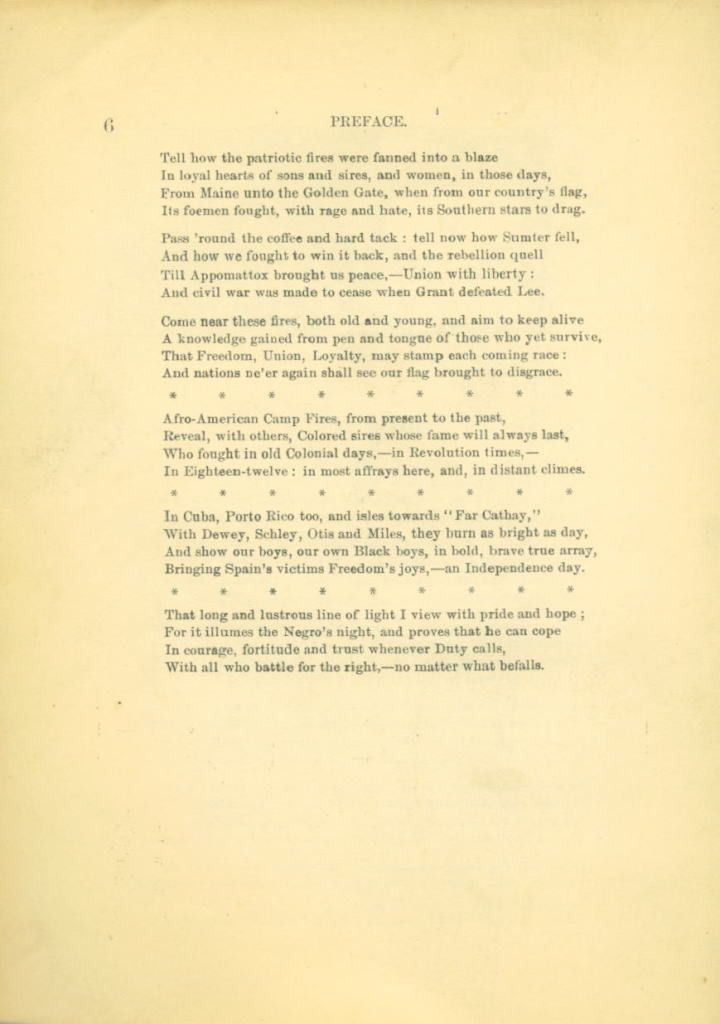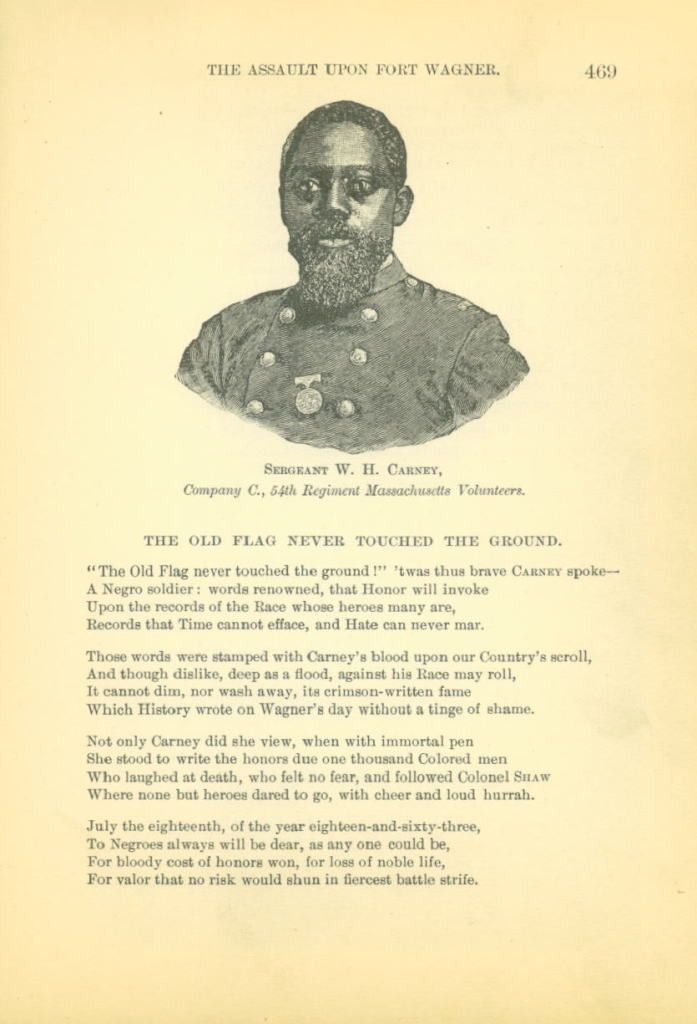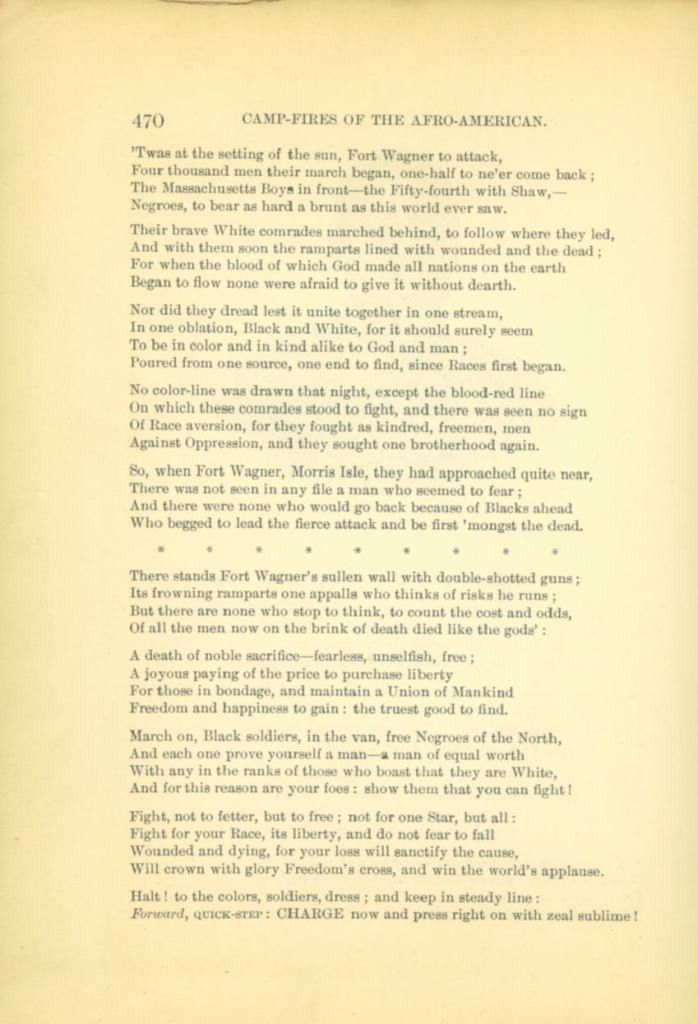 9 replies, 1491 views
Replies to this discussion thread
| | | | |
| --- | --- | --- | --- |
| 9 replies | Author | Time | Post |
| Campfires of the Afro American - The Old Flag Never Touched The Ground (Original post) | bigtree | May 2015 | OP |
| | bigtree | May 2015 | #1 |
| | bigtree | May 2015 | #2 |
| | madokie | May 2015 | #3 |
| | bigtree | May 2015 | #5 |
| | MerryBlooms | May 2015 | #4 |
| | H2O Man | May 2015 | #6 |
| | CanSocDem | May 2015 | #7 |
| | malthaussen | May 2015 | #8 |
| | bigtree | May 2015 | #9 |
---
Response to bigtree (Original post)
Sun May 24, 2015, 03:20 PM
bigtree (75,429 posts)
1. »
---
Response to bigtree (Original post)
Mon May 25, 2015, 06:32 AM
bigtree (75,429 posts)
2. »
---
Response to bigtree (Original post)
Mon May 25, 2015, 06:47 AM
madokie (51,076 posts)
3. Thank you
I'm old and I'm tired. Tired of the so called difference between the black man and the white man. We all are of the human race, we all bleed red blood. We are brothers and sisters all of us.
---
Response to madokie (Reply #3)
Mon May 25, 2015, 07:10 AM
bigtree (75,429 posts)
5. "No color-line was drawn that night"
'Except the blood-red line on which these comrades stood to fight

And there was seen no sign of race aversion because they fought as kindred

Freemen, men against Oporession, and they sought one brotherhood again."
---
Response to bigtree (Original post)
Mon May 25, 2015, 06:54 AM
MerryBlooms (7,741 posts)
4. Happy to rec & kick
---
Response to bigtree (Original post)
Mon May 25, 2015, 09:13 AM
H2O Man (61,958 posts)
6. Recommended.
---
---
Response to bigtree (Original post)
Mon May 25, 2015, 09:25 AM
malthaussen (13,301 posts)
8. You may recall that the film "Glory" was about the 54th...
... as Hollywood productions go, not bad at all.

You may also recall that there were instances of CSA troops giving no quarter to black troops on several occasions when the two clashed. But they tell us the war was not about race.

-- Mal
---
Response to bigtree (Original post)
Mon May 25, 2015, 01:05 PM
bigtree (75,429 posts)
9. »