Sun Jun 21, 2015, 01:59 PM
bigtree (75,429 posts)
High Summer on the Rebound
High summer on the rebound
High summer got him low down
High summer on the rebound
High summer's got him low down
-Van Morrison, 'High Summer'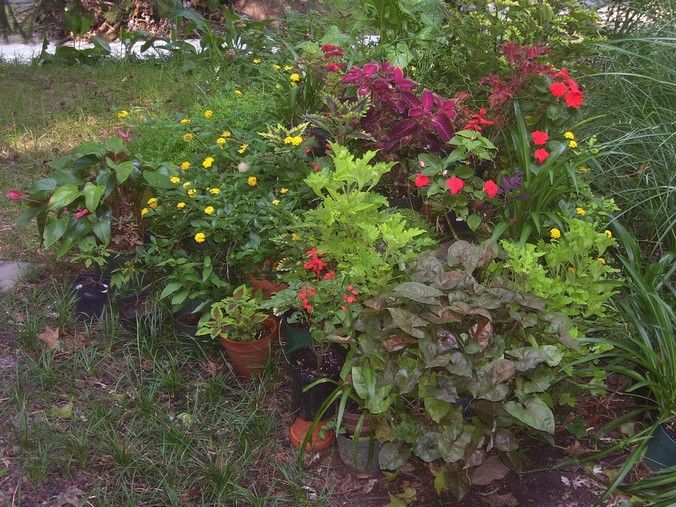 High summer's come early this year and my garden yard is blooming much faster than usual for this time of year. We're in a typical pattern of sweltering days and stormy nights and there's nothing in the garden that has wont of sun or rain. I put down 7 entire yards of compost for the very first time this year, spread out from front to back of my expansive yard. There's just a scant patch here and there of actual lawn left, and all of the plants I put in to replace the needy grass are steadily taking over those areas without seed or without fertilizer which ends up in our lakes, and, ultimately, in many of our other waterways.
All of our birds are back, except our hummingbirds haven't made an appearance yet; even though the dark red monarda they can't resist is already in full bloom. Soon, though, the red lobelia will send up some shoots of flowers and they're always reliable to our hummers for a few months of precious, life preserving nectar. Our sparkling green hummingbirds are so familiar and comfortable that I've had them actually drinking from my hose a couple of times as I watered the garden. They are graceful and elegant, both in flight and in rest high in the treetops as I watch them from our upstairs window; even beautiful as they fight furiously with each other for dominance over territory and resource.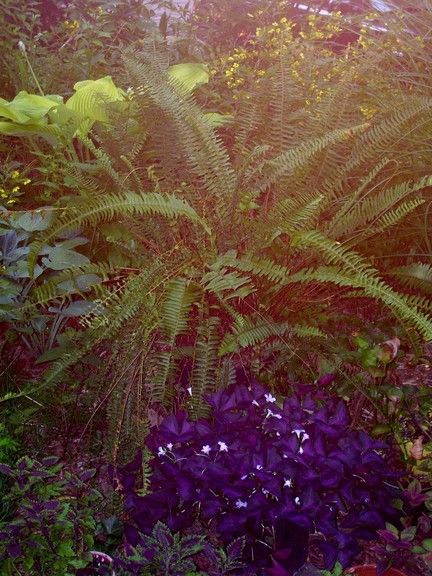 Our successful garden yard is an outlier in our trim, suburban neighborhood where the finely clipped lawns and meticulously trimmed bushes make every day here look like a Sunday afternoon. Our plants and bushes grow wherever they can find sun underneath the oppressive canopy of trees, and their branches and stems stretch out languorously to touch, feel, and commune with their neighbors. Mischievous chipmunks dash around my feet as I referee between the foliage; catbirds, robins, and cardinals hop about foraging for food as they explore the dense underbrush. Even an occasional fox slinks in and among the high foliage at night hunting for mice and voles.
One of the most complex conflicts I have between fauna and flora are the almost nightly visits from deer who are discriminating in their foraging; waiting with great expectation, as I do, for choice buds to develop and snipping them off as a snack before I have the joy of experiencing the beauty of the flowers. This year, it's the heads of our black-eyed susans which have attracted their interest and palette. I was preemptive in covering most of them with netting this year, but, somehow, they found the few which didn't get the benefit of cover and made them into a meal.
Oh, the anguish this morning! Waking to find all of the flowers and remaining buds eaten and gone from my wife's speckled-orange Mother's Day asiatic lilies! Oh, the pain finding my prize red daylily buds I've been patiently waiting to bloom eaten and gone! Oh, deer, you're breaking this dedicated gardener's patient heart!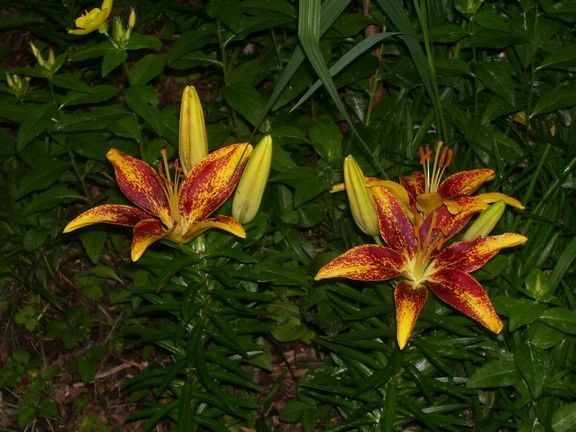 I try and interact and live compatibly with nature and its creatures; great and small. I want to help preserve and create, if possible, as much species habitat as I'm able. Heaven knows how much road and housing development has eliminated and reduced that habitat over the decades. The least we can do it to try and maintain as much as we can; helping to preserve the woodland's denizens as we work to preserve their macro and micro environments.
Once you've created your plant filled environment, however, you are bound to their success or demise. There's no questioning the beneficial effect of careful tending and nurturing of a yard full of plants. The wildlife which adopts the environment you've created becomes dependent on your beneficence -- as do the succeeding generations of fauna which are conceived and delivered into your garden home. Bees and other insects find spots nearby to winter over. Hummingbirds and other fowl will make your garden a regular stop on their essential feeding tours. And, yes, for some hapless gardeners, deer and rabbits make their garden paradises their own personal feeding stations and devastatingly devour the bounty to the ground.
There are consequences to the decision to establish a garden. Once adopted by our living counterparts, the future condition of that garden becomes almost essential. That's a bit like the way I view our community at Democratic Underground. We gather here, either deliberately compelled or bidden, and become reliant on the nourishment from the wellspring of activism, action, and advocacy that's been established here. I daresay that the community outside of DU can also become dependent on the diligence and effective management of the politics we intend to influence from our community of concerns.
So, high summer has come to my garden as early as our political season at DU, bringing with it an abundance of sunlight and nourishing rain to sustain the burgeoning abundance of life which both sustains us and challenges us for room to grow and prosper from the resources available. I daresay we can find space and resource to accommodate most of it all; even as we cringe at the prospect of our prize buds and offshoots serving as nourishment for other life before we can realize their bloom; none are more important than the other in this ecosystem; none are less vital than the other in our own survival.
That's what we establish gardens for; to sustain and enhance life on this planet. That's what I suppose this place is for.
Settled down to start anew
Far away from the politicians
And the many chosen few

Far away from the jealousy factor
And everything that was tearing him apart
Far away from the organ grinder
And everyone that played their part

And they shut him out of paradise
Called him Lucifer and frowned
'Cos he took pride in what God made him
Even before the angels shot him to the ground

He's a light out of the darkness
And he wears a starry crown
If you see him, nothing is shaken
'Cos high summer's got him low down
5 replies, 1067 views
Replies to this discussion thread
| | | | |
| --- | --- | --- | --- |
| 5 replies | Author | Time | Post |
| High Summer on the Rebound (Original post) | bigtree | Jun 2015 | OP |
| | bigtree | Jun 2015 | #1 |
| | bigtree | Jun 2015 | #2 |
| | Raine1967 | Jun 2015 | #3 |
| | bigtree | Jun 2015 | #5 |
| | riderinthestorm | Jun 2015 | #4 |
---
Response to bigtree (Original post)
Sun Jun 21, 2015, 03:07 PM
bigtree (75,429 posts)
1. »
---
Response to bigtree (Original post)
Sun Jun 21, 2015, 10:52 PM
bigtree (75,429 posts)
2. »
---
Response to bigtree (Original post)
Sun Jun 21, 2015, 11:11 PM
Raine1967 (11,423 posts)
3. EVERY word of this OP needs to be read.
I want to hug it.
and I want to go out an tend to my garden.
KICK for the sunday nite crowd.
---
Response to Raine1967 (Reply #3)
Mon Jun 22, 2015, 02:03 PM
bigtree (75,429 posts)
5. thanks, Raine
...the garden is my refuge.

So is DU, most of the time...
---