Fri May 25, 2012, 03:34 PM
JackRiddler (24,979 posts)
Support The Troops
On Sunday, veterans of the Iraq and Afghanistan wars, as well as members of Afghans for Peace, led a peace march of thousands of people. Iraq Veterans Against the War held a ceremony where nearly 50 veterans discarded their war medals by hurling them down the street in the direction of the NATO summit. We hear the soldiersí voices as they return their medals one by one from the stage. "Iím here to return my Global War on Terror Service Medal in solidarity with the people of Iraq and the people of Afghanistan," said Jason Hurd, a former combat medic who spent 10 years in the U.S. Army. "I am deeply sorry for the destruction that we have caused in those countries and around the globe."
From
http://www.democracynow.org/2012/5/21/no_nato_no_war_us_veterans#transcript
These are the troops I support.
These are the troops who truly serve their country.
These are the ones who are (now) doing the right thing.
On the video from Democracy Now! last Monday, at
http://dncdn.dvlabs.com/ipod/dn2012-0521.mp4,
starting at about 9:20 you can see 22 of these brave veterans doing the right thing, and taking the fight to the real terrorists.
I'd love to quote them all, since this was a public street event and an important part of our history. But just to be sure I'll stick to the four-paragraph rule here and urge you to follow the link to see the full coverage, with transcript.
SHAWNA FOSTER: My name is Shawna, and I was a nuclear biological chemical specialist for a war that didnít have any weapons of mass destruction. So I deserted. Iím one of 40,000 people that left the United States Armed Forces because this is a lie!
VINCE EMANUELE: My name is Vince Emanuele, and I served with the United States Marine Corps. First and foremost, this is for the people of Iraq and Afghanistan. Second of all, this is for our real forefathers. Iím talking about the Student Nonviolent Coordinating Committee. Iím talking about the Black Panthers. Iím talking about the civil rights movement. Iím talking about unions. Iím talking about our socialist brothers and sisters, our communist brothers and sisters, our anarchist brothers and sisters, and our ecology brothers and sisters. Thatís who our real forefathers are. And lastlyóand lastly and most importantly, our enemies are not 7,000 miles from home. They sit in boardrooms. They are CEOs. They are bankers. They are hedge fund managers. They do not live 7,000 miles from home. Our enemies are right here, and we look at them every day. They are not the men and women who are standing on this police line. They are the millionaires and billionaires who control this planet, and weíve had enough of it. So they can take their medals back.
AARON HUGHES: My name is Aaron Hughes. I served in the Illinois Army National Guard from 2000 and 2006. This medal right here is for Anthony Wagner. He died last year. This medal right here is for the one-third of the women in the military that are sexually assaulted by their peers. We talk about standing up for our sistersówe talk about standing up for our sisters in Afghanistan, and we canít even take care of our sisters here. And this medal right here is because Iím sorry. Iím sorry to all of you. Iím sorry.
http://www.democracynow.org/2012/5/21/no_nato_no_war_us_veterans#transcript
10 replies, 2789 views
Replies to this discussion thread
| | | | |
| --- | --- | --- | --- |
| 10 replies | Author | Time | Post |
| Support The Troops (Original post) | JackRiddler | May 2012 | OP |
| | JackRiddler | May 2012 | #1 |
| | JackRiddler | May 2012 | #2 |
| | JackRiddler | May 2012 | #7 |
| | coalition_unwilling | May 2012 | #8 |
| | JackRiddler | May 2012 | #9 |
| | Dawson Leery | May 2012 | #10 |
| | JackRiddler | May 2012 | #3 |
| | JackRiddler | May 2012 | #4 |
| | JackRiddler | May 2012 | #6 |
| | redgreenandblue | May 2012 | #5 |
---
Response to JackRiddler (Original post)
Fri May 25, 2012, 03:35 PM
JackRiddler (24,979 posts)
1. Remember the troops who helped end the US genocide in Vietnam
The antiwar movement of the Vietnam era represented a real domestic opposition inside the aggressor country. And they absolutely contributed to the outcome of the US invasion of Vietnam, mainly by the indirect means of sucessfully winning over enough of the GIs to make the prosecution of the war untenable on the ground. The antiwar movement infected the draftees as well as the enlisted army. After the Tet offensive soldiers began to engage in mass noncompliance and by the Pentagon's numbers they also killed 500 of their own officers in the decisive 1969-70 period. After that Nixon escalated carpet bombings and "Vietnamization," committing an even greater genocide just to save imperialist face. It fell short of a full mutiny, but too many of the US soldiers were no longer willing to take the field and the combat forces were drawn down by 1973.
You can be certain that if there had been sufficient domestic support for a course of further escalation, the USG would not have backed down even by that tortuously slow and murderous timetable. The USG would have sent a million troops. They would have bombed the dikes to drown millions of people in northern Vietnam. They might have even been willing to use nuclear weapons to avoid what they regarded as an apocalyptic loss to Communism.
The Vietnamese people won the war against the foreign invaders, and paid for it with millions of lives lost and people maimed, and decades of national devastation, but the domestic US resistance was the decisive factor in setting the limits on what the near-psychotic USG was willing to try. Again, above all by winning over enough of the army.
EVERYONE should see this incredible documentary:
[img]
[/img]
http://www.sirnosir.com/
[img]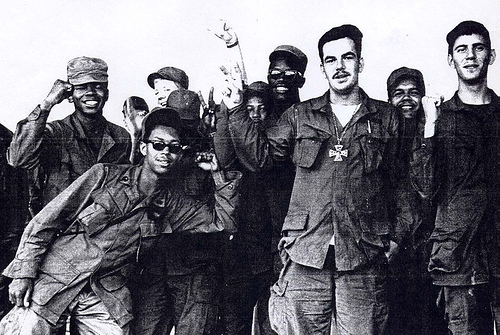 [/img]
An excellent sequence deals with the construction of the myth of the hippie woman who spat on a returning veterans. More likely she was dancing with them in antiwar cafes - in the middle of Texas, even.
Since then a lot of domestic propaganda-war effort has gone into constructing the myth that the antiwar movement had no impact and was just "a bunch of hippies," that a shift in opinion among the geostrategists and the revolt of the domestic manufacturing capitalists were the only decisive factor, or that the US lost on military terms (as though the USG would not have been willing to escalate the carnage on the ground). The Rambo mythology arose to re-legitimize foreign wars. The difference today is a volunteer army, most of them with several layers of technology shielding them from ground combat. And even so, there are resisters and veterans against the war...
---
Response to JackRiddler (Reply #1)
Fri May 25, 2012, 06:14 PM
JackRiddler (24,979 posts)
2. Remember the most decorated marine of his era
Smedley Butler, speaking in 1933 said:
War is just a racket. A racket is best described, I believe, as something that is not what it seems to the majority of people. Only a small inside group knows what it is about. It is conducted for the benefit of the very few at the expense of the masses.

I believe in adequate defense at the coastline and nothing else. If a nation comes over here to fight, then we'll fight. The trouble with America is that when the dollar only earns 6 percent over here, then it gets restless and goes overseas to get 100 percent. Then the flag follows the dollar and the soldiers follow the flag.

I wouldn't go to war again as I have done to protect some lousy investment of the bankers. There are only two things we should fight for. One is the defense of our homes and the other is the Bill of Rights. War for any other reason is simply a racket. There isn't a trick in the racketeering bag that the military gang is blind to. It has its "finger men" to point out enemies, its "muscle men" to destroy enemies, its "brain men" to plan war preparations, and a "Big Boss" Super-Nationalistic-Capitalism.

It may seem odd for me, a military man to adopt such a comparison. Truthfulness compels me to. I spent thirty- three years and four months in active military service as a member of this country's most agile military force, the Marine Corps. I served in all commissioned ranks from Second Lieutenant to Major-General. And during that period, I spent most of my time being a high class muscle- man for Big Business, for Wall Street and for the Bankers. In short, I was a racketeer, a gangster for capitalism....
http://www.fas.org/man/smedley.htm
---
Response to JackRiddler (Reply #1)
Mon May 28, 2012, 04:41 PM
JackRiddler (24,979 posts)
7. These are the veterans Obama should have honored today...
and if he wanted to apologize for shabby treatment of veterans (which is bad, but compared to the treatment the USG meted out to the Vietnamese?) he should have started with the military attack in Washington DC on the Bonus Army of veterans demanding help during the depression.
---
Response to JackRiddler (Reply #1)
Mon May 28, 2012, 04:52 PM
coalition_unwilling (14,180 posts)
8. Ho Chi Minh said words to this effect: "I can lose 10 soldiers for every 1 soldier you
lose and I can maintain that ratio in perpetuity. And you will grow tired and leave." (Can't find the exact quote on short notice so am relying on memories of same.)

Don't underestimate the fighting tenacity of the Vietnamese soldiers and the tactical and strategic brilliance of its senior leadership (Giap and others). A 3rd-world agrarian society fought the world's leading industrial superpower to a stalemate (January 1968), before the antiwar movement here really founds its legs.

Tet '68 is a perfect case in point. Most military historians today concede that Tet gravely damaged the Vietnamese military's ability to mount further sustained combat operations against the U.S. HOWEVER, that tactical setback has to be set against the HUGE STRATEGIC victory the Vietnamese people won in demonstrating once and for all the utter absurdity and depravity of Westmoreland's strategy of victory through attrition.
---
Response to coalition_unwilling (Reply #8)
Wed May 30, 2012, 12:02 AM
JackRiddler (24,979 posts)
9. Absolutely not...
And I don't think any informed observer of the period would think otherwise. Every word you said.

Here I am speaking to people in the United States, and telling them truthfully: you too can and must make a difference. Overcome false shame, overcome false ideas of your own interest, do your indispensable part to help bring the murder machine to an end. (And in the process: free our people's genuine riches to be put to their own benefit!)
---
Response to JackRiddler (Reply #1)
Wed May 30, 2012, 12:06 AM
Dawson Leery (18,752 posts)
10. Hugh Thompson Jr.
---
---
---
---
Response to JackRiddler (Original post)
Sun May 27, 2012, 11:31 AM
redgreenandblue (2,052 posts)
5. K&R