Tue Jun 12, 2012, 08:35 AM
bigtree (75,429 posts)
Plant Giveaway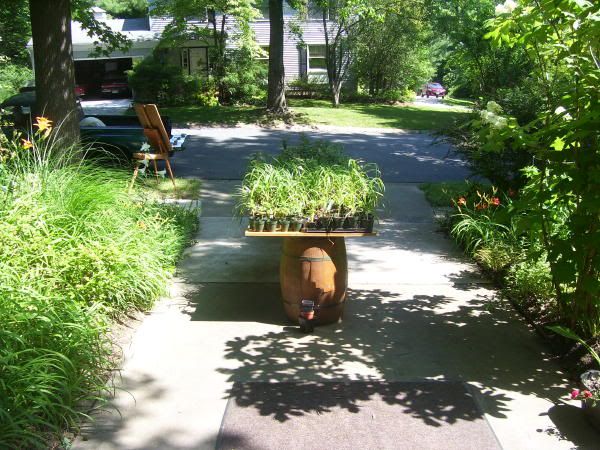 HAD our third plant giveaway at our house, Sunday. We take divisions from our garden yard and plant them up in old pots we've saved over the years. This year we had donations of old pots and trays from a few customers at David's Natural Market -- where my wife works-- which helped expand and round out our collection.
The folks who visited and picked up a few plants got to expand their own gardens, and, in some cases, start new ones. One lady had an eroding bank where the county had installed a drainage pipe as a weak solution and she was going try to plant there to take advantage of the moisture.
We had a family with their challenged son who took advantage of a tour of the garden and it proved to be just the right fit for their very expressive and active companion. Lots stuff around to spark lots of questions from the young man and lots of answers were happily available as Karen guided them around.
A friend from Karen's job came by with a few of his buddies and spent an hour or so hanging out in the garden and talking about life, nature, and the rest. No politics today; just talk about much of the things which underlie our political ambitions. Conservation, environmentalism, sustainable living . . .
Other folks just dropped by for a few minutes to help themselves with a wave to the house as they were leaving. It was ghastly hot, so it kept the numbers of visitors down from past years.
Also, there weren't as many plants which stood out as winners, like the hostas I had provided for the last two. I spread the divisions out in the yard last year, so I should have a more interesting selection next time when those plots mature.
This year we had a neat lysimachia, 'Firecracker,' which was a royal Hort. Society winner in 1996. There were generous sprigs of lirope for an evergreen groundcover. We had some pots of oenothera tetrogona, day-opening 'Sundrops'; some sweet woodruff (galium odoratum); sprigs of oat grass; and some mystery daylillies.
If we get enough pots back, we plan on having one more giveaway this year -- kind of splitting it up -- where I plan on having some coleus cuttings; some sedum starters; some bright-yellow sweet flag sprigs; and some more lirope, this time in bloom.
It makes me feel good to know there are new plantings being tended to around the community which started in my yard. In our neighborhood, we have a lot of homes with large plots of grass between the street and their home. All of that grass gets chemicals applied each year to maintain them, and those nutrient and minerals flow right down the hill to our couple of lakes and stimulate algae an other plant growth in the water which can stifle and kill the aquatic life there.
We stopped the cycle in our own yard and replaced 90% of the grass with other plants. We have a rooftop gutter hose which channels the rain into our rainbucket. That gives us enough water to maintain most of the growth during the rest of the mostly rainless summers around here after July. We hope to provide a pleasant and interesting yard for ourselves and our neighbors.
We'd also like to encourage folks to plant up more of their grassy yards with a variety of specimens and to try and maintain them as organically as possible. just a suggestion, of course, it's hard work to get started; rewarding, though, I think. So, that was plant giveaway day, 2012. Looking forward to trying for another this year, and already looking forward to 2014!
watch short video of some visitors talking with my wife and son:
http://www.facebook.com/v/205616842893798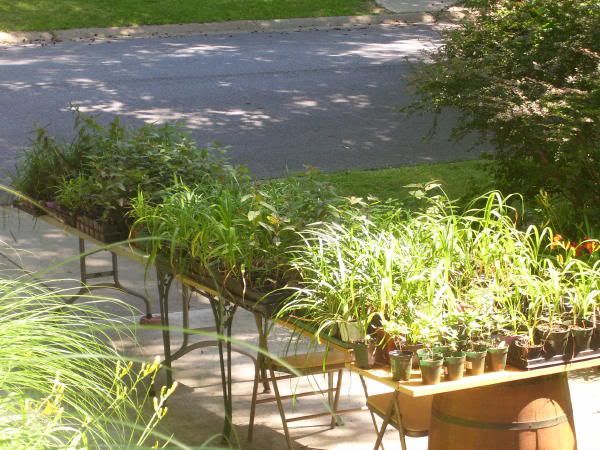 9 replies, 2177 views
Replies to this discussion thread
| | | | |
| --- | --- | --- | --- |
| 9 replies | Author | Time | Post |
| Plant Giveaway (Original post) | bigtree | Jun 2012 | OP |
| | tech3149 | Jun 2012 | #1 |
| | bigtree | Jun 2012 | #6 |
| | Nay | Jun 2012 | #7 |
| | RiffRandell | Jun 2012 | #2 |
| | 66 dmhlt | Jun 2012 | #3 |
| | dixiegrrrrl | Jun 2012 | #4 |
| | tk2kewl | Jun 2012 | #5 |
| | spanone | Jun 2012 | #8 |
| | Liberal_in_LA | Jun 2012 | #9 |
---
Response to bigtree (Original post)
Tue Jun 12, 2012, 10:17 AM
tech3149 (4,448 posts)
1. You are truly doing Gods work
I have been trying to do my part but it truly takes a lot of energy and time. My family has been in the same place working on three generations. I have pictures from the 40's and 50's where the whole yard was a garden of food with the chicken coop in the back.
I'm trying to take it back to what it used to be.
Even with the small plantings I have now I can contribute to the food bank and the churches harvest table.
---
Response to tech3149 (Reply #1)
Tue Jun 12, 2012, 01:10 PM
bigtree (75,429 posts)
6. I envy food gardens, tech. So many trees here, we've got our own little woods
. . . barely enough sun for a few tomatoes (birds usually get at them before I do).
Garden food-sharing: truly 'God's work.' More power to you!
---
Response to bigtree (Reply #6)
Tue Jun 12, 2012, 07:39 PM
Nay (10,711 posts)
7. Bigtree, if your tomatoes aren't red yet, paint a few round rocks red and place them on the
ground around your tomato plants. I've done that around my plants; supposedly, the birds will spy the red 'tomatoes,' fly in to peck and eat them, and be gravely disappointed in the lack of flavor.... the theory is that by the time the real tomatoes ripen, the birds won't want those hard, tasteless objects.

I'm trying this idea out to see if it works.
---
Response to bigtree (Original post)
Tue Jun 12, 2012, 10:21 AM
RiffRandell (5,909 posts)
2. What a great thing to do.
Thanks for sharing.
---
Response to bigtree (Original post)
Tue Jun 12, 2012, 10:30 AM
66 dmhlt (1,940 posts)
3. What a great idea. Congrats!
---
Response to bigtree (Original post)
Tue Jun 12, 2012, 11:09 AM
dixiegrrrrl (58,005 posts)
4. How marvelous that you do this!
I take it you live somewhere in the South, judging from the plants and the temps.
Playing it forward is such a cool thing to do.
---
Response to bigtree (Original post)
Tue Jun 12, 2012, 11:33 AM
tk2kewl (18,133 posts)
5. K&R
for the good guys!
---
Response to bigtree (Original post)
Tue Jun 12, 2012, 07:40 PM
spanone (115,961 posts)
8. k&r...
---