Tue Jun 20, 2017, 11:05 AM
IronLionZion (39,982 posts)
Where are you 'really' from? Try another question (perpetual foreigner)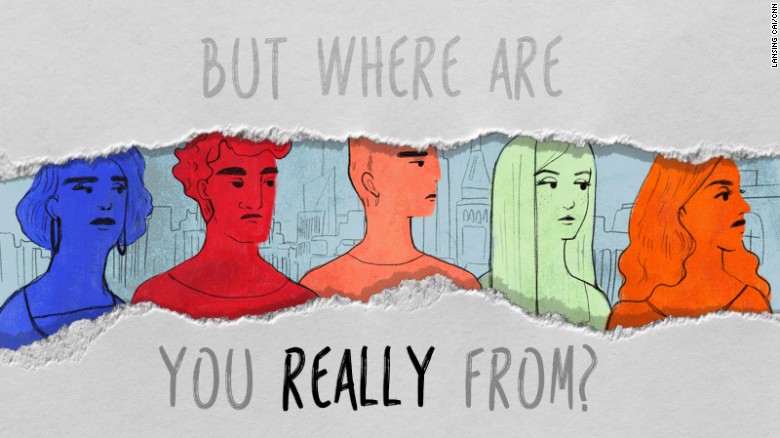 (CNN)For many Americans, making small talk usually means avoiding any discussion about politics, religion or money. But asking about a person's race or ethnicity, it seems, is still fair game.
"Where are you from?" asked a taxi driver recently as we crawled through snarled traffic in Manhattan.
"New York," I told him.
He looked at me in his rear-view mirror and asked again.
"No, where are you from?" he persisted. "Where are your parents from?"
I understood the question was about my race. Despite being born in New York City, I get asked where I'm "from" often.
I have light skin, a broad nose, full lips, thick dark wavy hair and dark brown eyes. I am a Latina of Puerto Rican descent, which means I could have European, Native American and African ancestry. To many, I'm racially ambiguous. So I am often asked a version of this question.
It's exhausting.
And, it turns out, I'm not alone in feeling that way.
...
"The impact to the person receiving that persistent questioning is that you are not a true American, you are a perpetual foreigner in your own country,"
Columbia Professor Derald Sue told me. The people asking those questions generally don't have bad intentions, said Sue, but "they are not in contact with their unconscious world view that only true Americans look a certain way: blond hair, blue eyes."
If a person of color challenges the question or refuses to answer will they be seen as difficult? I am sure many people reading this column will say, "Sheesh, it was just an innocent question."
Except it isn't always.
http://www.cnn.com/2017/06/20/opinions/where-are-you-really-from-vega-opinion/index.html
It has serious career ramifications for those of us pursuing jobs that require US Citizenship.
And it has serious irritations for those of us who are falsely assumed to be on work visas, or that Trumpers are going to deport us somewhere, anywhere will do.
Being harassed at airports and border crossings is as American as apple pie for someone whose Christian Biblical name doesn't match our brown face. Working in the IT field with brown skin is a daily exercise in restraint from punching someone in the face. I work with a lot of brown Americans, some are military veterans or played football in college but are still somehow stealing jobs away from real Americans. 1 replies, 2262 views
Replies to this discussion thread
| | | | |
| --- | --- | --- | --- |
| 1 replies | Author | Time | Post |
| Where are you 'really' from? Try another question (perpetual foreigner) (Original post) | IronLionZion | Jun 2017 | OP |
| | WhiskeyGrinder | Jun 2017 | #1 |
---
Response to IronLionZion (Original post)
Tue Jun 20, 2017, 11:09 AM
WhiskeyGrinder (17,798 posts)
1. K&R