Wed Jun 28, 2017, 01:54 PM
IronLionZion (39,619 posts)
Why US health care costs defy common sense
(CNN)When Jeffrey Kivi's rheumatologist changed affiliations from one hospital in New York City to another, less than 20 blocks uptown, the price his insurer paid for the outpatient infusion he got about every 6 weeks to control his arthritis jumped from $19,000 to over $100,000. Same drug; same dose -- though, Kivi noted, the pricier infusion room had free cookies, Wi-Fi and bottled water.
Mary Chapman, diagnosed with multiple sclerosis, started taking a then-new drug called Avonex in 1998, which belongs to a class of drugs called disease-modifying therapies. Approved in 1996, Avonex was expensive, about $9,000 a year. Today, two decades later, it's no longer the latest thing -- but its annual price tag is over $62,000.
Marvina White's minor elective outpatient surgery to remove an annoying cyst on her hand was scheduled in 2014 based on her doctor's availability. Because it was booked in a small facility that is formally classified as a hospital (with two operating rooms and 16 "spacious private suites"
rather than the outpatient surgery center where the doctor also practiced, the operating room fee was $11,000 rather than $2,000.
Len Charlap had two echocardiograms -- sonograms of the heart -- within a year: One, for $1,714, involved extensive testing at a Harvard training hospital; the other, for $5,435, was a far briefer exam at a community hospital in New Jersey.
It is not just that US healthcare is expensive, with price tags often far higher than those in other developed countries. We know that. At this point, Americans face astronomical prices that quite simply defy the laws of economics and -- as each of the above patients noted when they contacted me -- of decency and common sense.
'The balance sheet just doesn't work out'
"It's the prices, stupid."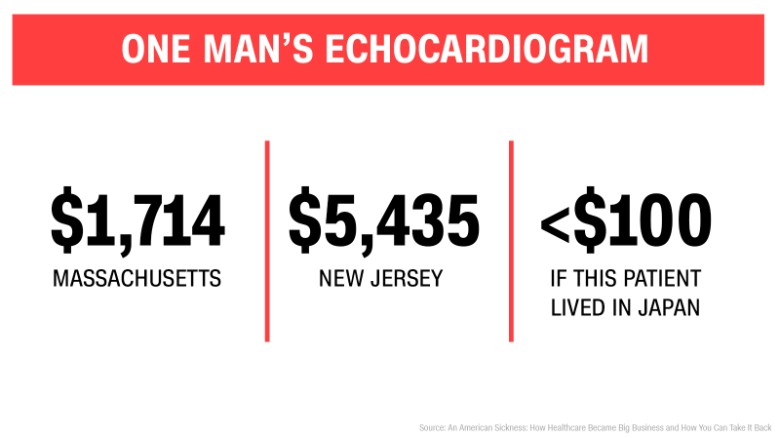 http://www.cnn.com/2017/06/26/opinions/us-health-care-prices-rosenthal-opinion/index.html
5 replies, 2169 views
Replies to this discussion thread
| | | | |
| --- | --- | --- | --- |
| 5 replies | Author | Time | Post |
| Why US health care costs defy common sense (Original post) | IronLionZion | Jun 2017 | OP |
| | meow2u3 | Jun 2017 | #1 |
| | Shell_Seas | Jun 2017 | #2 |
| | DBoon | Jun 2017 | #5 |
| | Skittles | Jun 2017 | #3 |
| | pbmus | Jun 2017 | #4 |
---
Response to IronLionZion (Original post)
Wed Jun 28, 2017, 02:19 PM
meow2u3 (24,544 posts)
1. Sticky pricing price fixing
The United States suffers from a bizarre phenomenon economists call "sticky pricing," where prices of competing medical services simply rise in tandem.
What a euphemism! That's just a fancy word for price fixing. The health care industry has been engaging in collusion at best and price fixing at worst. And the repukes look the other way while the industry robs Americans blind.
---
Response to IronLionZion (Original post)
Wed Jun 28, 2017, 02:38 PM
Shell_Seas (3,005 posts)
2. The answer you are looking for is:
---
Response to Shell_Seas (Reply #2)
Wed Jun 28, 2017, 02:49 PM
DBoon (20,101 posts)
5. Monopoly Capital
as opposed the the competitive kind, which exists in undergraduate text books and nowhere else
---
Response to IronLionZion (Original post)
Wed Jun 28, 2017, 02:46 PM
Skittles (144,900 posts)
3. it is legalized extortion
---
Response to IronLionZion (Original post)
Wed Jun 28, 2017, 02:49 PM
pbmus (12,304 posts)
4. The medical cost fixing is in every state and supported by politicians
Who profit from campaign contributions and graft...