Sat Jul 14, 2012, 01:43 PM
rufus dog (8,419 posts)
Another path Romney and the media are trying to lead us down - the CEO B.S. meme
Many of us have likely worked at companies where the CEO was somewhat absent, somewhat aloof, not heavily involved. Like the 100k salary mentioned over and over, it is B.S., a tactical lie. The salary claim is over 100k,
OVER
. As many have pointed out this could be $100,000.01 or 1 million or 10 million, but is definitely not 100k.
On the SEC filing Mitt was listed as Chief Executive Officer, President, and
Managing Director
. See how it works, you can claim to be an aloof CEO, but how the hell can you claim that if you list yourself as Managing Director.
He was Managing Director of Bain Capital.
[link: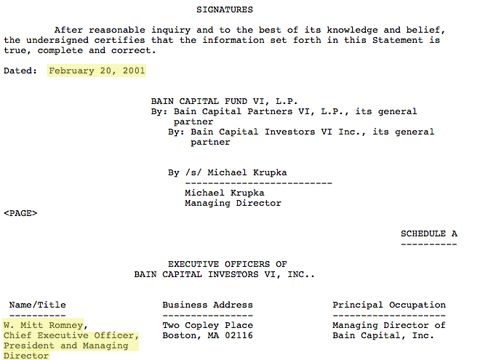 |
2 replies, 1026 views
Replies to this discussion thread
| | | | |
| --- | --- | --- | --- |
| 2 replies | Author | Time | Post |
| Another path Romney and the media are trying to lead us down - the CEO B.S. meme (Original post) | rufus dog | Jul 2012 | OP |
| | targetpractice | Jul 2012 | #1 |
| | aint_no_life_nowhere | Jul 2012 | #2 |
---
Response to rufus dog (Original post)
Sat Jul 14, 2012, 01:53 PM
targetpractice (4,516 posts)
1. Plus he was sole owner...
His stock in Bain would only have value once he sold the company… There's no way that a sole owner in his situation would have turned his back on the company decision-making… His value could've been greatly reduced or wiped out if people made wrong decisions in his absence.
---
Response to rufus dog (Original post)
Sat Jul 14, 2012, 02:07 PM
aint_no_life_nowhere (21,925 posts)
2. He was the founder, he established the policies, he created the particular corporate culture of Bain
he chose the people to act in his stead and delegated his authority to them while he went off to handle the Olympics, he was the number one beneficiary of corporate gains while still sole shareholder, he had every interest in keeping informed of corporate activities in his absence, he had as CEO and managing director the power to intervene at any time if he didn't agree with corporate offshoring, and he was the formal representative at law of the company before the SEC. Holding all these titles (CEO, President, Managing Director, sole shareholder) there's even the chance that if Bain had been sued for a tort even while Mitt was away, that the corporate veil might have been pierced and Romney found personally liable as it looks like he was running the company entirely for himself as its alter ego.