Mon Sep 25, 2017, 10:10 AM
Blue_Tires (55,364 posts)
Be proud, America... This is YOUR goddamned president:
Donald Trump thinks Ivanka "looks down on me," concedes he has groped Melania in public, knows his compulsive hand-washing "could be a psychological problem," and once suggested deploying sleeping gas on planes to deter terrorists, according to a new archive of all the conversations he had on air with the Howard Stern Show. Those comments, along with various eyebrow-raising but predictable vulgarities, can be found in a new, online archive of Trump's 15 hours of radio banter with the shock jock. In them, he discusses the relative hotness of his wives (and almost every other female celebrity of the moment) and his feelings about his daughter Ivanka, while chortling with Stern's crew as they joked about who was more "gay," and whether getting vomited on was more gross than eating food that had been on someone's anus.
During the 2016 presidential campaign, Stern refused to re-air any of his conversations with the Republican nominee. "I feel Donald Trump did the show in an effort to be entertaining and have fun with us and I feel like it would be a betrayal to any of our guests if I sat there and played them now where people are attacking him," Stern said on his Sirius XM show.
Newsweek exclusively obtained the full audio and transcripts of all 15 hours of Trump talking to Stern from 1993 to August 25, 2015. Taken together, the Stern interviews are a rich Freudian case study, a gold mine for anyone trying to understand the president of the United States. The real estate magnate usually called in when he had something to hawk- a book, a prizefight, his TV show - but almost always stayed around to banter with Stern, whose preoccupation with sex and unctuous questioning style led the real estate magnate to free-associate on everything from his parents, children, upbringing, money, enemies, politics, and, of course, breasts, enhanced or not.
The interviews are collated and searchable in a massive new archive of conversations that also show Trump and his third wife, now first lady Melania Trump, were more than willing to discuss intimate details of their sex lives, even as The Donald tested the water for a presidential run in 1999. An anonymous person earlier this month sent the audio files of 35 full and unique Trump-Stern interviews by dropbox to the website factba.se. The site developers had made a public request for Stern/Trump interview audio files on various Stern fan sites and on Reddit earlier this year. The site allowed Newsweek to search the files before making them available to the public for the first time on Monday.
http://www.newsweek.com/trump-melania-ivanka-terrorists-howard-stern-670309
5 replies, 3003 views
Replies to this discussion thread
| | | | |
| --- | --- | --- | --- |
| 5 replies | Author | Time | Post |
| Be proud, America... This is YOUR goddamned president: (Original post) | Blue_Tires | Sep 2017 | OP |
| | raven mad | Sep 2017 | #1 |
| | Vogon_Glory | Sep 2017 | #2 |
| | czarjak | Sep 2017 | #3 |
| | NRaleighLiberal | Sep 2017 | #4 |
| | IronLionZion | Sep 2017 | #5 |
---
Response to Blue_Tires (Original post)
Mon Sep 25, 2017, 11:26 AM
raven mad (4,940 posts)
1. I don't have a president.
---
Response to Blue_Tires (Original post)
Mon Sep 25, 2017, 12:05 PM
Vogon_Glory (7,340 posts)
2. I did my duty to my country, to the US Constitution, and to posterity
I didn't say "Bernie or Bust!". I voted for the church-going Methodist grandmother.
---
Response to Blue_Tires (Original post)
Mon Sep 25, 2017, 12:38 PM
czarjak (3,237 posts)
3. Did Barry have Stern connections?
---
Response to Blue_Tires (Original post)
Mon Sep 25, 2017, 12:41 PM
NRaleighLiberal (50,799 posts)
4. ....and his willfully ignorant base will cheer. The teflon of abject stupidity
---
Response to Blue_Tires (Original post)
Mon Sep 25, 2017, 01:08 PM
IronLionZion (30,320 posts)
5. Eating food off someone's butt is not just for conservatives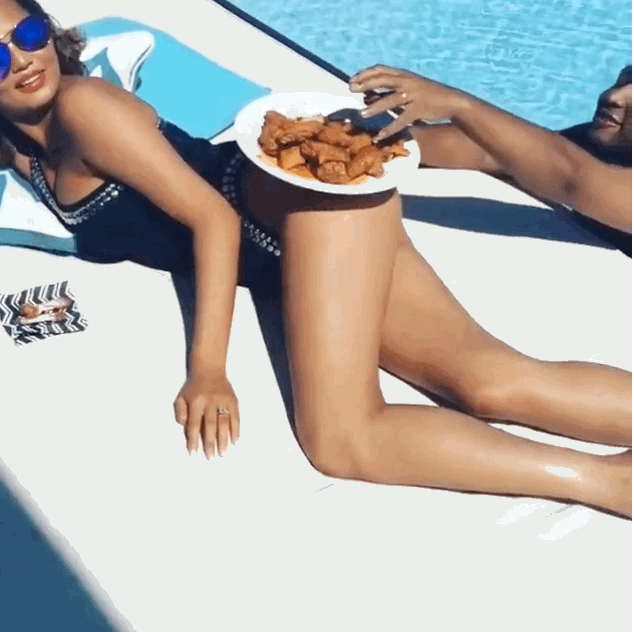 Here's John Legend eating wings off the butt of Trump's biggest antagonist on Twitter, Chrissy Teigen. Trumpster fire actually blocked her for saying no one likes him.