Tue Sep 26, 2017, 07:48 PM
Amaryllis (9,430 posts)
Black man goes undercover in alt-right: thought-provoking, fascinating new Ted Talk
From July 2017. Well worth listening to. Some things that surprised me. Lots about media streams shaping thinking and the digital manipulation behind it. Very important in this time. Would love to hear what you all think. Perceptive and funny as well.
"In an unmissable talk about race and politics in America, Theo E.J. Wilson tells the story of becoming Lucius25, white supremacist lurker, and the unexpected compassion and surprising perspective he found from engaging with people he disagrees with. He encourages us to let go of fear, embrace curiosity and have courageous conversations with people who think differently from us. "Conversations stop violence, conversations start countries and build bridges," he says."
This talk was presented to a local audience at TEDxMileHigh, an independent event. TED editors featured it among our selections on the home page.
https://www.ted.com/talks/theo_e_j_wilson_a_black_man_goes_undercover_in_the_alt_right?utm_source=newsletter_weekly_2017-09-22&utm_campaign=newsletter_weekly&utm_medium=email&utm_content=talk_of_the_week_button#t-795689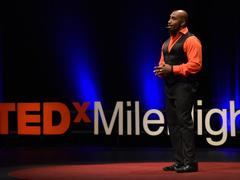 ?
Theo E.J. Wilson encourages us to break through the divides that separate us.
Why you should listen
Theo E.J. Wilson is a founding member of the Denver Slam Nuba team, who won the National Poetry Slam in 2011. He's also know as slam poet Lucifury. He began his speaking career in the N.A.A.C.P. at the age of 15, and he has always had a passion for social justice. He attended Florida A&M University, where he obtained his B.A. in theater performance. Upon graduating, he interned as a full-time actor at the St. Louis Black repertory company.
Wilson is the executive director of Shop Talk Live, Inc. The organization uses the barbershop as a staging ground for community dialogue and healing. In 2013, Wilson began speaking with "Rachel's Challenge," an organization dedicated to ending school violence through compassion. After viral video success beginning in 2015, he published his first book in 2017, The Law of Action. The book addresses some of the misconceptions about the law of attraction and the role direct action plays into manifestation.
https://www.ted.com/speakers/theo_e_j_wilson?
2 replies, 1439 views
Replies to this discussion thread
| | | | |
| --- | --- | --- | --- |
| 2 replies | Author | Time | Post |
| Black man goes undercover in alt-right: thought-provoking, fascinating new Ted Talk (Original post) | Amaryllis | Sep 2017 | OP |
| | uponit7771 | Sep 2017 | #1 |
| | bettyellen | Sep 2017 | #2 |
---
Response to Amaryllis (Original post)
Tue Sep 26, 2017, 08:13 PM
uponit7771 (80,792 posts)
1. "...their fear is white genocide; that diversity would eventually wipe them out ..." I've heard this
... before and my first thought was why not put your energy into having more sex and not into something so negative as to ascribe to the most oppressive aspects of being human.

Then I look at those who are complaining about white genocide ... they're not the top of the mating chain and come to the conclusion this is about white genocide but about these people not benefiting from their perceived privilege of screwing who they want.

The outwardly and inwardly unattractive type of person too lazy to become what they would like to attract ... nasty ass's like Bannon ... why they love that guy so much
---
Response to uponit7771 (Reply #1)
Tue Sep 26, 2017, 08:36 PM
bettyellen (47,209 posts)
2. A lot of it is resentment they don't get handed what they thought they were entitled to....
Most women and POC have no such expectations. We grow up learning to cope with an unfair world.