Fri Oct 27, 2017, 06:53 PM
Zorro (11,801 posts)
Intelligence Briefing Interrupted By Sofa-Cushion-Wearing Trump Boys Volunteering To Fight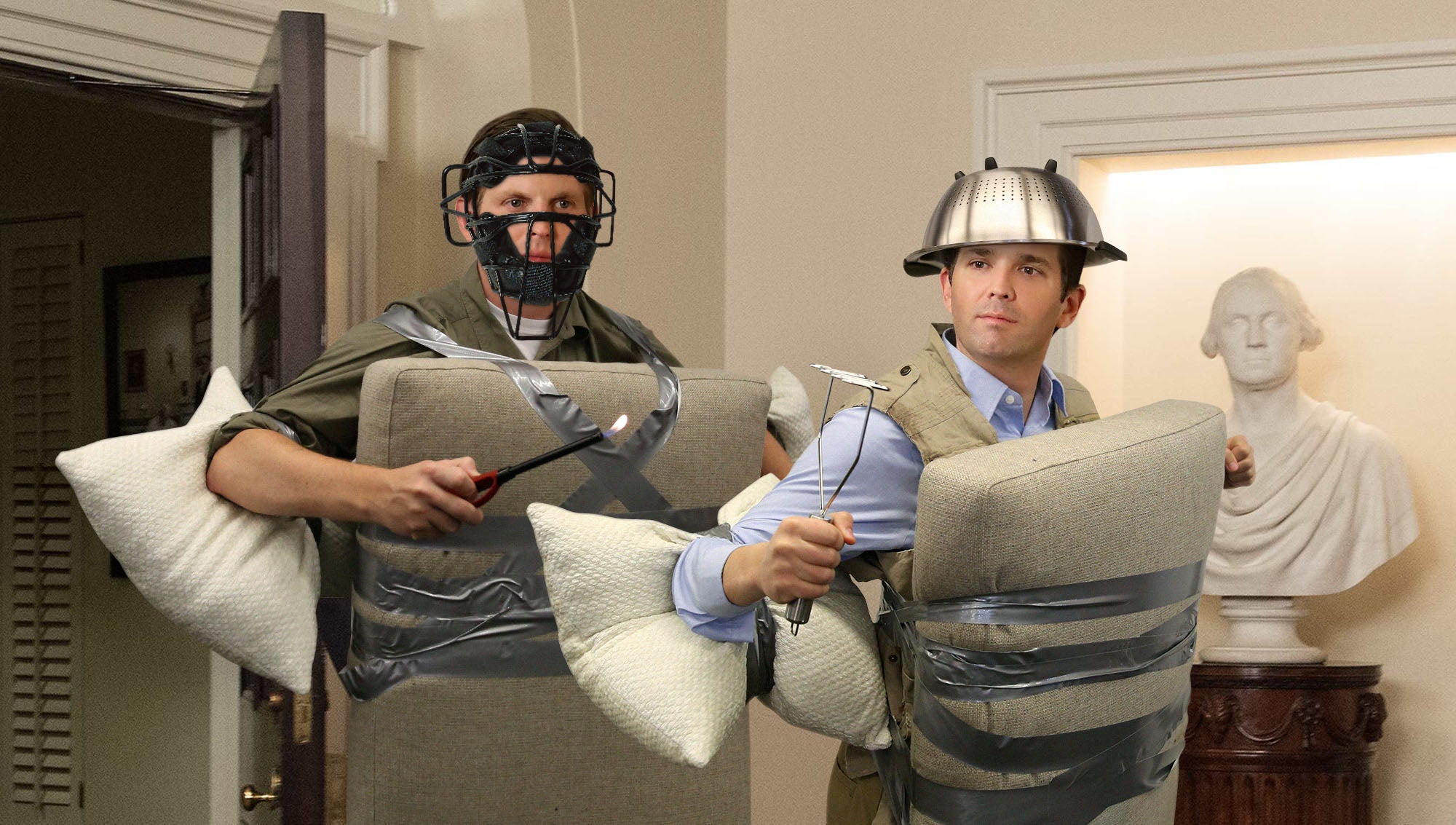 WASHINGTON—With sofa cushions duct-taped to their chests as they marched into the meeting, Eric Trump and Donald Trump Jr. reportedly interrupted a military intelligence briefing Friday, shouting "ten-hut!" in unison and then volunteering to fight in North Korea.
According to sources, Defense Secretary James Mattis and the Joint Chiefs of Staff were reviewing a presentation on troop mobility in Afghanistan when the Trump boys, who wore rain boots and had secured throw pillows to their legs and arms with belts, burst into the White House Situation Room to announce they had trained for an entire day and were ready to deploy to North Korea to "kill King Jong-un."
"We did all the basic training and now we can do combat stuff!" said Donald Jr., who dropped to the ground to do a commando roll underneath the conference room table before hopping to his feet, readjusting the metal colander on his head, and turning to salute the chief of naval operations. "I've mastered 10 kinds of kicks, including some ninja ones."
"We're gonna stomp their nukes," Eric Trump added as he lifted his foot and attempted to crush an empty soda can, which soon became stuck to his heel.
https://politics.theonion.com/intelligence-briefing-interrupted-by-sofa-cushion-weari-1819915417
5 replies, 1630 views
Replies to this discussion thread
| | | | |
| --- | --- | --- | --- |
| 5 replies | Author | Time | Post |
| Intelligence Briefing Interrupted By Sofa-Cushion-Wearing Trump Boys Volunteering To Fight (Original post) | Zorro | Oct 2017 | OP |
| | NastyRiffraff | Oct 2017 | #1 |
| | left-of-center2012 | Oct 2017 | #2 |
| | dixiegrrrrl | Oct 2017 | #3 |
| | smirkymonkey | Oct 2017 | #4 |
| | Wounded Bear | Oct 2017 | #5 |
---
Response to Zorro (Original post)
Fri Oct 27, 2017, 07:03 PM
NastyRiffraff (12,448 posts)
1. Okay you got me!
As many have said, it's hard, sometimes impossible, to tell parody from reality. It's not hard to imagine the Trump brats interrupting an intelligence briefing.
---
Response to Zorro (Original post)
Fri Oct 27, 2017, 07:19 PM
left-of-center2012 (24,333 posts)
2. You got me too
Because I've heard Ivanka often stops in, interrupting Trump's meetings.

Ivanka: "Oops daddy. I didn't know you were busy." (wink wink)

Daddy: "Oh, that's OK darling. Everyone here loves seeing what you're wearing and your choice of jewelry.
And while you're here, give us advice on North Korea and Niger."
---
Response to Zorro (Original post)
Fri Oct 27, 2017, 08:41 PM
dixiegrrrrl (59,252 posts)
3. Extremely well done photo.
At the end of the first paragraph, I realized that the Trump-lets have no sense of humor, which made me then check the link.
Ya got me.
---
Response to Zorro (Original post)
Fri Oct 27, 2017, 08:45 PM
smirkymonkey (56,029 posts)
4. Ok, that made me spit out my drink.
The thing is, I can actually see this happening in reality. Besides their father, they are the two biggest dunces on the planet.
---
Response to Zorro (Original post)
Fri Oct 27, 2017, 08:49 PM
Wounded Bear (39,800 posts)
5. Fell for it too!