Sat Jun 3, 2017, 03:49 PM
sandensea (18,342 posts)
Chile convicts 106 former intelligence agents
Source:
CNN
A Chilean judge sentenced 106 former intelligence agents for their role in the kidnappings and disappearances of 16 leftist militants during the Augusto Pinochet dictatorship. The sentences range from 541 days to 20 years.
The convictions are the result of one of the largest mass prosecutions in Chile related to human rights abuses during Pinochet's rule from 1973 to 1990. The cases centered on 16 leftist militants who were abducted by agents of the National Intelligence Directorate between June 1974 and January 1975, transported to various detention centers and never seen again.
The secret police then tried to cover up the deaths of the 16 militants - and more than 100 others - by planting stories in foreign newspapers to imply that they were killed while fighting abroad, and not at the hands of the government.
Government investigations since the end of Pinochet's rule have found that nearly 2,300 people disappeared during the dictatorship and 30,000 more were tortured.
Read more:
http://www.cnn.com/2017/06/03/americas/chile-secret-police-convicted/index.html
2 replies, 2818 views
Replies to this discussion thread
| | | | |
| --- | --- | --- | --- |
| 2 replies | Author | Time | Post |
| Chile convicts 106 former intelligence agents (Original post) | sandensea | Jun 2017 | OP |
| | Judi Lynn | Jun 2017 | #1 |
| | sandensea | Jun 2017 | #2 |
---
Response to sandensea (Original post)
Sat Jun 3, 2017, 08:07 PM
Judi Lynn (155,241 posts)
1. These people probably thought they had pulled it off, torturing, murdering leftists with no penalty.
All of this hell was fully supported by the U.S. government, something that never seemed to gain much notice within the US American public, which was completely unaware of the perverse, grotesque sadism going on there, funded in part by US taxpayers' own taxdollars.
Two helpful articles which might shed more light on what happpened there, and US involvement:
Life under Pinochet: "They were taking turns to electrocute us one after the other"
11 September 2013, 00:00 UTC
The first time Lelia Pérez felt the sear of a cattle prod it was at the hands of a Chilean soldier. She was a 16 year old high school student, used as a guinea pig to help Pinochet's security services hone their skills in torture. They didn't even bother to ask any questions.
"They would teach them how to interrogate, how to apply the electricity, where and for how long. When they were torturing me, I went into my own world - it was as if I was looking down on myself - like it wasn't happening to me. It was brutal," she said.
On September 11, 1973, Augusto Pinochet seized power in Chile by force. In the days that followed his military coup, hundreds of people, were rounded up and taken to the two main sport stadiums in the capital, Santiago.
Lelia told Amnesty International how she was arrested along with 10 of her classmates and taken to the Estadio Chile (now called Victor Jara after the singer who was imprisoned there). There detainees were kept in the stands, with their hands tied, with soldiers constantly pointing machine guns at them.
More:
https://www.amnesty.org/en/latest/news/2013/09/life-under-pinochet-they-were-taking-turns-electrocute-us-one-after-other/
~ ~ ~ ~ ~
Pinochet's Death Spares the Bush Family
By Robert Parry
Consortium News
Dec. 12, 2006
Gen. Augusto Pinochet's death on Dec. 10 means the Bush Family can breathe a little bit easier, knowing that criminal proceedings against Chile's notorious dictator can no longer implicate his longtime friend and protector, former President George H.W. Bush.
Although Chilean investigations against other defendants may continue, the cases against Pinochet end with his death of a heart attack at the age of 91. Pinochet's death from natural causes also marks a victory for world leaders, including George H.W. and George W. Bush, who shielded Pinochet from justice over the past three decades.
The Bush Family's role in the Pinochet cover-up began in 1976 when then-CIA Director George H.W. Bush diverted investigators away from Pinochet's guilt in a car bombing in Washington that killed political rival Orlando Letelier and an American, Ronni Moffitt.
The cover-up stretched into the presidency of George W. Bush when he sidetracked an FBI recommendation to indict Pinochet in the Letelier-Moffitt murders.
More:
http://www.informationliberation.com/?id=18735
~ ~ ~ ~ ~
Thank you, sandensea, for this excellent, timely good news. So good to know it happened while Michelle Bachelet is Chile's President, in light of the fact she, herself, with her mother, were both kidnapped, and tortured in prison, later escaping to Australia, after her beloved father, a Chilean Air Force General who remained loyal to the elected President Salvador Allende, died in prison of a massive heart attack, succumbing to torture there.
Whole family, with mother, Ángela Jeria,
and brother, also Alberto, and father, who
was also imprisoned and killed in prison.
Brother moved to Australia, Michelle and
mother lived there as exiles after their
torture and imprisonment, and the death
of their husband and father.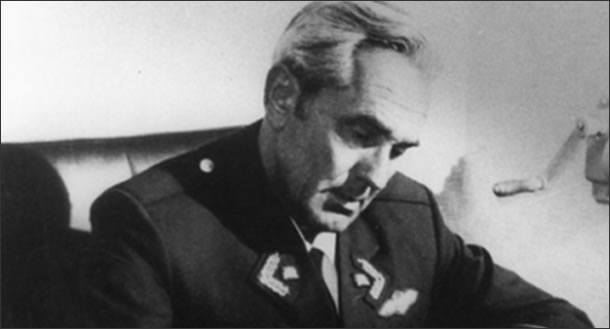 Father, Alberto Bachelet
Michelle with her father, Alberto
Mother, Ángela Jeria in more recent photo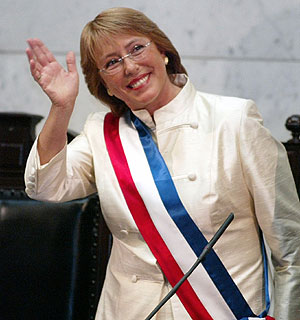 Michelle Bachelet, as a teenager, and as Chile's President.
The more US citizens realize what has been done to wonderful people with their tax dollars, the better it is.
Thanks, again, for this good, good information, sandensea. These killers are exactly where they should be.
---
Response to Judi Lynn (Reply #1)
Sat Jun 3, 2017, 08:40 PM
sandensea (18,342 posts)
2. An encyclopedic post. Thank you, Judi.
It's always good to have a bookmark that cover so much ground in one page. Goodness knows one could spend all day reading about Pinochet-era depravity.
To say nothing of the murderous Lucía Hirirart de Pinochet. Often, as you know, the wives of dictators are more vicious - and larcenous - than their husbands; that was certainly her case.
And now that Chile's military pension system was forced to publish its book - thanks to a law signed recently by President Bachelet - guess who's getting the biggest pension:
https://www.democraticunderground.com/110855798