Mon Feb 11, 2019, 01:30 AM
appalachiablue (19,948 posts)
First Denver Teachers Strike In 25 Years Set For Monday After Union Ends Contract Talks With School
Last edited Mon Feb 11, 2019, 02:10 AM - Edit history (1)
Source:
The Denver Post
Leaders of the union representing Denver Public Schools' educators ended contract negotiations with the district Saturday evening after more than six hours of last-ditch talks, announcing they'll go through with plans for the city's first teacher strike in 25 years on Monday.
District officials — who have hired 300 new substitute teachers and have an "active roster" of 1,200 subs — have said they intend to keep Denver's 161 public schools open during a strike, though they will cancel preschool classes for 3- and 4-year-olds.
Yet DPS leaders have acknowledged that if they can't put enough teachers in place, they may have to consider closing some schools. If that happens, district officials say they'll alert parents the night before.
Both sides expressed disappointment Saturday night following the collapse of negotiations, with Denver teachers now set to walk out of their classrooms in the name of better wages for the first time since 1994. Union leaders said they're not willing to negotiate again until Tuesday. -MORE.
Read more:
https://www.denverpost.com/2019/02/09/denver-public-schools-teachers-weekend-negotiations/
---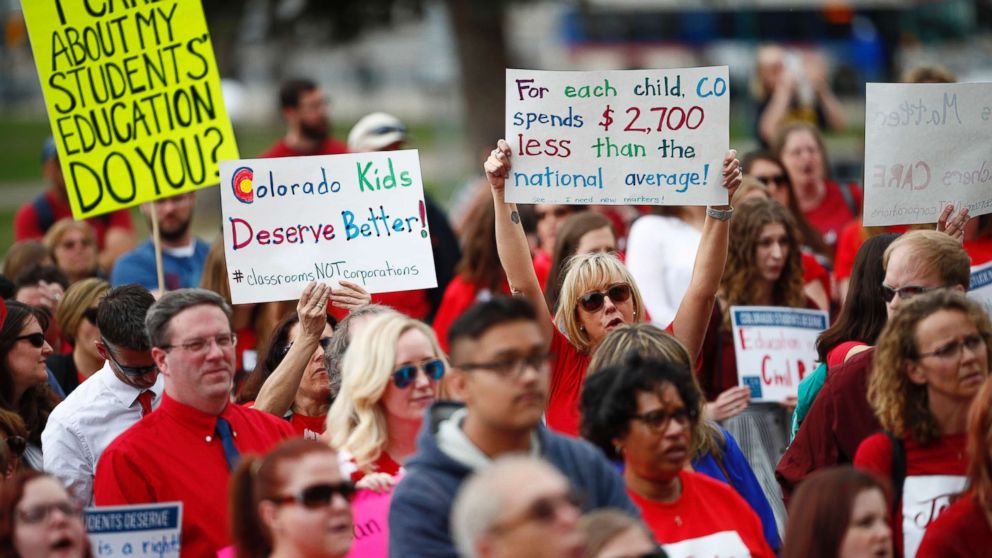 - Denver, Colorado teachers demonstrate.
6 replies, 579 views
Replies to this discussion thread
| | | | |
| --- | --- | --- | --- |
| 6 replies | Author | Time | Post |
| First Denver Teachers Strike In 25 Years Set For Monday After Union Ends Contract Talks With School (Original post) | appalachiablue | Feb 2019 | OP |
| | iluvtennis | Feb 2019 | #1 |
| | BigmanPigman | Feb 2019 | #2 |
| | generalbetrayus | Feb 2019 | #4 |
| | BigmanPigman | Feb 2019 | #6 |
| | BumRushDaShow | Feb 2019 | #3 |
| | appalachiablue | Feb 2019 | #5 |
---
Response to appalachiablue (Original post)
Mon Feb 11, 2019, 02:05 AM
iluvtennis (8,565 posts)
1. Teachers educate our future...they deserve a good salaries.
---
Response to appalachiablue (Original post)
Mon Feb 11, 2019, 03:13 AM
BigmanPigman (26,718 posts)
2. I was watching a movie from the 40s and an actor played a teacher
and as usual they were complaining about the low pay. It was A Letter To Three Wives. Two other films I saw this week from the 50s (Desk Set and Blackboard Jungle) did the same thing. I was a teacher for about 20 years and a union rep for my site. I want to know when this country is going to pay teachers what they deserve! Teachers have tons of student loans, long hours, little respect and support and often are made very ill by students. Most teachers spend thousands of dollars out of their own pockets and this is how they are rewarded? And now they have to deal with classroom shootouts! When is this situation going to change?
---
Response to BigmanPigman (Reply #2)
Mon Feb 11, 2019, 01:17 PM
generalbetrayus (90 posts)
4. Back in the early 90's, I was doing some research on a historical figure in Denver, CO,
who (among other talents) was a high school teacher in Denver from the late 1880's until his death in 1922. As part of that research, I read a number of articles in the Colorado School Journal from the first decade of the 20th century. The most common complaint of teachers at that time? Low pay and parents who took little or no interest in their children's education. The more things change, the more they stay the same.
---
Response to generalbetrayus (Reply #4)
Mon Feb 11, 2019, 03:19 PM
BigmanPigman (26,718 posts)
6. While I was teaching I had multi ethnic classes.
The students who came from India had parents who often told me how much teachers are respected in their country and treated like doctors, attorneys, etc. The students who had Asian families told me the same thing. I guess our country has different values. That's too bad.
---
Response to appalachiablue (Original post)
Mon Feb 11, 2019, 07:46 AM
BumRushDaShow (43,366 posts)
3. Off to the greatest!
This was long overdue and overdue for so many school districts!
It's a shame that "business" tends to be the mantra versus "teaching".
---
Response to BumRushDaShow (Reply #3)
Mon Feb 11, 2019, 02:41 PM
appalachiablue (19,948 posts)
5. Amen, is it ever. The whole culture can't be all finance and business,
there has be science, liberal arts, humanities and more. Jeesh.