Mon Feb 11, 2019, 03:46 PM
Judi Lynn (131,415 posts)
Court upholds order to unseal records in notorious lynching
Source:
Associated Press
Kate Brumback, Associated Press
Updated 12:43 pm CST, Monday, February 11, 2019
ATLANTA (AP) — A federal appeals court has upheld a lower court's order to unseal the transcripts in grand jury proceedings in the brazen lynching of two black couples in rural Georgia more than 70 years ago.
A car carrying the four sharecroppers was stopped by a white mob at Moore's Ford Bridge in July 1946. The four were pulled from the car and shot multiple times.
FBI agents investigated for months and identified dozens of possible suspects. But a grand jury convened in December 1946 failed to indict anyone.
A federal judge in 2017 granted a request from historian Anthony Pitch to unseal the grand jury transcripts. But the government appealed, citing the secrecy of grand jury proceedings.
Read more:
https://www.chron.com/news/us/article/Court-upholds-order-to-unseal-records-in-13607487.php
---
JUL
28
72nd Anniversary Commemoration of Lynching at Moore's Ford Bridge
Saturday at 10:00am
1st African Baptist Church
130 Tyler Street, Monroe, GA 30655
By Nomsa C. Hampton
This post was contributed by a community member.
72nd Anniversary Commemoration & 14th Annual Reenactment of the Lynchings at Moore's Ford Bridge in Monroe, GA
The Moore's Ford Bridge 72nd Commemoration and the 14th Annual Reenactment of the lynchings will take place at the Moore's Ford Bridge on Saturday, July 28, 2018. This is the annual protest of the injustice, with a reenactment of the human slaughter that occurred on July 25, 1946 at the Moore's Ford Bridge in Monroe, Walton County, Georgia. The public is invited to attend the day-long commemoration.
Event Schedule
10 am Commemoration Pre-enactment Rally - Remembering Victims of Lynchings throughout the USA; Meditation & Prayers for Justice; Invited guest speakers will include National and Local Civil/Human Rights, Clergy, and Political Leaders at 1st African Baptist Church.
Motorcade 1:00pm Departure from 1st African Baptist Church (See motorcade schedule below)
1:00 pm Leave 1st African Baptist Church for visitation of grave sites including the Malcom & Dorsey grave site ending at Mt. Perry Baptist Church
3:00 pm Leave Mt. Perry Baptist Church
3:15 pm Arrive at the Old County Jail - 203 Milledge Ave, Downtown Monroe [Place where Roger Malcom was held for 11 days]
3:30 pm Leave the Jail en route to the Moore's Ford Bridge [This is the exact time that Loy Harrison (white farmer) took the Malcoms and the Dorseys from the jail and delivered them to the KKK lynch mob of 200+ people waiting at the Moore's Ford Bridge (July 25, 1946)] 4:00 pm Arrive at the Moore's Ford Bridge for the Reenactment Ceremony and Call for Justice: Arrest of Terrorists and Prosecution Now!!! [Historic Fact: The Malcoms and Dorseys were lynched approximately around 6:00 - 6:30 pm]
4:00pm Reenactment Moore's Ford Bridge (Mt Carmel Church Rd & Moore's Ford Rd)
5:00 pm Benediction at the Historic Memorial Marker dedicated to the legacy of Roger & Dorothy Malcom (and unborn infant Justice), George & May Murray Dorsey, and a Challenge to Us All to Continue our Quest and Pursuit of Justice
5:30 pm Return to 1st African Baptist Church for reflections and dinner
https://patch.com/georgia/cascade/calendar/event/20180728/382249/72nd-anniversary-commemoration-of-lynching-at-moore-s-ford-bridge
~ ~ ~
Funeral held at the Mt. Perry Church
The Moore's Ford lynching of 1946
Officials close Moore's Ford lynching case without arrests
Video at link:
https://www.ajc.com/video/local-video/officials-close-moore-ford-lynching-case-without-arrests/SEUb2pakRrw7T1Uw3alpbP/
More information from the Atlantic Journal Constitution:
https://www.ajc.com/news/local-govt--politics/the-moore-ford-lynching-1946/r8bGQrWUH8YRCD1KKUMvRM/
~ ~ ~
Southern Poverty Law Center
Answers to last mass lynching in U.S. die when investigators close case after 72 years
February 07, 2018
Brett Barrouquere
Within a few hours of bonding out of jail in Walton County, Georgia, Roger Malcolm found himself, his wife and two fellow farm hands surrounded by a white mob.
The group, driven by their employer, Loy Harrison, was taken from a car at the Moore's Ford Bridge between Walton and Oconee counties, tied up, shot and killed.
The July 25, 1946 slayings went unsolved, despite multiple investigations immediately after the killings and decades later, as witnesses came forward with new details and stories.
Suspects were identified, property was searched and weapons were seized over the decades, but many thought to have participated had died, witnesses wanted to move on or refused to cooperate, evidence was lost and secrets were taken to the grave.
. . .
Roger Malcolm, in an undated photo from the early 1940s, was a black sharecropper who lived near Monroe, Georgia. He, his wife, Dorothy Dorsey Malcom, along with George Dorsey and Mae Murray Dorsey, were attacked and killed by a white mob near Moore's Ford Bridge on the Walton-Oconee county line on July 25, 1946. Despite state and federal investigations, no one was charged with a crime over the ensuing seven decades. The case was officially closed Monday, January 29, 2018.
The FBI and the Georgia Bureau of Investigation officially closed case on Monday, Jan. 29, never having charged or convicted anyone in the deaths of the four black people killed: 24-year-old Roger Malcolm, his 20-year-old wife Dorothy Malcolm, 28-year-old George Dorsey, a World War II veteran, and his wife, 24-year-old Mae Murray Dorsey.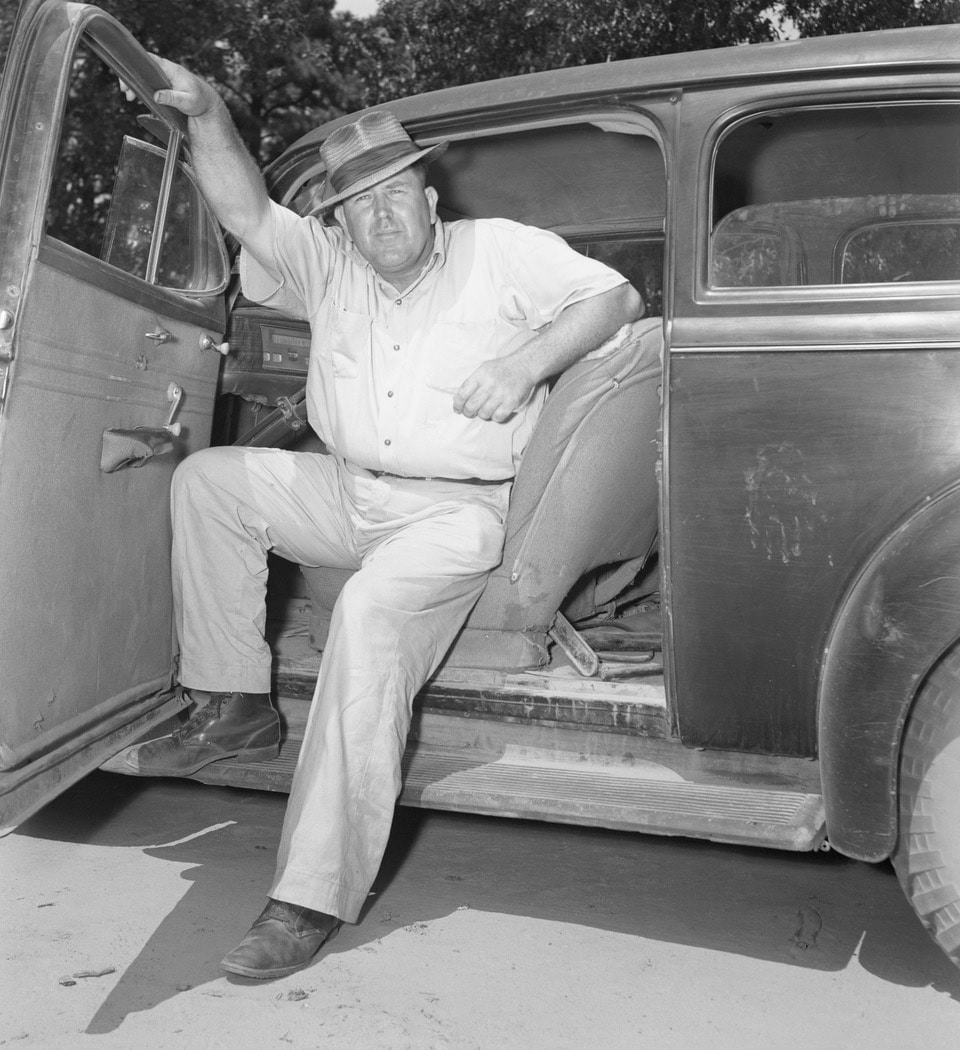 J. Loy Harrison, a farmer and landowner in rural north Georgia, looks out of his car near where four black sharecroppers were pulled from his vehicle on July 25, 1946. Harrison is the only eyewitness to ever talk to authorities about what happened that day. While Harrison was considered a suspect, he denied any involvement in the killings of Roger Malcolm, his wife Dorothy Dorsey Malcom, George Dorsey and Mae Murray Dorsey.
More:
https://www.splcenter.org/hatewatch/2018/02/07/answers-last-mass-lynching-us-die-when-investigators-close-case-after-72-years
~ ~ ~
I am very sorry to admit I had never heard about this crime until I found the article a short time ago. I would think one MUST draw a line between the date the FBI closed the book on this crime and the fact a known racist is running the government, such as it is. I am glad to finally know about this grotesque atrocity, and I won't forget it.
7 replies, 2017 views
Replies to this discussion thread
| | | | |
| --- | --- | --- | --- |
| 7 replies | Author | Time | Post |
| Court upholds order to unseal records in notorious lynching (Original post) | Judi Lynn | Feb 2019 | OP |
| | Judi Lynn | Feb 2019 | #1 |
| | bronxiteforever | Feb 2019 | #2 |
| | cab67 | Feb 2019 | #3 |
| | BumRushDaShow | Feb 2019 | #4 |
| | Judi Lynn | Feb 2019 | #6 |
| | SunSeeker | Feb 2019 | #5 |
| | GulfCoast66 | Feb 2019 | #7 |
---
Response to Judi Lynn (Original post)
Mon Feb 11, 2019, 04:20 PM
Judi Lynn (131,415 posts)
1. Wikipedia treatment of the lynching:
The Moore's Ford Lynchings, also known as the 1946 Georgia lynching, refers to the July 25, 1946 mass murders by a white mob of four young African Americans: two married couples — George W. and Mae Murray Dorsey, and Roger and Dorothy Malcom — in Walton County. Tradition says that the murders were committed on Moore's Ford Bridge in Walton and Oconee counties between Monroe and Watkinsville, and they are often referred to as the Moore's Ford lynchings. But the four victims were shot and killed on a dirt road in Walton County near the bridge.
The case attracted national attention and catalyzed large protests in Washington, DC and New York City. President Harry S. Truman created the President's Committee on Civil Rights and his administration introduced anti-lynching legislation in Congress, but could not get it past the Southern Democratic block. The FBI investigated in 1946 but was unable to discover sufficient evidence for the US District Attorney to prosecute anyone. Publicity about the case in the 1990s led to a new investigation starting in 2000 by the FBI and the state. The state of Georgia and the FBI finally closed their cases in December 2017, unable to prosecute any suspect.[1]
. . .
History
In the aftermath of World War II, there was considerable social unrest in the United States, especially in the Southern United States. African-American men who were veterans, resented being treated as second-class citizens after returning home. But many white supremacists resented them and wanted to reestablish dominance. The number of lynchings of black people rose after the war, with twelve lynched in the Deep South in 1945 alone. The states' exclusion of most black people from the political system had been maintained since the turn of the century, despite several court challenges.
In April 1946, the Supreme Court of the United States ruled that white primaries were unconstitutional, making way for at least some African Americans to vote in Democratic Party primaries. In Georgia, some black people prepared to vote in the summer's primary, against the resistance of most whites. In the 21st century, some commentators have related this to the lynchings as a voting rights issue.[2]
More:
https://en.wikipedia.org/wiki/Moore%27s_Ford_lynchings
~ ~ ~
Summer of 1946 J. Loy Harrison hired #GeorgeWDorsey a recent World War II veteran and his wife Mae Murray Dorsey, who was then seven months pregnant. The other couple was Roger Malcom and his wife Dorothy Malcom.
Roger Malcom allegedly stabbed a white man named Barnette Hester. He is arrested and detained.
On July 25, Mr Harrison (employer) drove Malcom's wife Dorothy and the the Dorsey couple to pay the $600 bail for Roger Malcom.
On the way back to the farm Harrison was stopped by an armed white mob that blockaded then ambushed the vehicle. carrying two African-American couples, dragged them out and shot them to death. One of the men, George Dorsey, was a military veteran who had recently returned from serving five years overseas in World War II. His wife, Mae Murray Dorsey, was also killed.
They were dragged to a tree and shot over 60 times at very close range. Dorothy Malcom, the other woman in the car, was seven months pregnant.
The mob cut her open and removed her unborn child. Her husband, Roger Malcom, had just been bailed out of jail after he was accused of stabbing a white man. A coroner estimated people in the crowd fired more than 60 shots at the two couples, at close range. The horrific attack was carried out near Walton County, Georgia, not far from Moore's Ford Bridge. It became known as the Moore's Ford lynching, and sparked a national outcry, prompting President Harry Truman to push for civil rights reform. The FBI also investigated, but no one was ever convicted of the four murders.
https://deskgram.net/p/1567140634979377584_217109335
---
Response to Judi Lynn (Original post)
Mon Feb 11, 2019, 04:35 PM
bronxiteforever (4,396 posts)
2. Great ruling. Kick and recommend.
You can beat us with wires
You can beat us with chains
You can run out your rules
But you know you can't outrun the history train
I've seen a glorious day

Peace Like A River by Paul Simon.
---
Response to Judi Lynn (Original post)
Mon Feb 11, 2019, 05:00 PM
cab67 (1,031 posts)
3. Philip Dray's "At the Hands of Persons Unknown" is a good book on the subject of lynching.
It also gets some coverage in "Cadaver King and Country Dentist" by Radley Balko and Tucker Carrington. The book is about the use of junk science in some racially-charged wrongful convictions in Mississippi, but it also discusses the history of death investigation in the South. Turns out the county coroner system in the region helped protect lynchers.

Both highly recommended.

---
Response to Judi Lynn (Original post)
Mon Feb 11, 2019, 08:50 PM
BumRushDaShow (43,299 posts)
4. Hopefully this ruling will hold to bring this atrocity out into the light. nt
---
Response to BumRushDaShow (Reply #4)
Mon Feb 11, 2019, 09:01 PM
Judi Lynn (131,415 posts)
6. Here's hoping so much that it will. n/t
---
Response to Judi Lynn (Original post)
Mon Feb 11, 2019, 08:57 PM
SunSeeker (35,041 posts)
5. K & R for exposure.
---
Response to Judi Lynn (Original post)
Mon Feb 11, 2019, 10:43 PM
GulfCoast66 (6,641 posts)
7. A warning from a southern white man...
People who would do these things still live amongst us. I know some.

We can't let our guard down. And it is one of the reasons I favor the Democratic Platform with sensible gun control but a right to own a firearm. These people were and are cowards. Their hatred is not worth their lives. Had they suspected that the 2 black men, one a WWII veteran would come out of that car firing a .45 automatic like they used in the service, they would have thought twice.

My fellow white friends laugh at me when I say we could return to these days. But when the South had Black congressmen in the 1880's I bet people predicting something like Jim Crow were laughed at as well.

I'm not saying it is likely, but we must remain vigilant and if necessary put ourselves on the line.

I know the racial hatred that remains. I see it every time I visit my extended family. Not necessarily from my family members but friends and such.

These attitudes still remain in West Louisiana and East Texas. Can't speak for other places.