Fri Sep 27, 2019, 10:49 PM
appalachiablue (21,966 posts)
Climate Crisis: 6 Million People Join Latest Wave Of Global Protests
Last edited Fri Sep 27, 2019, 11:30 PM - Edit history (1)
Source:
The Guardian
Week of strikes and demonstrations is 'only the beginning', say organisers. Six million people have taken to the streets over the past week, uniting across timezones, cultures and generations to demand urgent action on the escalating ecological emergency.
A fresh wave of climate strikes swept around the globe on Friday with an estimated 2 million people walking out of schools and workplaces. Organisers say that during the week of protests - that began with a global climate strike last week - a total of 6 million people, from trade unionists to schoolchildren, have taken part in thousands of towns and cities.
"This week was a demonstration of the power of our movement," said a spokesperson for the FridaysForFuture group which has helped coordinate the demonstrations. "People power is more powerful than the people in power. It was the biggest ever climate mobilisation, and it's only the beginning. The momentum is on our side and we are not going anywhere."
On Friday there were huge protests in Italy - where more than 1 million people were reported to have taken part - Spain, the Netherlands and New Zealand, where more than 3.5% of the country's population joined the demonstrations.
Read more:
https://www.theguardian.com/environment/2019/sep/27/climate-crisis-6-million-people-join-latest-wave-of-worldwide-protests
---
From 350.org, which has helped organise the demonstrations, May Boeve said: "We will keep fighting until the politicians stop ignoring the science, and the fossil fuel companies are held responsible for their crimes against our future, as they should have been decades ago."
https://www.commondreams.org/news/2019/09/27/over-6-million-people-worldwide-climate-strikes-largest-coordinated-global-uprising
New York City Climate Protest, Sept. 27, 2019.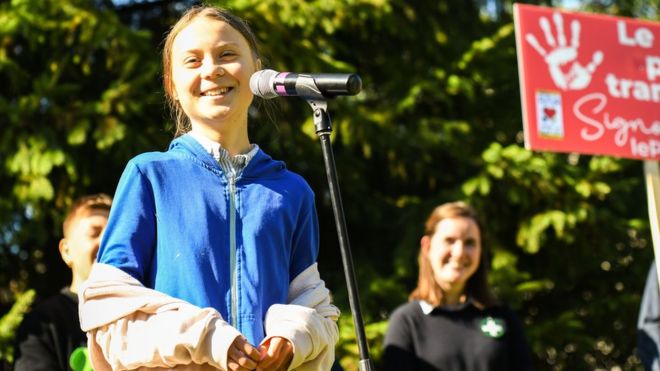 Greta Thunberg spoke in Montreal, Canada today.
https://www.bbc.com/news/world-us-canada-49856860
3 replies, 722 views
Replies to this discussion thread
| | | | |
| --- | --- | --- | --- |
| 3 replies | Author | Time | Post |
| Climate Crisis: 6 Million People Join Latest Wave Of Global Protests (Original post) | appalachiablue | Sep 27 | OP |
| | Uncle Joe | Sep 28 | #1 |
| | bronxiteforever | Sep 28 | #2 |
| | certainot | Sep 28 | #3 |
---
Response to appalachiablue (Original post)
Sat Sep 28, 2019, 01:13 AM
Uncle Joe (47,896 posts)
1. Kicked and recommended.
Thanks for the thread appalachiablue.
---
Response to appalachiablue (Original post)
Sat Sep 28, 2019, 08:35 AM
bronxiteforever (5,280 posts)
2. Kick and recommend.
---
Response to appalachiablue (Original post)
Sat Sep 28, 2019, 10:32 AM
certainot (6,020 posts)
3. in the US these 87 universities continue to support climate emergency denial
they continue to broadcast sports on more than 260 limbaugh stations and it's fucking absurd.
87 irresponsible universities
they have no excuse for helping these stations attract advertising. same with any pro sports teams. would they endorse those stations if they were bought by the KKK?
and the advertisers on those stations need to be alerted and asked if they really don't believe in global warming. most would leave. the ad industry needs to stop bundling advertisers onto those stations.
all those stations do denial - not only actual denial but attacking protestors like greta and students who skip school and climate scientists but also they can be coordinated locally to stop local legislation and at the national level. and they get deniers elected.
if putin/kochs/fossil fuels paid $1000/hr for a denial radio infomercial then 1200 stations doing 15 hrs/day are worth about $5BIL/yr. for 30 years.