Thu Feb 13, 2020, 09:31 PM
Omaha Steve (71,861 posts)
Lawsuit: Mexican megachurch leaders abused woman for years
Source:
AP
By STEFANIE DAZIO
LOS ANGELES (AP) — A Southern California woman says the father and son leaders of a Mexican megachurch sexually abused her for 18 years starting when she was 12, manipulating Bible passages to convince her the mistreatment actually was a gift from God, according a federal lawsuit.
Sochil Martin, 33, said she was "groomed" from the age of 9 to please the self-proclaimed apostles of La Luz del Mundo, the late Samuel Joaquín Flores and his son Naasón Joaquín García. She was taught erotic dances that ultimately led to sexual touching and caressing.
After she turned 20, the abuse escalated to rapes, beatings and public humiliation from García, Martin alleged, and continued until she escaped the church in 2016 with her husband.
"For the first 30 years of my life, I was taught to believe that my body, my mind and my soul belonged to La Luz del Mundo because it was the will of God," she said at a news conference Thursday, her voice breaking. "I come forward today because this has to stop. Generations of young children raised in La Luz del Mundo have been forced to become the sexual servants of La Luz del Mundo's apostles."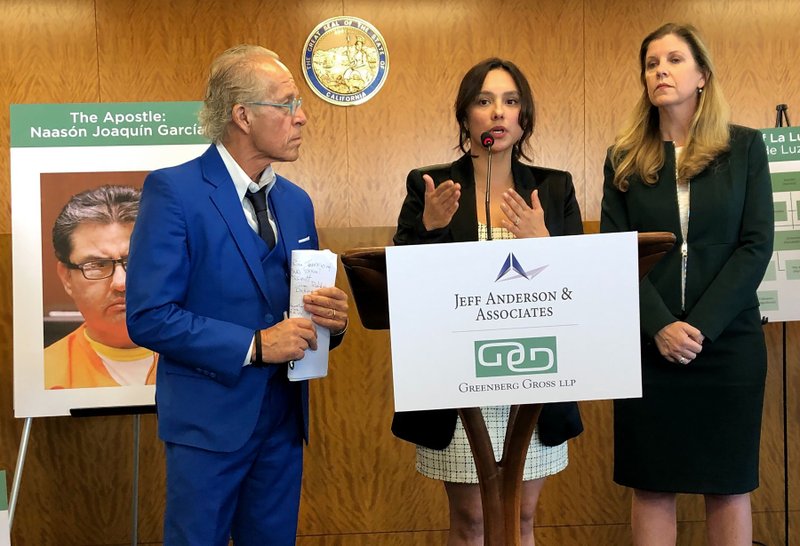 Sochil Martin, center, with lawyers Jeff Anderson, left, and Deborah Mallgrave, speaks at a news conference in Los Angeles Thursday, Feb. 13, 2020. Martin has filed a federal lawsuit claiming that the leaders of Mexican megachurch La Luz del Mundo sexually abused her since she was 12 years old. (AP Photo/Stefanie Dazio)
Read more:
https://apnews.com/8e689a5c2ab5502ae24f924e1c77d3de
4 replies, 767 views
Replies to this discussion thread
| | | | |
| --- | --- | --- | --- |
| 4 replies | Author | Time | Post |
| Lawsuit: Mexican megachurch leaders abused woman for years (Original post) | Omaha Steve | Feb 13 | OP |
| | gordianot | Feb 13 | #1 |
| | Snarkoleptic | Feb 13 | #2 |
| | keithbvadu2 | Feb 13 | #3 |
| | Judi Lynn | Feb 13 | #4 |
---
Response to Omaha Steve (Original post)
Thu Feb 13, 2020, 09:35 PM
gordianot (14,181 posts)
1. Sexual abuse in a megachurch for decades.
Who would have thought? No abuse might be news.
---
Response to Omaha Steve (Original post)
Thu Feb 13, 2020, 09:39 PM
Snarkoleptic (5,439 posts)
2. Raise your hand if you're even the least bit surprised.
At what point do we collectively regard religion as a net-negative for humanity?


Hint- Not soon enough for me.

---
Response to Omaha Steve (Original post)
Thu Feb 13, 2020, 09:58 PM
keithbvadu2 (12,820 posts)
3. "manipulating Bible passages"
"manipulating Bible passages"

The Bible can be a great instrument for evil.

And fundraising.
---
Response to Omaha Steve (Original post)
Thu Feb 13, 2020, 10:14 PM
Judi Lynn (137,282 posts)
4. Religious leaders have far, far more psychological power over their frightened church members.
That's so wrong. They not only compel obedience from children taught to always defer to their elders, they also hold the phony association with the great beyond, pretending to be friends with gawd, having power over their lives in the hereafter. It's an overload which would be too confusing for a child.

Sadistic, evil, and stupid people are stealing the lives of children. Only thing worse they could do is to murder them.