Tue Mar 2, 2021, 02:21 PM
Omaha Steve (80,124 posts)
Myanmar police fire tear gas, rubber bullets at protesters
Source:
AP
YANGON, Myanmar (AP) — Police in Myanmar repeatedly used tear gas and rubber bullets Tuesday against crowds protesting last month's coup, but the demonstrators regrouped after each volley and tried to defend themselves with barricades as standoffs between protesters and security forces intensified.
Authorities have escalated their crackdown on the protests in recent days. The United Nations said it believed at least 18 people were killed on Sunday when security forces fired into crowds, while a rights group said more than 1,000 people were detained over the weekend, including an Associated Press journalist. A lawyer for the journalist said he has been charged with an offense that could see him imprisoned for up to three years.
Despite the increasingly brutal crackdown, demonstrators have continued to flood the streets — and are beginning to more rigorously resist attempts to disperse them. Hundreds, many wearing construction helmets and carrying makeshift shields, gathered in Myanmar's largest city of Yangon, where a day earlier police had fired repeated rounds of tear gas. They dragged bamboo poles and debris to form barricades, chanted slogans and sang songs at the police lines. They even threw banana skins onto the road in front of them in a bid to slow any police rush.
The mainly young demonstrators fled in panic each time tear gas canisters were fired but soon returned to their barricades. Videos posted on social media showed similar chaotic scenes in the Insein neighborhood of northern Yangon.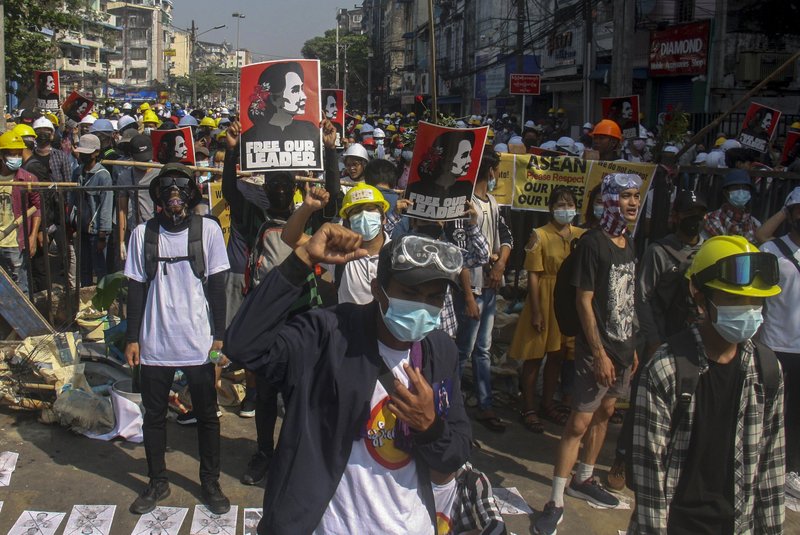 Anti-coup protesters display pictures of deposed Myanmar leader Aung San Suu Kyi in Yangon, Myanmar, Tuesday, March 2, 2021. Police in Myanmar repeatedly used tear gas and rubber bullets Tuesday against crowds protesting last month's coup, but the demonstrators regrouped after each volley and tried to defend themselves with barricades as standoffs between protesters and security forces intensified. (AP Photo)
Read more:
https://apnews.com/article/myanmar-teargas-rubber-bullets-94ca84453c1e56c982700d175ba4c3e3
0 replies, 359 views