Tue Apr 6, 2021, 06:39 PM
Omaha Steve (80,598 posts)
Myanmar forces arrest comedian, break up doctors' protest
Source:
AP
YANGON, Myanmar (AP) — Authorities in Myanmar arrested the country's best-known comedian on Tuesday as they continue to crack down on people they accuse of helping incite nationwide protests against February's military coup.
The comedian Zarganar was taken from his home in Yangon by police and soldiers who arrived in two army vehicles, fellow comedian Ngepyawkyaw said on his own Facebook page. Zarganar, 60, is a sharp-tongued satirist who has been in and out of prison since he was active in a failed 1988 popular uprising against a previous military dictatorship. He is also well known for his social work, especially arranging assistance for victims of Cyclone Nargis in 2008.
In the past week, the junta has issued arrest warrants for about 100 people active in the fields of literature, film, theater arts, music and journalism on charges of spreading information that undermines the stability of the country and the rule of law. It was not immediately clear what Zarganar, whose real name is Maung Thura, has been charged with.
Many ordinary protesters and activists are also being arrested every day, according to numerous reports on social media.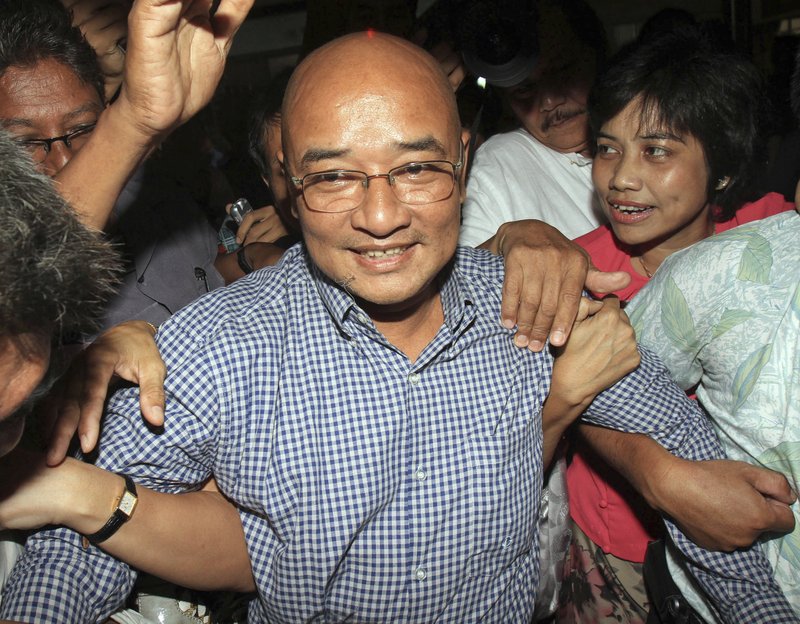 FILE - In this Oct. 12, 2011, file photo, Myanmar's comedian and activist Zarganar, who was serving a 35-year sentence in Myitkyina prison in northernmost Kachin State, arrives at Yangon International Airport in Yangon, Myanmar, after he was released early on Wednesday, Oct. 12, 2011. The authorities in Myanmar on Tuesday, April 6, 2021, arrested Zarganar at his home in Yangon as they continue to crackdown on protests against February's military takeover and the people they accuse of inciting them. (AP Photo/Khin Maung Win, File)
Read more:
https://apnews.com/article/arrests-yangon-myanmar-media-745a9b3576e8dd53a8c6a02ce4d111b5
3 replies, 702 views
Replies to this discussion thread
| | | | |
| --- | --- | --- | --- |
| 3 replies | Author | Time | Post |
| Myanmar forces arrest comedian, break up doctors' protest (Original post) | Omaha Steve | Apr 2021 | OP |
| | BuddhaGirl | Apr 2021 | #1 |
| | EndlessWire | Apr 2021 | #2 |
| | LiberalLovinLug | Apr 2021 | #3 |
---
Response to Omaha Steve (Original post)
Tue Apr 6, 2021, 07:51 PM
BuddhaGirl (3,412 posts)
1. Horrifying!
---
Response to Omaha Steve (Original post)
Wed Apr 7, 2021, 07:33 AM
EndlessWire (2,802 posts)
2. This is a nightmare.
This is what can happen in ANY country. And, if you have half a brain, you'll get arrested, just in case you say NO.

The world is not very enlightened. Difficult to deal with. Sanctions, I guess. We should all just get it over with and sanction each other now before the ice caps melt.

Say! We here in the States can sanction each other, too! Let's sanction Arkansas to start with. Just spitballing here...
---
Response to Omaha Steve (Original post)
Wed Apr 7, 2021, 05:04 PM
LiberalLovinLug (12,764 posts)
3. If Trump and the Fascist enablers on his team "won" again, the comedians would be a huge target
If that second term was "successful" in the GOP's point of view, and they were able to dismantle the last of the oversight institutions, worked hard on more voter suppression and gerrymandering to lock down their permanent Republican majority that Mitch had wet dreams about.

Does anyone doubt one of the first things would be arresting and or shutting down the late night comedy shows? Truth is much easier to digest with a dash of humour.