Sat Apr 10, 2021, 10:28 PM
Omaha Steve (79,725 posts)
Reports: Myanmar forces kill 82 in single day in city
Source:
AP
YANGON (AP) — At least 82 people were killed in one day in a crackdown by Myanmar security forces on pro-democracy protesters, according to reports Saturday from independent local media and an organization that keeps track of casualties since the February coup.
Friday's death toll in Bago was the biggest one-day total for a single city since March 14, when just over 100 people were killed in Yangon, the country's biggest city. Bago is about 100 kilometers (60 miles) northeast of Yangon. The Associated Press is unable to independently verify the number of deaths.
The death toll of 82 was a preliminary one compiled by the Assistance Association for Political Prisoners, which issues daily counts of casualties and arrests from the crackdown in the aftermath of the Feb. 1 coup that ousted the elected government of Aung San Suu Kyi.
Their tallies are widely accepted as highly credible because cases are not added until they have been confirmed, with the details published on their website.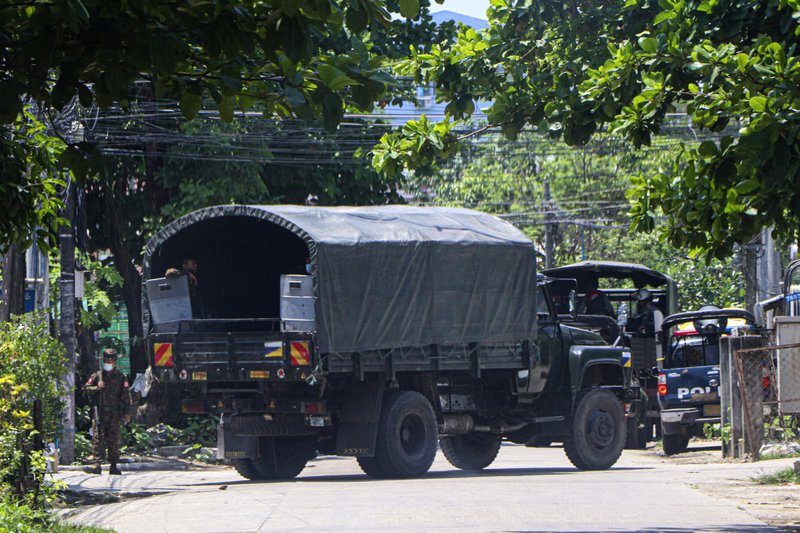 A police vehicle is parked at a road in South Okkalapa township to block anti-coup protesters' gathering in Yangon, Myanmar, Friday, April 9, 2021. An information blackout under Myanmar's military junta worsened Thursday as fiber broadband service, the last legal way for ordinary people to access the internet, became intermittently inaccessible on several networks. (AP Photo)
Read more:
https://apnews.com/article/aung-san-suu-kyi-yangon-myanmar-db0f248da7e3084123f4c86b9e4db36b
5 replies, 953 views
Replies to this discussion thread
| | | | |
| --- | --- | --- | --- |
| 5 replies | Author | Time | Post |
| Reports: Myanmar forces kill 82 in single day in city (Original post) | Omaha Steve | Apr 10 | OP |
| | AZLD4Candidate | Apr 11 | #1 |
| | maxsolomon | Apr 12 | #2 |
| | AZLD4Candidate | Apr 12 | #3 |
| | JI7 | Apr 12 | #4 |
| | AZLD4Candidate | Apr 12 | #5 |
---
Response to Omaha Steve (Original post)
Sun Apr 11, 2021, 02:49 AM
AZLD4Candidate (452 posts)
1. If this is successful and the junta is overthrown. . .I can see a lot of people in Burma
looking for a lot of executions of people in the army from general all the way down to private, since "I was just following orders" don't work for anyone other than American police officers.
---
Response to AZLD4Candidate (Reply #1)
Mon Apr 12, 2021, 05:16 PM
maxsolomon (24,241 posts)
2. If what is successful? The Junta overthrew the civilian government.
The protests aren't an insurrection.

The Junta has zero qualms about killing as many Burmese as it takes for as long as it takes to suppress the protests. Their supply of arms comes from China & Russia. They are isolated in a military Capital, Naypidaw, and the troops are indoctrinated and kept isolated from contact with the civilian populace.

The civilian government was only operating at their leisure. The military has controlled Burma since 1962. 59 years.
---
Response to maxsolomon (Reply #2)
Mon Apr 12, 2021, 06:04 PM
AZLD4Candidate (452 posts)
3. Only on paper. The military would allow it until they felt things were going too far
then they would do exactly what they have done.

If these protests turn into war, it will be violent as neither side will show no mercy.

I appreciate you telling me things I already knew having lived on that side of the world the last fifteen years.
---
Response to AZLD4Candidate (Reply #1)
Mon Apr 12, 2021, 06:28 PM
JI7 (84,278 posts)
4. Even during the civilian government didn't there military maintain power ?
---
Response to JI7 (Reply #4)
Mon Apr 12, 2021, 08:28 PM
AZLD4Candidate (452 posts)
5. Yes it did. The military junta never truly gave up power.