Thu Apr 22, 2021, 06:11 PM
Omaha Steve (80,137 posts)
Sharpton decries 'stench of racism' in Daunte Wright's death
Source:
AP
By AARON MORRISON, TIM SULLIVAN and TAMMY WEBBER
MINNEAPOLIS (AP) — Daunte Wright, the young Black man shot by an officer during a traffic stop in suburban Minneapolis, was not "just some kid with an air freshener," but a "prince" whose life ended too soon at the hands of police, the Rev. Al Sharpton said Thursday during an emotional funeral.
Hundreds of people wearing COVID-19 masks packed into Shiloh Temple International Ministries to remember Wright, a 20-year-old father of one who was shot by a white police officer on April 11 in the small city of Brooklyn Center. The funeral was held just two days after former Minneapolis police Officer Derek Chauvin was convicted in the death of George Floyd and amid a national reckoning on racism and policing.
"The absence of justice is the absence of peace," Sharpton said. "You can't tell us to shut up and suffer. We must speak up when there is an injustice."
The civil rights leader's thundering eulogy included a stinging rebuke of the possibility that Wright was pulled over for having air fresheners dangling from his mirror. Wright's mother has said her son called her after he was stopped and told her that was the reason. Police said it was for expired registration.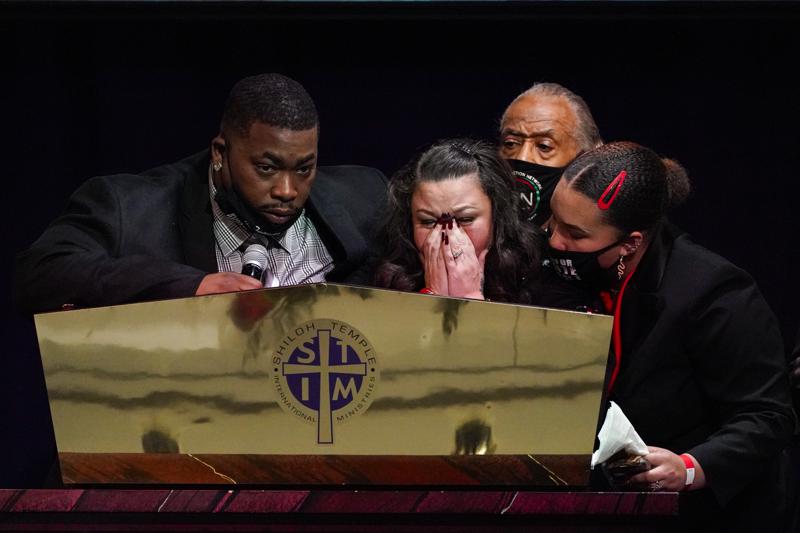 (1 OF 11 PHOTOS)
Katie and Aubrey Wright, parents of Daunte Wright, cry as the speak during funeral services of Daunte Wright at Shiloh Temple International Ministries in Minneapolis, Thursday, April 22, 2021. Wright, 20, was fatally shot by a Brooklyn Center, Minn., police officer during a traffic stop. (AP Photo/Julio Cortez, Pool)
Read more:
https://apnews.com/article/daunte-wright-funeral-live-updates-0b54acfb39ffeaf0277a0ed715a42d5e
7 replies, 1145 views
Replies to this discussion thread
| | | | |
| --- | --- | --- | --- |
| 7 replies | Author | Time | Post |
| Sharpton decries 'stench of racism' in Daunte Wright's death (Original post) | Omaha Steve | Apr 22 | OP |
| | abqtommy | Apr 22 | #1 |
| | mpcamb | Apr 22 | #2 |
| | Hekate | Apr 23 | #6 |
| | Hekate | Apr 23 | #7 |
| | Watchfoxheadexplodes | Apr 22 | #3 |
| | RandiFan1290 | Apr 23 | #4 |
| | Post removed | Apr 23 | #5 |
---
Response to Omaha Steve (Original post)
Thu Apr 22, 2021, 08:08 PM
abqtommy (10,104 posts)
1. I like that phrase 'stench of racism' and I hope that Reverend Al won't mind if I use it
frequently to commemorate this sadness.
---
Response to Omaha Steve (Original post)
Thu Apr 22, 2021, 08:14 PM
mpcamb (2,457 posts)
2. I'm tired of Sharpton sticking his face in front of any camera. Tawana Brawley?
---
Response to mpcamb (Reply #2)
Fri Apr 23, 2021, 03:24 PM
Hekate (69,104 posts)
6. You are way behind the times, mpcamb. Tawana was decades ago, & Rev Sharpton has done much to redeem
...his reputation since that error.

First time I really noticed him after that was when he ran for president. To my surprise (and pleasure) he turned out to be as well-spoken and well-informed as any of the rest of them on domestic issues.

I live on the Left Coast, so only see him on TV, especially since he became an MSNBC contributor. I appreciate his contributions.


---
Response to mpcamb (Reply #2)
Fri Apr 23, 2021, 03:38 PM
Hekate (69,104 posts)
7. You did ask "how did he get his start?" As a child speaking in his home church &a Christian minister
...early on as an adult. Civil rights and social justice are his calling, and public speaking and preaching are how he works it.

Just my observation.
---
Response to Omaha Steve (Original post)
Thu Apr 22, 2021, 08:51 PM
Watchfoxheadexplodes (3,496 posts)
3. Is the African American officer thrown in sharptons pot?
I mean he was attempting to handcuff him.
---
Response to Watchfoxheadexplodes (Reply #3)
Fri Apr 23, 2021, 07:48 AM
RandiFan1290 (5,912 posts)
4. Why does Al Sharpton bother you guys so much?
---