Fri Apr 23, 2021, 04:29 PM
Omaha Steve (80,137 posts)
Calls mount for video release in fatal shooting by deputies
Source:
AP
By ALLEN G. BREED and JONATHAN DREW
ELIZABETH CITY, N.C. (AP) — Leaders of a North Carolina city where a Black man was shot and killed by deputies serving search and drug-related warrants planned Friday to vote on a resolution urging a court to release body camera video of the shooting.
The calls for transparency come amid signs, included emergency scanner traffic, that Andrew Brown Jr. was shot in the back and killed as he was trying to drive away.
Pasquotank County Sheriff Tommy Wooten II has said that at least one of the deputies serving the warrants on the day of Wednesday's shooting was wearing a body camera and that it was activated. A notice posted by the City Council in Elizabeth City said it intended to have the city attorney petition a local court to make the video public.
The council's measure wouldn't be binding on the Pasquotank County Sheriff's Office, which is a separate entity from city government. In North Carolina, a judge must generally sign off on release of body camera footage, but the law says anyone can file a petition in court seeking its release.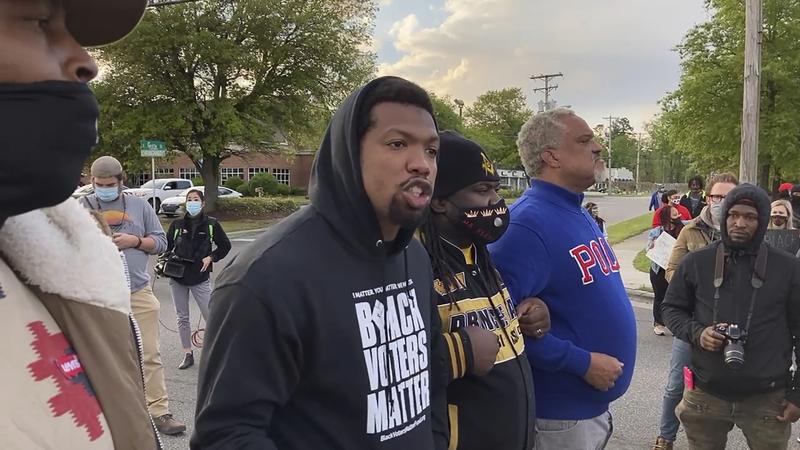 In this image taken from video, Quentin Jackson, regional director for the National Black Caucus of Local Elected Officials, addresses protesters blocking Business U.S. 17 in Elizabeth City, N.C., on Thursday, April 22, 2021. The crowd was demanding that authorities release body camera footage showing the fatal officer-involved shooting of Andrew Brown Jr. the day before. (AP Photo/Allen G. Breed)
Read more:
https://apnews.com/article/elizabeth-city-shootings-north-carolina-ap-top-news-us-news-b008397132b1e9ae6ee6eae189993f36
4 replies, 1006 views
Replies to this discussion thread
| | | | |
| --- | --- | --- | --- |
| 4 replies | Author | Time | Post |
| Calls mount for video release in fatal shooting by deputies (Original post) | Omaha Steve | Apr 23 | OP |
| | Hoyt | Apr 23 | #1 |
| | Ferrets are Cool | Apr 23 | #2 |
| | bluestarone | Apr 23 | #3 |
| | EndlessWire | Apr 23 | #4 |
---
Response to Omaha Steve (Original post)
Fri Apr 23, 2021, 04:34 PM
Hoyt (49,087 posts)
1. It's past time to release the video. Body cams are to protect citizens
as well as police (when they deserve it).

It's sounding like they shot an unarmed man.
---
Response to Hoyt (Reply #1)
Fri Apr 23, 2021, 04:44 PM
Ferrets are Cool (14,423 posts)
2. +1
---
Response to Hoyt (Reply #1)
Fri Apr 23, 2021, 04:49 PM
bluestarone (12,262 posts)
3. Sounds like you're right!
Police and sheriffs offices across the country needs to REFORMED.
---
Response to Omaha Steve (Original post)
Fri Apr 23, 2021, 11:41 PM
EndlessWire (2,710 posts)
4. Can't see this ending in their favor.
The car could have been a lethal weapon if he was driving it toward a deputy. But, they would have had to been standing in front of it as it tried to drive out. They better have pictures.

Otherwise, why this? Why? The most they would have had to add on to whatever they were doing there was resisting arrest.

Yeah, let's see the body cam. I am particularly interested in this new tactic of resigning before you are charged.

If you run from or try to flee from a cop, you automatically are up for a death penalty. It is some kind of psychological aberrancy, like encountering a wild animal, where you don't dare run because it's going to chase you down, catch you, and kill you. In these instances, cops are acting like wild animals.

I disagree with a lot of the opinions on DU, but this is going to turn out very, very ugly.