Wed May 12, 2021, 05:28 PM
zuul (12,189 posts)
Biggest U.S. Gasoline Pipeline Is Restarting After Cyberattack
Source:
Bloomberg News
By Michael Jeffers and William Turton, May 12, 2021, 4:18 PM CDT
The largest gasoline pipeline in America is returning to service, recovering from a cyberattack late Friday that raised pump prices and choked fuel supplies across the eastern U.S.
The Colonial Pipeline -- a critical source of gasoline and diesel for the New York area and the rest of the East Coast -- was set to restart around 5 p.m. Eastern time, according to a company statement. The Alpharetta, Georgia-based operator said over the weekend that it was forced to take systems offline on May 7 in response to the ransomware attack. Even with full service restored, it will take about two weeks for gasoline stored in Houston to reach East Coast filling stations.
Gasoline stations from Florida to Virginia are running dry. In parts of the U.S. South, three in every four gas stations had no fuel as of Wednesday, while in Washington, D.C., cars were lining up for blocks as they waited to fill up. U.S. pump prices have topped $3 a gallon for the first time in six years. Colonial each day normally ships about 2.5 million barrels (105 million gallons), an amount that exceeds the entire oil consumption of Germany.
The supply disruptions underscore just how vulnerable America's fuel supply system has become in the wake of increased attacks on energy infrastructure by hackers over the past few years.
Read more:
https://www.bloomberg.com/news/articles/2021-05-12/america-s-largest-gasoline-pipeline-restarting-after-cyberattack?sref=dCXr1Xoe&utm_medium=social&utm_campaign=socialflow-organic&utm_source=twitter&utm_content=politics&cmpid%3D=socialflow-twitter-politics
9 replies, 1325 views
Replies to this discussion thread
| | | | |
| --- | --- | --- | --- |
| 9 replies | Author | Time | Post |
| Biggest U.S. Gasoline Pipeline Is Restarting After Cyberattack (Original post) | zuul | May 12 | OP |
| | soothsayer | May 12 | #1 |
| | JudyM | May 12 | #2 |
| | Miguelito Loveless | May 12 | #4 |
| | BumRushDaShow | May 12 | #3 |
| | Bleacher Creature | May 12 | #5 |
| | tulipsandroses | May 12 | #6 |
| | oneshooter | May 12 | #7 |
| | IronLionZion | May 12 | #8 |
| | Grokenstein | May 13 | #9 |
---
Response to zuul (Original post)
Wed May 12, 2021, 05:32 PM
soothsayer (38,601 posts)
1. I resisted the urge to top off my tank but was getting worried about all my panic-buying neighbors
In Virginia. I'm glad it will soon be over!
---
Response to zuul (Original post)
Wed May 12, 2021, 05:39 PM
JudyM (21,124 posts)
2. Underscores the need for alternative energy.
---
Response to JudyM (Reply #2)
Wed May 12, 2021, 05:59 PM
Miguelito Loveless (3,546 posts)
4. Precisely!!
---
Response to zuul (Original post)
Wed May 12, 2021, 05:41 PM
BumRushDaShow (83,285 posts)
3. Saw the various breaking news banners pop up
I actually went out and bought gas to top off my tank here in Philly and thankfully we don't have the issues (at least yet) that the southern states have run into. No lines, although prices elevated.
TEXT of tweet
Colonial Pipeline
@Colpipe
Latest Update - Colonial Pipeline Return to Service:
https://cpcyberresponse.com
Image
5:18 PM · May 12, 2021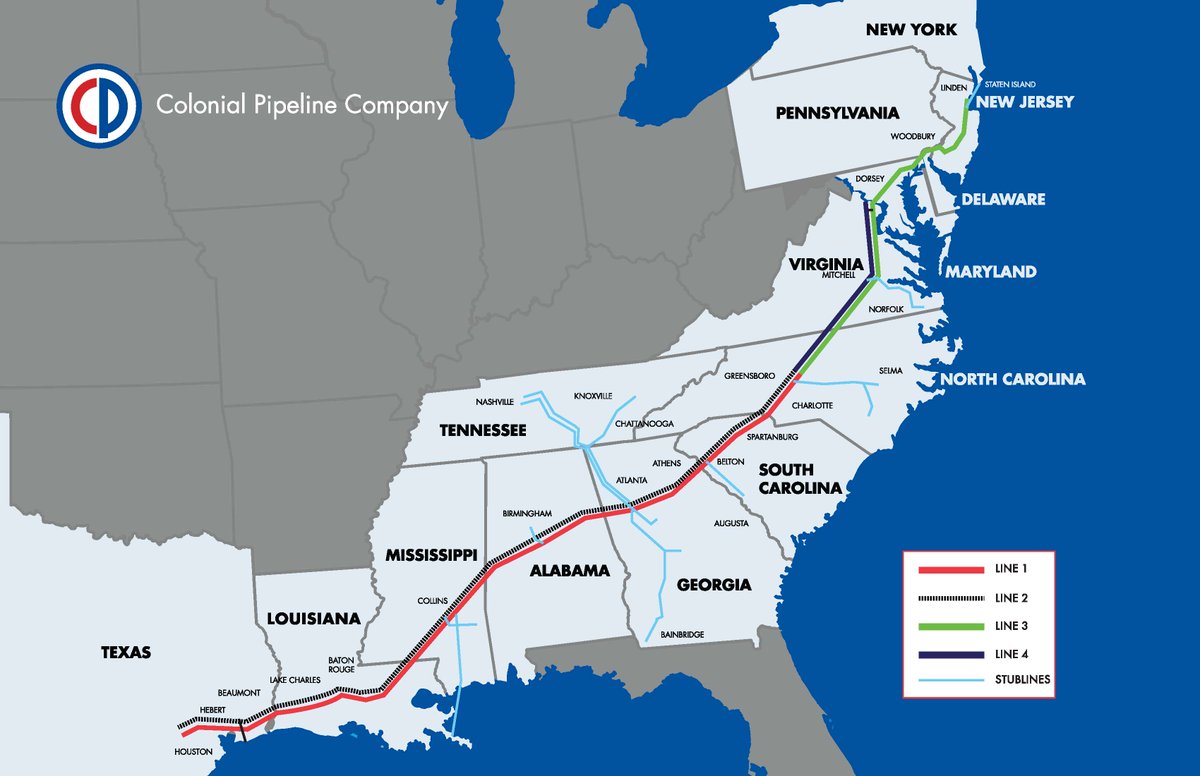 ---
Response to zuul (Original post)
Wed May 12, 2021, 06:20 PM
Bleacher Creature (10,184 posts)
5. I was flat empty and had to wait in a crazy line in MD.
It was awful, especially when cars started to approach the pumps from opposite directions. At one point drivers ahead of me started to yell at each other.

Thank goodness for my hybrid.
---
Response to zuul (Original post)
Wed May 12, 2021, 07:11 PM
tulipsandroses (3,256 posts)
6. Good thing I am still working from home. I have less than quarter tank
Went to 10 gas stations yesterday. Only 2 had gas and the lines were so long, they were blocking traffic. I didn't have the patience to stay on those lines. Guess I will be home bound for 2 weeks.
---
Response to zuul (Original post)
Wed May 12, 2021, 08:51 PM
oneshooter (8,535 posts)
7. I topped off both vehicles yesterday
Generally top off at 1/4 tank down. Do it because of rising prices.

---
Response to zuul (Original post)
Wed May 12, 2021, 10:53 PM
IronLionZion (33,802 posts)
8. Based on the containers some panic buyers have been using
there may be some housefires
https://god.dailydot.com/americans-freaking-gas-shortage/
Link to tweet
American Exceptionalism
---
Response to IronLionZion (Reply #8)
Thu May 13, 2021, 01:05 AM
Grokenstein (4,083 posts)
9. Oh my GAHHHHD
And I thought the tweet I saw the other day of a pair of yeehaws stacking multiple *legitimate fuel containers* on their sides in back of their vehicle was stupid. (EDIT: Said tweet is posted at linked article.)

To be fair and after some consideration, the stacked ones might have been empties waiting to be filled; others were standing upright on the ground. But...bags? I can only imagine the news reports...