Mon May 24, 2021, 06:50 PM
Omaha Steve (80,731 posts)
AP: Top cop in Black man's deadly arrest withheld cam video
Source:
AP
By JIM MUSTIAN
NEW ORLEANS (AP) — In perhaps the strongest evidence yet of an attempted cover-up in the deadly 2019 arrest of Ronald Greene, the ranking Louisiana State Police officer at the scene falsely told internal investigators that the Black man was still a threat to flee after he was shackled, and he denied the existence of his own body camera video for nearly two years until it emerged just last month.
New state police documents obtained by The Associated Press show numerous inconsistencies between Lt. John Clary's statements to detectives and the body camera footage he denied having. They add to growing signs of obfuscation in Greene's death, which the white troopers initially blamed on a car crash at the end of a high-speed chase and is now the subject of a federal civil rights investigation.
The highly secretive case has drawn national attention since last week when the AP began publishing graphic body camera videos that showed troopers repeatedly jolting Greene with stun guns, putting him in a chokehold, punching him and dragging him by his ankle shackles. And like George Floyd's death a year ago, it once again highlighted the importance of video as key evidence in police misconduct cases.
"Video doesn't lie, and the best way to protect the integrity of law enforcement agencies is with body camera footage," said Rafael Goyeneche, a former prosecutor who is president of the Metropolitan Crime Commission, a New Orleans-based watchdog group.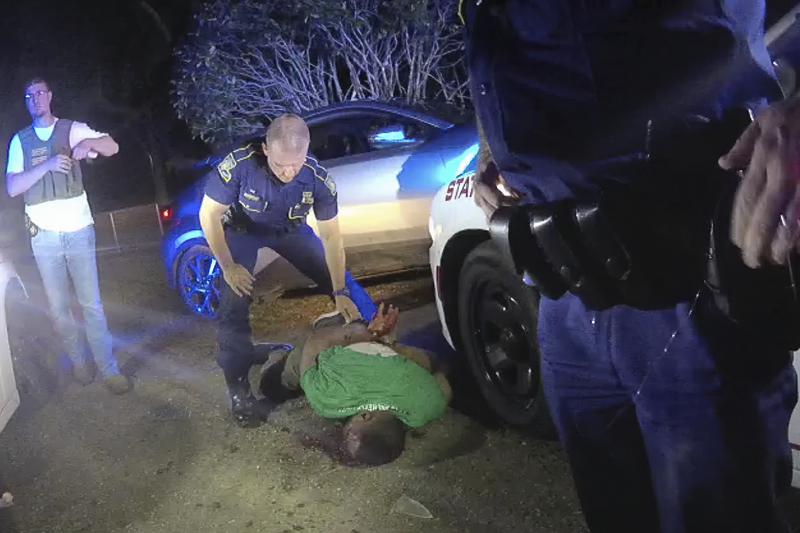 This image from video from Louisiana state trooper Lt. John Clary's body-worn camera shows trooper Kory York standing over Ronald Greene on his stomach on May 10, 2019, outside of Monroe, La. (Louisiana State Police via AP)
Read more:
https://apnews.com/article/arrests-death-of-ronald-greene-d2868b81b5af53a62301742d1ba4b825
---
This is an AP EXCLUSIVE!
5 replies, 1947 views
Replies to this discussion thread
| | | | |
| --- | --- | --- | --- |
| 5 replies | Author | Time | Post |
| AP: Top cop in Black man's deadly arrest withheld cam video (Original post) | Omaha Steve | May 24 | OP |
| | Dan | May 24 | #1 |
| | aggiesal | May 24 | #2 |
| | oasis | May 24 | #3 |
| | yardwork | May 25 | #4 |
| | Stuart G | May 25 | #5 |
---
Response to Omaha Steve (Original post)
Mon May 24, 2021, 06:56 PM
Dan (2,629 posts)
1. I wish that there was something
Like the United Nations or some international organization where POC could seek protection for what is happening to us in the U.S.
---
Response to Omaha Steve (Original post)
Mon May 24, 2021, 07:49 PM
aggiesal (6,308 posts)
2. Didn't you know that if you have a badge, you're entitled to lie & cover-up? ...
Come on, get with the program!
---
Response to Omaha Steve (Original post)
Mon May 24, 2021, 11:34 PM
oasis (47,774 posts)
3. K and R
---
Response to Omaha Steve (Original post)
Tue May 25, 2021, 07:33 AM
yardwork (52,761 posts)
4. This was deliberate murder of a black man by white cops.
---
Response to Omaha Steve (Original post)
Tue May 25, 2021, 10:10 AM
Stuart G (31,116 posts)
5. Why withhold video?...Because he knew that he could do it, & get away with it.
Further, the video shows he committed murder, and he knew the consequences of doing so. So lying
on the report was a hell of a lot better than any investigation into the death of this man. So he hid
the video..and guess what?

...The AP obtained the video, not the a newspaper or state cops. AP knew it existed, and got it. The
cop will lose his job and go to jail. And this fellow was a high ranking officer in the state police, so he was absolutely sure he could get away with it.