Tue May 25, 2021, 07:52 PM
Omaha Steve (81,336 posts)
Grief, smiles as Floyd family meets Biden a year after death
Source:
AP
By ALEXANDRA JAFFE and ALAN FRAM
WASHINGTON (AP) — They mourned together and laughed together in the Oval Office -- and spoke of what President Joe Biden called "the hard reality that racism has long torn us apart."
The first anniversary of George Floyd's death was supposed to be a milestone moment in Washington, a time to mark the passage of a policing law to make criminal justice more just. Instead, Floyd's family met with Biden and Vice President Kamala Harris at the White House on Tuesday to commemorate their loss and continue to push for legislation.
"It was a remembrance of what happened to my brother," Philonise Floyd said of the meeting with Biden, calling the president "a genuine guy."
Biden told them "he just wants the bill to be meaningful and that it holds George's legacy intact," said George Floyd's nephew Brandon Williams. Williams said Biden showed "genuine concern" for how the family is doing.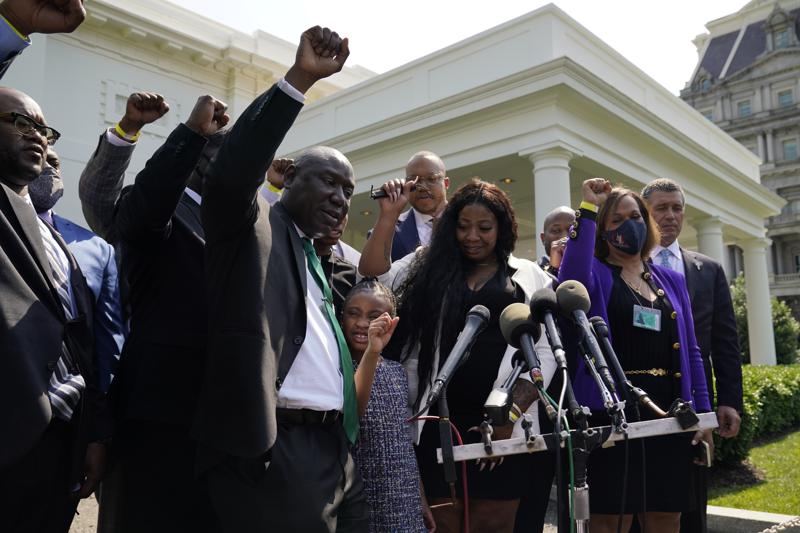 Benjamin Crump, front center, along with Gianna Floyd, daughter of George Floyd, and her mother Roxie Washington, and others talk with reporters after meeting with President Joe Biden at the White House, Tuesday, May 25, 2021, in Washington. (AP Photo/Evan Vucci)
Read more:
https://apnews.com/article/george-floyd-race-and-ethnicity-racial-injustice-bills-police-af435d319d8083aa50c5d4aff50f8067
5 replies, 1032 views
Replies to this discussion thread
| | | | |
| --- | --- | --- | --- |
| 5 replies | Author | Time | Post |
| Grief, smiles as Floyd family meets Biden a year after death (Original post) | Omaha Steve | May 2021 | OP |
| | Yo_Mama_Been_Loggin | May 2021 | #1 |
| | SharonClark | May 2021 | #5 |
| | babylonsister | May 2021 | #2 |
| | CountAllVotes | May 2021 | #3 |
| | LaMouffette | May 2021 | #4 |
---
Response to Omaha Steve (Original post)
Tue May 25, 2021, 08:10 PM
Yo_Mama_Been_Loggin (72,403 posts)
1. George Floyd's Family Says Biden is Committed to Police Reform
After meeting with President Biden and Vice President Kamala Harris on Tuesday for over an hour in a private Oval Office session, the family members of George Floyd said the president was still committed to passing a police reform bill, even as he missed his own self-imposed deadline of getting it signed on the one-year anniversary of Mr. Floyd's death.
"He said of the deadline, he's not happy about it not being met, but all in all he just wants the bill to be right," Brandon Williams, the nephew of George Floyd, told reporters outside the White House after the meeting ended.
The family members and their lead attorney, Benjamin Crump, characterized the meeting with Mr. Biden as a "very personal" check-in with a family he has gotten to know over the past year.
"He genuinely wanted to know exactly how we were doing," Mr. Williams said.
https://www.msn.com/en-us/news/politics/george-floyds-family-says-biden-is-committed-to-police-reform/ar-AAKnqhG
---
Response to Yo_Mama_Been_Loggin (Reply #1)
Wed May 26, 2021, 10:01 AM
SharonClark (8,214 posts)
5. Good on Biden but politicians need to stop making promises they don't have the power to keep.
"he missed his own self-imposed deadline" and Floyd's sister was very public in stating that Biden broke his promise....
But Bridgett Floyd - who instead held a moment of silence at a "Celebration of Life" event in a downtown Minneapolis park - explained why she did not go to Washington.

"I was going to DC for Biden to sign a bill," she said. "Biden has not signed that bill. Biden has broke a promise."

She added a message for the president: "Get your people in order."
source:
https://www.bbc.com/news/world-us-canada-57245837
---
Response to Omaha Steve (Original post)
Tue May 25, 2021, 08:22 PM
babylonsister (168,117 posts)
2. So fine to have decency returned to the White House. nt
---
Response to babylonsister (Reply #2)
Tue May 25, 2021, 08:51 PM
CountAllVotes (19,562 posts)
3. Kind and decent
Great combo there
Luv ya Joe!
&
& recommend !!
---
Response to Omaha Steve (Original post)
Wed May 26, 2021, 08:30 AM
LaMouffette (947 posts)
4. Joe Biden truly is the comforter in chief. Paired with the warmth and sincerity of Kamala Harris,
what an amazing and inspiring pair of leaders we have!