Thu May 27, 2021, 08:07 PM
Omaha Steve (81,291 posts)
Activists: Charge Louisiana troopers in Black man's death
Source:
AP
By KEVIN McGILL
NEW ORLEANS (AP) ó Louisiana State Police troopers involved in the violent arrest of a Black motorist who died in police custody in 2019 should be immediately fired and charged with crimes, leaders of the National Urban League and other civil rights groups said Thursday.
Marc Morial, the national president of the Urban League and a former mayor of New Orleans, was joined by representatives of the American Civil Liberties Union, the NAACP and other state and local groups in calling for action during an online news conference. Later in the day, protesters marched to the state Capitol and the governorís mansion to seek justice for Ronald Greene.
Their demands came just a week after The Associated Press obtained and published body camera video that appears to contradict at least one trooperís statement that Greene continued to be a threat even after he was restrained, and that his behavior was the reason troopers used force.
ďAfter seeing that video, no reasonable person could come to any other conclusion ... than a crime has been committed by Louisiana state troopers,Ē said Morial, who during the news conference played a separate AP video report that included an interview with an expert on police use of force.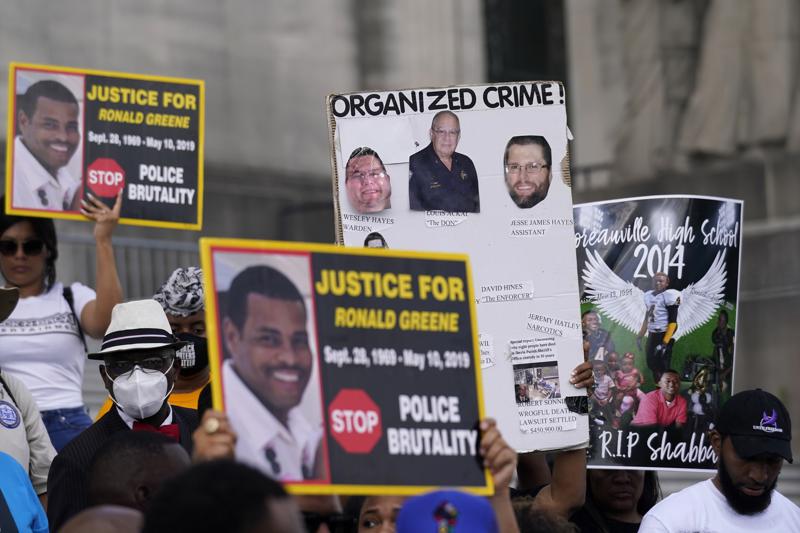 People hod signs during a rally outside the state capitol before a planned march to the Governor's mansion, protesting the death of Ronald Greene, who died in the custody of Louisiana State Police in 2019, in Baton Rouge, La., Thursday, May 27, 2021. (AP Photo/Gerald Herbert)
Read more:
https://apnews.com/article/la-state-wire-b6e3e1c7ec8ffa27ec838e0f31d6407c
2 replies, 832 views
Replies to this discussion thread
| | | | |
| --- | --- | --- | --- |
| 2 replies | Author | Time | Post |
| Activists: Charge Louisiana troopers in Black man's death (Original post) | Omaha Steve | May 2021 | OP |
| | appmanga | May 2021 | #1 |
| | Roy Rolling | May 2021 | #2 |
---
Response to Omaha Steve (Original post)
Thu May 27, 2021, 08:32 PM
appmanga (161 posts)
1. This wasn't just police brutality...
...this was a lynching under color of law. There's been a murder, lies, and a coverup. When does this get looked at by an impartial and critical eye?
---
Response to appmanga (Reply #1)
Thu May 27, 2021, 11:28 PM
Roy Rolling (5,338 posts)
2. The Sh*t Has Hit the Fan
Itís all over New Orleans news, too, and people are screaming for justice. It happened near Monroe, 300 miles away in north Louisiana. But itís all over the media and the Governor made a public statement today. Whoever knew about this and covered it up should face criminal charges.

This isnít a personnel matter, itís a murder while on the job. If I had murdered someone in the course of doing my job nobody would hesitate to arrest and bring me to justice.

Why should cops be different?