Sun May 30, 2021, 02:08 PM
Omaha Steve (81,278 posts)
Vets return to Memorial Day traditions as pandemic eases
Source:
AP
By PHILIP MARCELO
BOSTON (AP) — A pair of military vets navigate the hilly, meandering paths in a historic cemetery in Boston, searching out soldiers' graves and planting American flags in front of them.
About 10 miles away, scores of other vets and volunteers do the same, placing more than 37,000 small flags on the downtown Boston Common — a sea of red, white and blue meant to symbolize all the Massachusetts soldiers killed in battle since the Revolutionary War. It's an annual tradition that returns in full this year after being significantly scaled back in 2020 because of the pandemic.
In Boston and elsewhere, this holiday weekend will feel something closer to Memorial Days of old, as COVID-19 restrictions are fully lifted in many places.
"This Memorial Day almost has a different, better feeling to it," said Craig DeOld, a 50-year-old retired captain in the Army Reserve, as he took a breather from his flag duties at the Fairview Cemetery earlier this week. "We're breathing a sigh of relief that we've overcome another struggle, but we're also now able to return to what this holiday is all about — remembering our fallen comrades."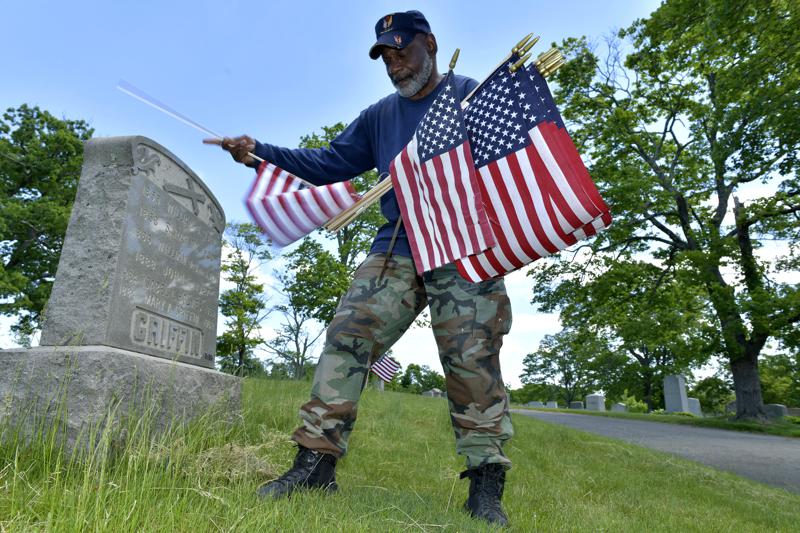 Bob Workman of Boston, a retired Marine Gunnery Sgt., and past commander of the Boston Police VFW, replaces flags at veteran's graves ahead of Memorial Day on Thursday, May 27, 2021, in the Fairview Cemetery in Boston. After more than a year of isolation, American veterans are embracing plans for a more traditional Memorial Day. After more than a year of isolation, military veterans say wreath-laying ceremonies, barbecues at local vets halls and other familiar traditions are a welcome chance for them to reconnect with fellow service members and renew solemn traditions honoring the nation's war dead. (AP Photo/Josh Reynolds)
Read more:
https://apnews.com/article/ny-state-wire-lifestyle-memorial-day-coronavirus-pandemic-pandemics-77bfe004b70db9be164498116ab43957
1 replies, 907 views
Replies to this discussion thread
| | | | |
| --- | --- | --- | --- |
| 1 replies | Author | Time | Post |
| Vets return to Memorial Day traditions as pandemic eases (Original post) | Omaha Steve | May 2021 | OP |
| | iluvtennis | May 2021 | #1 |
---
Response to Omaha Steve (Original post)
Sun May 30, 2021, 09:38 PM
iluvtennis (15,627 posts)
1. Nice to see. thanks for the post. n/t